A school with values: Saraswati Vidya Peetham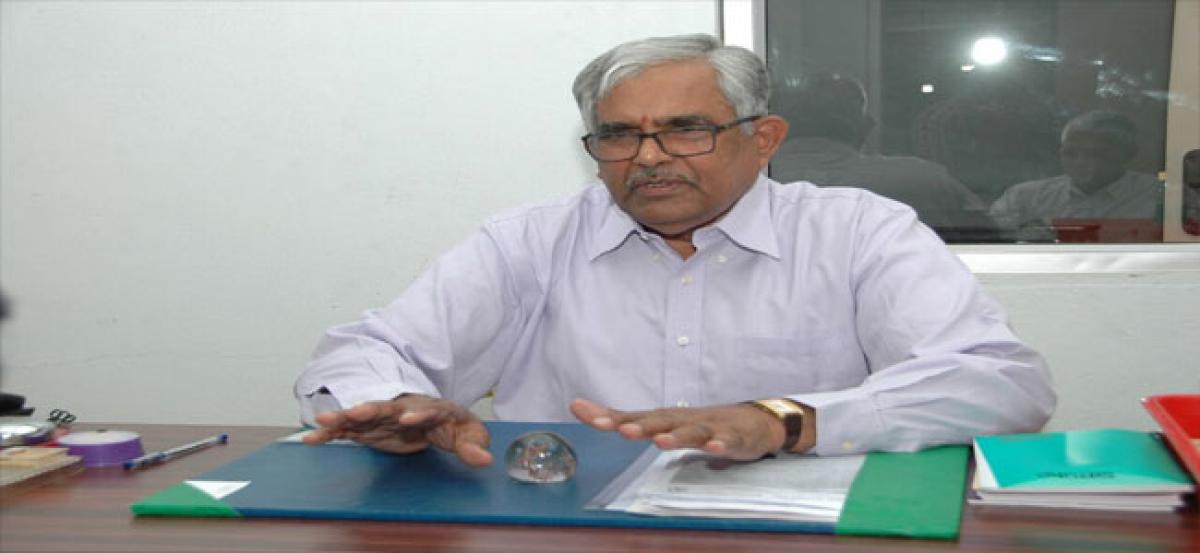 Highlights
The story of Saraswati Vidya Peetham is as interesting as its philosophy Started with just 10 students, it has branched out and boasts of 481 branches and 106 lakh students in both Telangana and Andhra Pradesh
Hyderabad: The story of Saraswati Vidya Peetham is as interesting as its philosophy. Started with just 10 students, it has branched out and boasts of 481 branches and 1.06 lakh students in both Telangana and Andhra Pradesh. With an alumnus that includes the Telangana Irrigation Minister, T Harish Rao, among many other distinguished personalities, Saraswati Vidya Peetham schools are making a difference to society. The Secretary of Saraswati Vidya Peetham, governing body Pasarti Mallaiah, shares their secret recipe for success.
Take us through the journey
The journey of Saraswati Vidya Mandir under the Saraswati Vidya Peetam started in the year 1977, which was a registered as society by some philanthropists. However, before that there were schools in different locations in the state. The journey started with ten students and two teachers and now there are 481 branches and 1.06 lakh students in Telangana and Andhra Pradesh.
It started with Telugu medium. Comment
We earlier had Telugu as medium as we believe that education should be in mother tongue and this was the practice until 12 years back but with change in the thinking of the parents, English medium was included in the school. Initially, we had English medium only for Classes VI to X but now we have introduced in primary school the medium of instruction is in English language.
What makes Saraswati Vidya Mandir different from other schools?
We have Saraswati Shishu Mandir (for primary), Saraswati Vidya Mandir (upper primary and high school) and Saraswati Gyana Mandir (Classes XI and XII). The main intention of our organisation is to inculcate values in the future generation. We focus on all round development where the students should be able to face challenges of life with determination.
Our students wherever they go they should be helpful to their fellow human beings and if students posses these abilities they will not indulge in anarchism. We do not limit ourselves to teaching in schools but also go to slums in towns and villages to inculcate moral values through Sanskar Kendras. We talk to the villagers during the evening time on various issues such as health, language and etiquette.
Tell us about your faculty?
We have qualified teachers not less than B.Ed as it is basic qualification for them. Mere qualification is not enough for them to teach. They will have to compulsorily take part in one month training at our Bandlaguda Branch where the teachers are taught on new techniques to be used to educate children and how students should be with nationalistic education system. Yearlong training goes on at the branch and the teachers get trained before they start teaching children.
How is the fee structure in the school?
There is no fixed fee system as such in the school. The school has 'Nirvahana Sahaya Nidhi' where parents contribute. Even non-parents also contribute for the school. For a primary school student, we seek Rs 400 as fee and if the parents of the children cannot afford, they can give as desired.
How are you able to sustain the competition from the private corporate schools?
Our old students are our strength and they are in fact our brand ambassadors. Many reputed personalities are part of our alumni. Telangana Irrigation Minister, T Harish Rao, IAS officer, present Singareni Collieries Company Limited MD N Sridhar, Pavitran and many more are our students.
Do their children study in your school?
The old students want the similar studies, which they were taught but want the infrastructure similar to that of today's modern schools. They discuss with us that they had reached top levels by studying in this same school and want the same value based education to be inculcated in their children. Now, we are also concentrating on having infrastructure like digital classrooms, libraries and other extra-curricular activities. In Karimnagar, about 500 old students gathered in the alumni meet and resolved to fund for making the school like a corporate school. They decided and started a project with Rs 20 Crore and gathered Rs 7 Crore till now.
What are the challenges?
Ours is an organisation run by philanthropists. Salaries are paid only to the teaching staff and other personnel do not take any salary. We don't seek any aid from the government because there would be officials with different perspective. One senior official had started a school in Karimnagar with government grant but we could not get it after his retirement and the expenditure fell on the organisation.
Your take on IIT and EAMCET programmes in corporate schools?
We cannot talk on the system of other schools but we are opposed to such training modules. Child should have sound mind and sound body and they should also concentrate on sports. Burdening them with subjects, which are for higher classes would have adverse effect on their mental and emotional growth.
What about the extra-curricular activities and sports activities?
We have focused on all round development of the child and sports are the compulsory subject apart from Yoga, dance, music etc. Every child should have to attend one hour period of sports of any activity. We have sports activities in the year and our students compete at national level in the Vidya Bharati in New Delhi. Vidya Bharati is associated with school games federation. Vidya Bharati stood at 9th place winning 29 gold medals in the All India School Games Federation meet.
How was the performance of the students in the recent board examinations?
In Telangana we have 71 schools and 1949 students appeared for the board examinations. Our result was 90 per cent pass percentage and 13 students achieved 10 out of 10 CGPA.

Subscribed Failed...
Subscribed Successfully...