HHSIF, Agastya expands SEP in Hyderabad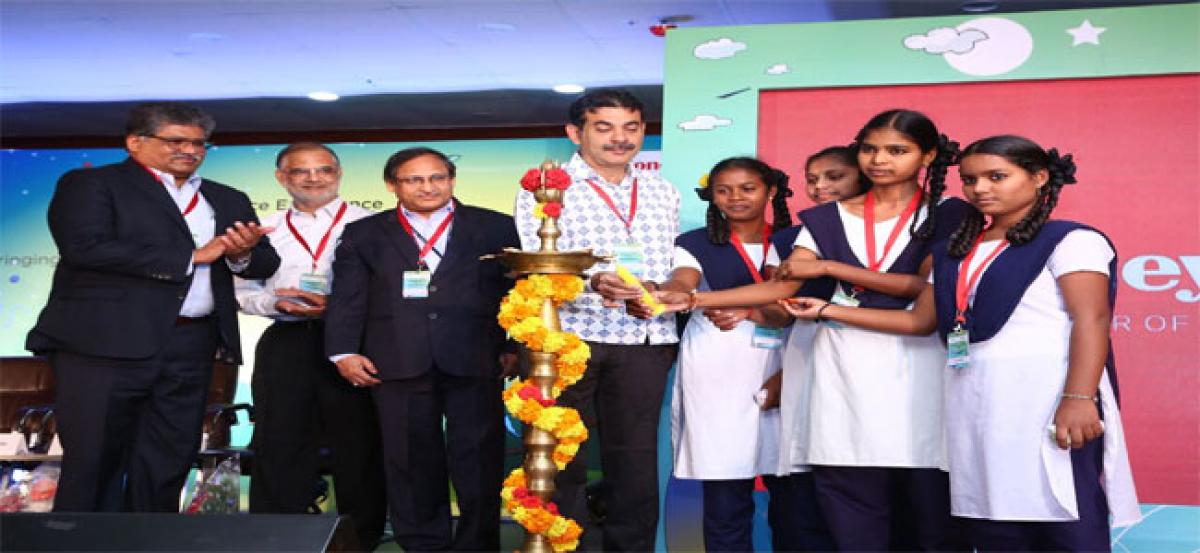 Highlights
Agastya International Foundation Agastya and Honeywell India announced the expansion of Honeywell Science Experience an experiential Science Education Program SEP for students and teachers of government schools in Hyderabad, Chennai, Madurai, and Mysore recently
Hyderabad: Agastya International Foundation (Agastya) and Honeywell India announced the expansion of Honeywell Science Experience – an experiential Science Education Program (SEP) for students and teachers of government schools in Hyderabad, Chennai, Madurai, and Mysore recently.
As part of the program, Honeywell's not-for-profit entity, Honeywell Hometown Solutions India Foundation (HHSIF), is supporting 25 science centers, 35 mobile science labs, and 3,000 student mentors, benefiting more than 135,000 students and 783 teachers across all these cities as well as Bengaluru, Gurugram, Delhi, and Pune.
Designed to cultivate curiosity, nurture creativity, and instill confidence, Honeywell Science Experience is vastly different from the typical rote-based learning system that discourages questioning and student-teacher interaction. It aims to foster child and teacher participation in experiential learning, and boost science education through its uniquely scalable, hands-on teaching-learning methods.
Speaking on the program expansion, Jayesh Ranjan, IAS, Principal Secretary, Departments of Industries & Commerce and IT&C, Government of Telangana, said, "We are living in the fourth industrial era where application-based education will have a more profound impact on students, making them skilled citizens of tomorrow. Experiential learning improves critical thinking and helps students apply classroom concepts to real-world challenges. I congratulate Agastya and Honeywell for bringing this integrated science, technology, engineering and math (STEM) education learning program to bright young minds from vulnerable communities."
Dr Kalachand Sain, Chief Scientist & Head, Seismic Group, CSIR- NGRI said, "Peer-to-peer learning instills confidence and helps students understand complex scientific concepts in a more agile way. I was pleased to interact with the students today and impressed with their understanding of science. This confidence can only be achieved through experiential and hands-on teaching-learning methods, and I should say both Agastya and Honeywell are doing a great job in promoting science and attracting young talents."
K Thiagarajan, Chief Operating Officer, Agastya International Foundation said, "Telangana has been an important area in delivering Agastya's vision and mission. The Government institutions have been encouraging and endorsed our outreach programs in several locations. Today we are reaching out to more than 200 schools through our diverse set of programs. We are aspiring to set up a Creativity Campus in Telangana in the next 2-3 years. A partner like Honeywell, committed to the same vision of driving experiential STEM learning, is imperative for Agastya to scale up the programs in cities like Hyderabad reaching out to underprivileged children. Our idea is to expand more mobile labs, more science centers."
Akshay Bellare, Vice President & General Manager, Honeywell Technology Solutions India, added, "Being one of the world's leading technology companies and a top recruiter of technology talent in India, Honeywell understands the importance of STEM education and its impact on the global economy. Having seen great results in the schools where we have already launched our program, we are excited to see the transformation that the Honeywell Science Experience program will bring in locations where we are deeply committed with our strong presence."
Subscribed Failed...
Subscribed Successfully...