What can you do with a degree in Physiotherapy?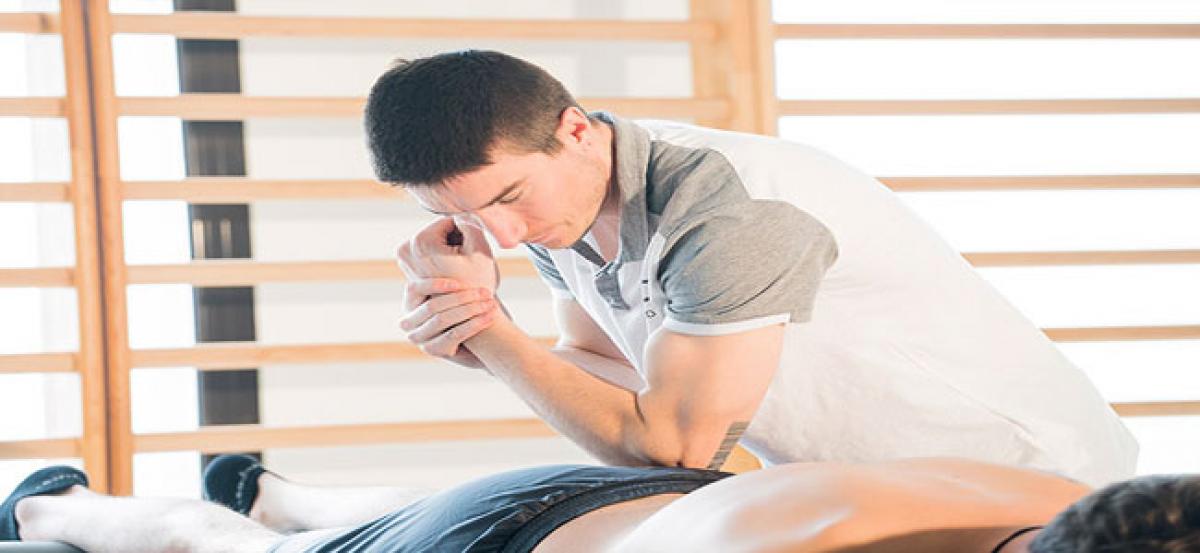 Highlights
Today, the world is dominated by modern medicine, it has become a common practice by medical practitioners to prescribe physiotherapy to patients for curing various ailments along with modern medicine
Today, the world is dominated by modern medicine, it has become a common practice by medical practitioners to prescribe physiotherapy to patients for curing various ailments along with modern medicine. Not only has physiotherapy helped people get relief from complex ailments globally, it has only become bigger and a crucial element for treatment of various ailments.
So making a career in physiotherapy holds great prospects for the present and the future and widens up options in the sector from setting up one's own physiotherapy clinic or taking up a job as a physiotherapist at any hospital or clinic, MNC's and even schools as a consultant physiotherapist. Physiotherapy has now become completely independent subject within the health sector, primarily directed towards the prevention or alleviation of movement dysfunction in people. This involves assessment, diagnosis and treatment of disease, remedy to impairment and helps mobility.
Job Prospects
According to Industry analysts, physiotherapy globally would grow at a Compound Annual Growth Rate (CAGR) of 6.78 % during the period 2018 - 2022. A career in physiotherapy makes it a promising, interesting and challenging job in the health care system. Physiotherapists specialize in paediatrics, geriatrics, neurology, cardiorespiratory, orthopaedics and even sports besides other areas of modern stream of medicine. Today, with growing medical facilities, opportunities for paramedics like physiotherapists have grown multi-fold at hospitals, nursing homes, rehabilitation centres and at residences, private practitioners' clinics.
A degree or a certificate course in physiotherapy offers you various other openings at out-patient clinics, community health care centres or Primary Healthcare centres, fitness centres or health clubs, Occupational Health Centres, Special schools and Old age homes. Physiotherapists also get to work at sports centres besides teaching or working in foreign countries with corporates, NGO's and other industrial and educational institutions.
Specialities
Like any other stream of medicine, physiotherapists too have to keep themselves abreast with newer technologies and developments taking place in physiotherapy, which helps them administer the right kind of treatment besides helping them to further develop on their assessment and treatment skills. Here are some common areas where physiotherapists can pursue specialized post-graduate courses. These include:
1. Orthopaedic Physiotherapy – An area of physiotherapy which deals with conditions related to post-surgical patients, arthritis, tendonitis, fracture rehabilitation, muscle sprains and strains, neck and back pain, hip and knee problems, shoulder, elbow and wrist conditions.
2. Sports Physiotherapy –Specialists who assist with recovery after injury or surgery and are majorly responsible for retraining an athlete.
3. Women's Health – Another crucial therapist known for administering physiotherapy treatment to women during pregnancy or with specific women related conditions.
4. Paediatric Physiotherapy – Paediatric therapists help to rehabilitate children and assist them for sufferings like cerebral palsy, developmental disorders, skeletal, neurological disorders or orthopaedic ailments.
5. Cardiovascular and pulmonary physiotherapy –Physiotherapists specializing in this domain work with patients who have ailments like heart attacks, bypass surgeries or have undergone angioplasty, have breathing problems, emphysema, and other heart or lung related conditions.
6. Neurological Physiotherapy-One of the most crucial part of the physiotherapy which includes treating conditions related to disorders like walking, inability to get in and out of bed or chairs (transfer training), moving in bed (bed mobility), wheelchair use and requires functional retraining besides retraining patients to use their shoulders, arms, and hands, which may involve neurological disorders like spinal cord injury, traumatic brain injury.
Skills required
A professional physiotherapist comes across many patients, who may be suffering from common or serious ailments. More than how professionally one administers his physiotherapy skills, he or she has to be equally empathetic and kind to the patient. Pleasing personality, well mannered, and caring attitude, excellent communications skills, analytical thinking and ability to connect with people are important skills required to be a successful physiotherapist.
How and when to use electro-physical modalities which include Ultrasound, Interferential Current, Transcutaneous Electrical Nerve Stimulation (TENS), Shockwave Therapy and other physical approaches in complex care practices. And above all, a physiotherapist has to be fit and energetic, as his job requires exhaustive exercising and demo required for patients.
Eligibility & Duration of course in Physiotherapy
Bachelor in Physiotherapy– Pass in 10+2 Examination/ Equivalent Examination with at least 50% marks in aggregate in five subjects including English, Physics, Chemistry & Biology and one subject with the highest score out of the remaining subjects. Master in Physiotherapy– 50% marks in aggregate in Bachelor of Physiotherapy from a recognized university Candidates can apply for entrance to Physiotherapy courses through NEET Exam, and other Entrance Examinations conducted by different colleges offering the BPT course.
Salary
The salary of a physiotherapist varies depending on the experience and the expertise one holds. A potential physiotherapist with a Master's degree can attract a better pay. But it could defer depending on individual's expertise and how good he is at work.
Top Colleges/Universities in India offering Physiotherapy
1. Christian Medical College - [CMC], Vellore (Tamil Nadu)
2. Institute of Post Graduate Medical Education and Research – [IPGMER], Kolkata
3. Manav Rachna International Institute of Research and Studies, Faridabad
4. King Edward Memorial Hospital and Seth Gordhandas Sunderdas Medical College – Mumbai
5. Government Medical College – Nagpur
BY Dr Pooja Anand