Qualifying NEET must for pursuing medicine abroad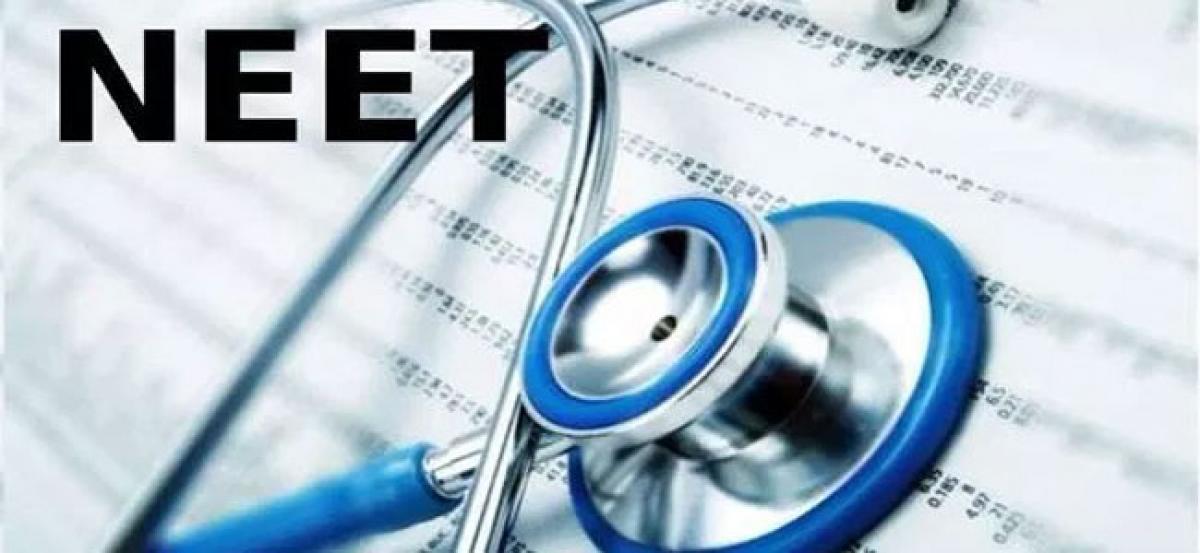 Highlights
Medical aspirants who are planning to go abroad to pursue medicine, now have to clear NEET and then proceed to the foreign universities NEO the...
Hyderabad: Medical aspirants who are planning to go abroad to pursue medicine, now have to clear NEET and then proceed to the foreign universities. NEO the medical aspirant facilitator agency has warned the students to verify the credentials of MBBS offering university and the country before embarking on their risk.
"Union Government and the MCI have made it compulsory for all students to qualify from NEET and then proceed to foreign countries for MBBS. They have to obtain eligibility certificate from MCI without which outside admissions are not possible and what would facilitate the candidate to take screening test conducted here", said BVK Raju, CEO NEO. "12 Lakh students are writing NEET every year for 68000 medical seats across India and out of 4 Lakh candidates clearing the NEET with rank, many are opting for BDS or other para medical courses and thus MBBS has become distance dream for many. So candidates are looking for foreign countries to complete their dream", he added.
But most of countries are not giving genuine teaching on the standards prescribed by MCI and thus they fail in the screening test. In our country currently 10,23,000 doctors are practising but as per WHO statistics India is with shortage of 8 lakh doctors. NEET UG statistics: Nearly 12 lakh aspirants attending for NEET for MBBS course every year, nearly 6 lakh (600,000) clear the exam for about 68,000 MBBS seats and 1, 32,000 seats for dental and Ayush courses.
Abroad MBBS: An estimated 9,000 to 10,000 students opt for abroad to study medicine and the number is gradually increasing year by year with the introduction to many universities from different countries, subsequently the problems for Indian students studying abroad are also increasing as the student and parent are not furnished without proper information about the following points.
According to the Health Ministry order addressed by Arun Singhal, Joint Secretary "Foreign medical institutions admit Indian students without proper assessment or screening of the students' with the result that many students fail to qualify the screening test," It has also mentioned about formation of an expert committee to look at the issues and Government of India through its embassies, social organisations are exercising to screen the quality students and to improve the standards in foreign medical institutions and to control the fraud agencies by giving directives as follows:
1. Eligibility to do Abroad MBBS:- NEET mandatory for Abroad MBBS admissions by MCI with the approval of Union Health Ministry.
2. To get Medical License in India:- Students have to qualify through a screening test called the Foreign Medical Graduates Exam (FMGE) for registration to practice in India after obtaining a primary medical qualification (MBBS) overseas.
3. Importance of Primary Medical Qualification:- MBBS with course duration of 5 years in Georgia and Kyrgyzstan, etc is not a Primary Medical Qualification.
Note: Travancore – Cochin Medical Council has informed Kerala High Court that the MBBS without PG degree at Georgia is not valid in India as the MBBS qualification in Georgia is not recognized for enrolment as medical practitioner in Georgia without a PG degree.
4. University standards at par with MCI guidelines:- Check the level of standards (infrastructure, faculty, attached hospitals) and status of University (Government, Recognitions), PG, PhD and accommodation facilities are available or not. Some agents/consultants are misguiding the students and parents in terms of medium of instruction, quota, duration, fee, , recognitions, etc.,
Example: Students are suffering with bilingual mode of teaching since most of the Chinese Medical institutions teach MBBS program in Chinese also.
5. Choose for right Agencies:- Student recruiting Agencies should be registered in India and Abroad with same name which should follows rules, regulations, guidelines, advisories given by the concerned medical councils, Embassies, Governments of respective countries.
Note: Fake agencies are making false promises, giving improper information, violating NEET rule, making private visas instead of student's visas, admitting students to Pre Medical courses and cheating innocent students.
6. Quota should be maintained: - Excess Intake is affecting the quality of education for many medical institutions in abroad. Note: Some Universities in Philippines, Kyrgyzstan etc are taking excess intake.
7. Direct MBBS/ Indirect MBBS, Clarity in Duration and Pre Medical courses:- It is highly advised for Indian students to follow British pattern as it is similar to India and gives an option to do Direct MBBS like in India. Countries like Philippines and Caribbean Islands(Central America) are not having Direct MBBS.
Note: Philippines Embassy clarifies that students need to do 2-4 years BS program and NMAT qualification prior to enter 1st year MBBS in Philippines and concerned government bodies clarifies that students need to clear basic science program before entering to 1st year MBBS program in Caribbean islands.
8. Caribbean Islands (Central America):- Attracting students by using the name of USA, 2 years theory will be in Caribbean islands and 2 years clinicals will be in USA with USMLE step 1 clearance guarantee and visa guarantee.
9. Status of country:- Analyse the country's political, economic, social and weather conditions which shows an impact on basic infrastructure facilities lack of this facilities leads to low quality of education and security. Also check for the bilateral relations between our country and destination country.
10. Visa Issues:- Complete guidelines of student visa procedures should be provided. Some agents are sending students by tourist visa instead of student visas.
Note: Embassy of Philippines is strictly mentioning the students not to travel on tourist visa and many Indian students were deported from Georgia with irregular visa procedures done by fraud agencies" reported by Ministry of External Affairs of India
11. In case of Help:- In countries there is no Indian Embassy, students may not get immediate help when they face problems and recently Indian students deported back to India even with a valid visa by Georgian immigration authorities. For example: Georgia, Caribbean islands (Central America) like Barbodas, Belize etc have no Indian Embassies.
12. Language:- The medium of instruction is English in most of the Universities but it is also very common to acquaint with the native language of the country to interact with patients.
13. Fee structure:- The fee structure should be transparently informed to the parent and the parent should be educated to directly transfer their children fee to the University to avoid all fraud concepts. If fee paid through official registered agencies proper receipt should be taken.
14. Scholarships:- Concerned State Governments of India and few government Universities provide scholarships where the agents not informing transparently to the students.
Subscribed Failed...
Subscribed Successfully...