Bamboo workers compete with time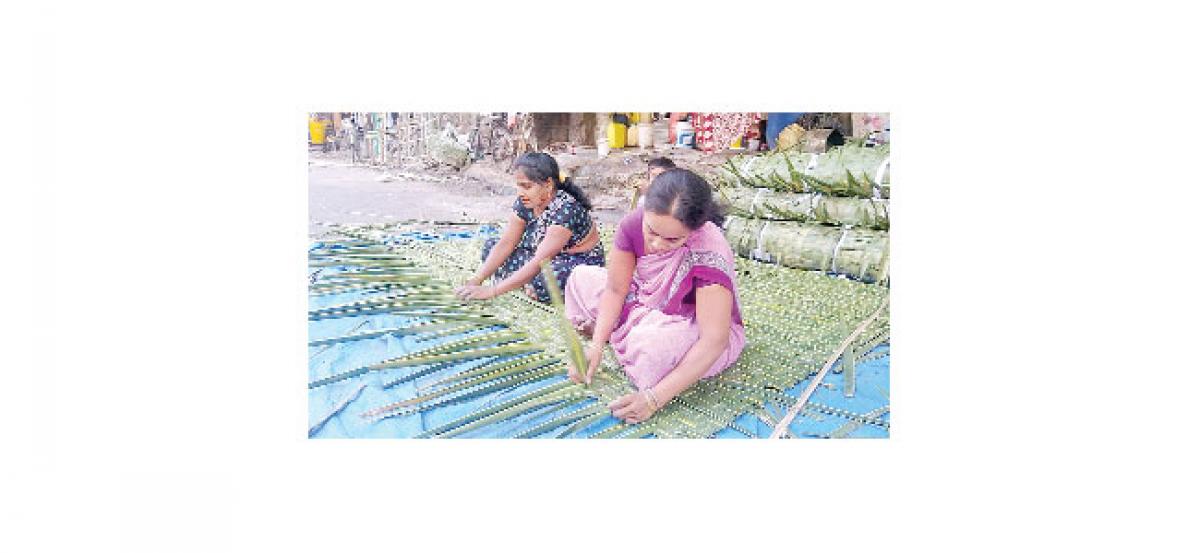 Highlights
To compete with the ever-increasing demand for products made of bamboo, more than 200 families work hard against all odds at this small lane...
Nampally: To compete with the ever-increasing demand for products made of bamboo, more than 200 families work hard against all odds at this small lane connecting Goshamahal Road to Nampally Exhibition grounds. Generations of these craftsmen have maintained their presence in this lane bending the bamboo sticks from making baskets to lamp décors catering to the existing demands.
There are about 225 huts with a size of 8*8 identified by their MCH house numbers, where families representing different religion and caste, continue to stay side by side settling an example of communal amity. Some of the families started settling down in the lane about 60 years back and their third generation is trying their hand at new variety of products. Bamboo craft work include flag sticks, canes for kulfi and sugar candy, baskets, mandap installations for marriages, chilman (curtain) support and other decoration works particularly for marriages.
Syed Fouzia, a resident said that she is the second generation living in the huts. They have been living there for 60 years now. She said that during the period of TDP Government in 2000, 105 houses were allotted at Gudimalkapur and some were shifted. However, 225 families still live in these huts and need the government support, as they do not even have basic amenities. "There are no toilets for the families hence they should go for MJ Market Sulabh complex. We request that government provide some of this facility close to our dwellings," she asked.
She said that this crafting of bamboo continues to be the family business and they take orders for marriages, wholesale craft shops and from contractors. "We make chilmans, mandaps, sticks etc. As and when we get orders, we purchase Assam bamboo, coconut leaves from shops and come up with the products which are demanded," she added. D Narsimha, a craft maker said that for summer special chilman are made with four bamboos for each cloth and bamboos used in this costs Rs 250 to 300 each. "For making chilman, bamboo is cut into long pieces and the product is made by using thread," he explained.
During summer, the demand for kulfi sticks increase. From each bamboo, about 150-200 pieces of sticks are made, which can also be used for sugar candy. He explained that mandap is made up of 3-4 coconut leaves, depending on the size of it. He claimed that the families continue to work on meagre earnings of Rs 8000 per month. A fire caused by a short circuit on April 14, 2017 left 51 families homeless. As per the government order on natural calamities, a compensation of Rs 8,000 was distributed in the form of cheques to each of the affected families. They took shelter in exhibition grounds for about 10 days.
Some of the locals raise objections to their continued stay despite government handing over houses to some of them. "They continue to dwell, as it is a market place and even if the government allots them houses, they return back here after handing over the house to others on rent," said M Srinivas, a local.
BY M M Farooqui
Subscribed Failed...
Subscribed Successfully...