Rosaiah calls for participation in social service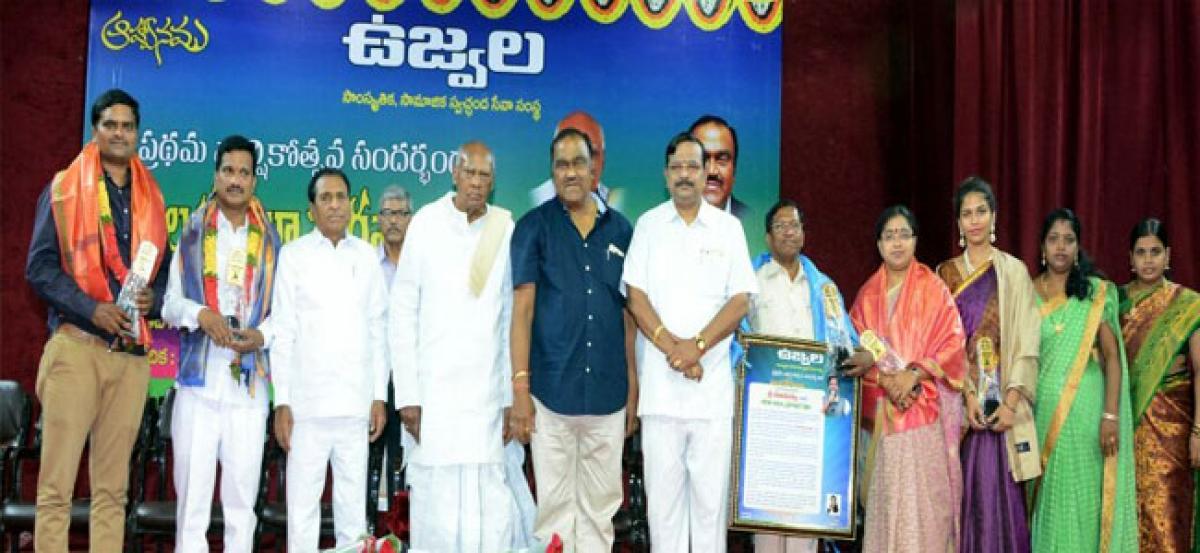 Highlights
Former Governor of Tamilnadu Konijeti Rosaiah called people to take part in social service, at the anniversary function of Ujwala Samskruthika Seva Samstha at Tyagaraya Gana  Sabha on Sunday. The former Governor presented Ujwala Prathibha Puraskarams to distinguished persons in various fields. The awardees are: Popular singer, GHMC ACP(townplanning) Ravi Varma(Lifetime Achievement award), Joshna(s
Chikkadpally: Former Governor of Tamilnadu Konijeti Rosaiah called people to take part in social service, at the anniversary function of Ujwala Samskruthika Seva Samstha at Tyagaraya Gana Sabha on Sunday. The former Governor presented Ujwala Prathibha Puraskarams to distinguished persons in various fields. The awardees are: Popular singer, GHMC ACP(townplanning) Ravi Varma(Lifetime Achievement award), Joshna(social service) and Lakshmi Tejaswini(classic dance).
Rosaiah appreciated the Ujwala Samskruthika Seva Samstha for conducting good programmes with in a period of one year from its inception. Samstha president Lakshmi Lanka, MK Ramu, Kala Janardhan Murthi, Dr Lion Vijay Kumar, Swathi Shankar took part.
Subscribed Failed...
Subscribed Successfully...