TSIIC asked to develop industrial cluster near Siddipet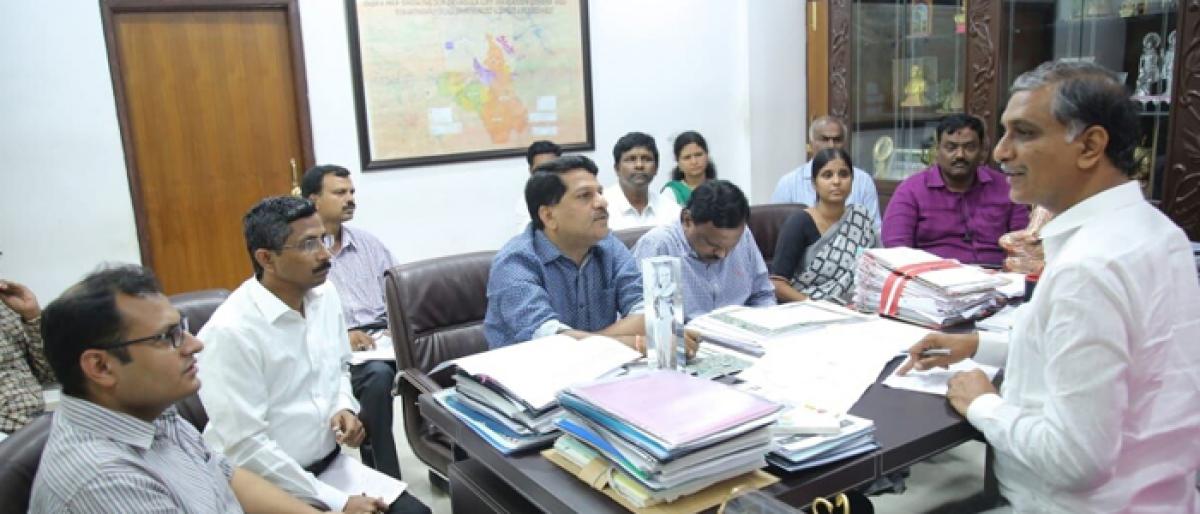 Highlights
Major Irrigation Minister T Harish Rao directed TSIIC officials to develop the industrial cluster coming up on a 500acre site, 15 km away from here, as a green cluster and asked District Collector to acquire the required land and hand it over to the TSIIC
​Siddipet: Major Irrigation Minister T Harish Rao directed TSIIC officials to develop the industrial cluster coming up on a 500-acre site, 15 km away from here, as a green cluster and asked District Collector to acquire the required land and hand it over to the TSIIC.
In a meeting to review the arrangements for the proposed industrial park at his residential quarters in Hyderabad on Monday night, Harish Rao said there was no other industrial cluster like the one near Siddipet in entire Telangana.
He asked officials to call tenders for laying approach roads to link the national highways. He asked the officials to prepare an action plan for the proposed industrial cluster project. He said that foundation stone would be laid soon for construction of a food processing unit in 46 acres at a cost of Rs 200 crore.
He inquired from the TSIIC officials about the progress of the proposed food parks coming up at Mandapalli, Mittapalli, Rajagopal pet and Mundrai. He directed the district Collector Venkatram Reddy to acquire requisite land for construction of the seed park at Bandla Mylaram. Chief Minister K Chandrashekar Rao is scheduled to inaugurate the facility soon, he added.
A food processing park will come up in an area of 150 acres close to the automotive cluster at Toopran. Laying has been prepared. Tenders are yet to be called in.
RPG Goenka group is going to set up a food-processing unit in an extent of 20 acres at a cost of RS 200 crore, he said adding that the unit provides jobs to at least 450 persons. The unit procures vegetables directly from farmers, he said.
He said that a granite cluster in 320 acres (Dacharam in Bejjanki mandal), an industrial park in 236 acres (Kotturu), plastics unit and a ready-made garments unit in 200 (Peerlapalli in Jagdevpur mandal), an industrial park in 199 acres (Tuniki Bollaram) would be set up.
He asked officials to prepare the layout of industrial units for the convenience of the industrial units. He said that several industrialists from Malaysia would set up their units in the industrial parks besides the rice and oil mills.
The industrial park employs 3,000 directly and 10,000 indirectly, he said. He asked the officials to allot at least 5 acres for each rice mill. Timber merchants' association of Goshamahal is keen on establishing a furniture park in 50 acres eliminating the need for importing furniture from China.
He asked the district collector to hand over lands useless for farming in Medak district to the TSIIC. He also reviewed the IT Park to be set up in Siddipet in two acres.
Medak MP Kotta Prabhakar Reddy, Siddipet Collector Venkatrami Reddy, TSIIC managing director EV Narsimha Reddy, Gajwel RDO Vijayender Reddy, TSIIC chief engineer Shyam Sundar and others took part in the meeting.