KTR asks officials to study feasibility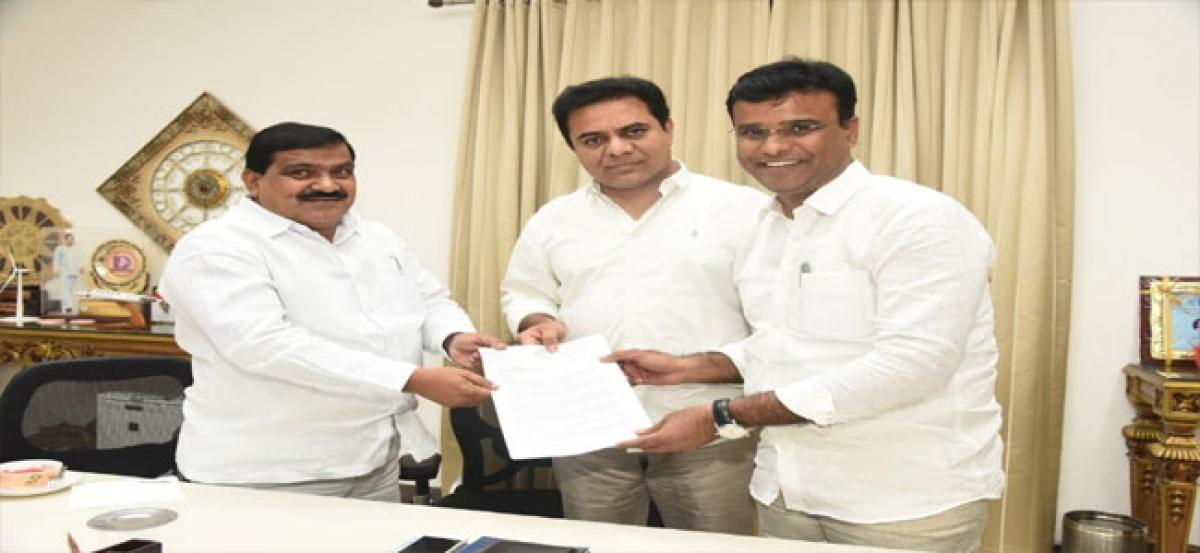 Highlights
Telangana Minister for Urban Development K T Rama Rao on Sunday directed officials to study the feasibility of introducing BRTS Bus Rapid Transport System in Quthbullapur constituency while transport minister Patnam Mahender Reddy agreed to get the best functioning BRTS in Ahmedabad examined for replication in Quthbullapur
Qutbullapur: Telangana Minister for Urban Development K T Rama Rao on Sunday directed officials to study the feasibility of introducing BRTS (Bus Rapid Transport System) in Quthbullapur constituency while transport minister Patnam Mahender Reddy agreed to get the best functioning BRTS in Ahmedabad examined for replication in Quthbullapur. The two ministers were responding to a representation made by Quthbullapur MLA K P Vivekananda pleading for introduction of BRTS in his constituency.
Vivekananda, who met the ministers, pointed out that people in his constituency, most of whom are private employees and workers faced immense problems in commuting since there is no public transportation system other than RTC buses and auto rickshaws. Mr. Vivekananda said that extension of either the Metro Rail System or MMTS is not feasible because of cost and land constraints and that BRTS alone seemed to be a viable alternative. Vivekananda requested the two Ministers to get a feasibility study done on introducing BRTS from Dundigal Outer Ring Road to Ameerpet Metro Rail station.
The Bus Rapid Transport System envisages the dedication of a separate lane in the midst of the road for bus services. Commuters can get in and get out of the specially designed buses with ease. The buses are given priority even at traffic signals and there won't be traffic jams. Commuters can travel 28 km an hour under BRTSas against 14 km an hour now in Hyderabad. People will thus experience cheap, fast and pollution-free travel. Even when the population in the constituency goes up in future, there won't be any traffic hassles.