'Civil engineers should be professional, ethical'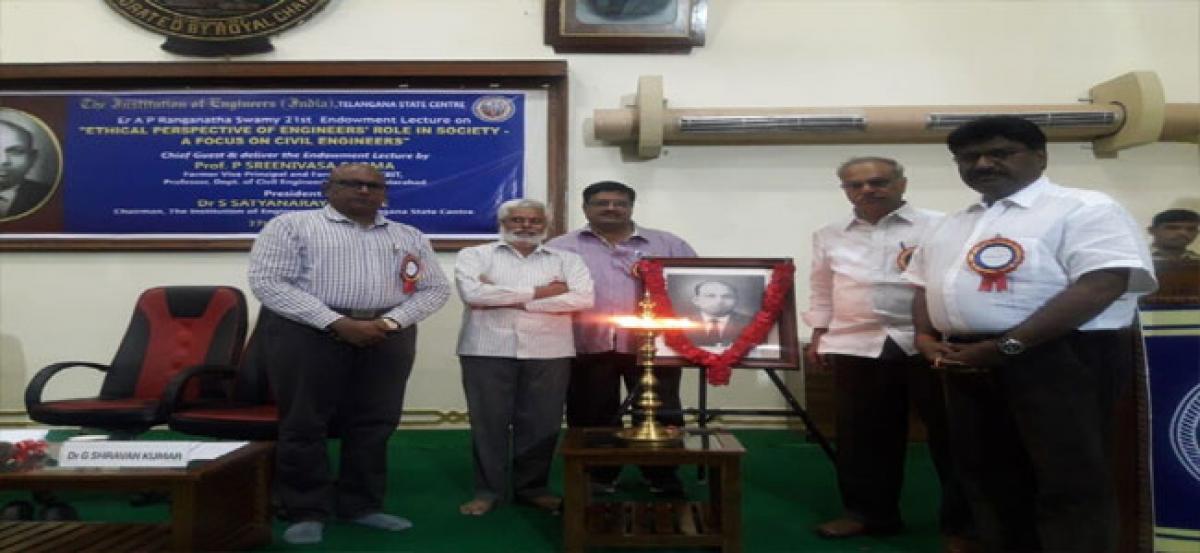 Highlights
A lecture on Ethical Perspective of Engineers was delivered at Institute of Engineers India IEI Khairatabad on Friday The lecture highlighted the importance of ethical perspectives in civil engineers and was delivered by professor of civil engineering P Sreenivasa Sarma from Chaitanya Bharathi Institute of Technology CBIT
Khairatabad: A lecture on Ethical Perspective of Engineers was delivered at Institute of Engineers India (IEI) Khairatabad on Friday. The lecture highlighted the importance of ethical perspectives in civil engineers and was delivered by professor of civil engineering P Sreenivasa Sarma from Chaitanya Bharathi Institute of Technology (CBIT).
Professor Srinivasa discussed the importance of morals, ethics and human values. And determined and ethics influence life, family and society. Professor quoted "Engineers who serve the society in large should be professional and ethical. the need for the civil engineers to be ethical as the civil engineers are all the more responsible in protecting the human race and presenting the natural resources. A Civil engineer, being close to nature and humanity, can play a better role in the society if one is ethically strong and adoption of ethics in engineering profession will go a long way in contributing for development of a society."
Engineering student G Shiva Kumar was appreciated for his outstanding academic performance in securing the Highest Percentage of Marks in the Bachelor of Engineering Degree during 2014-2018 from CBIT. IEI Chairman, Dr S Satyanarayan, Secretary Dr G Chandra Mohan Reddy and other members Dr G Rameshwar Rao Dr G Shravan Kumar were present during the occasion.