Dhoolpet's infamy affecting job, marriage prospects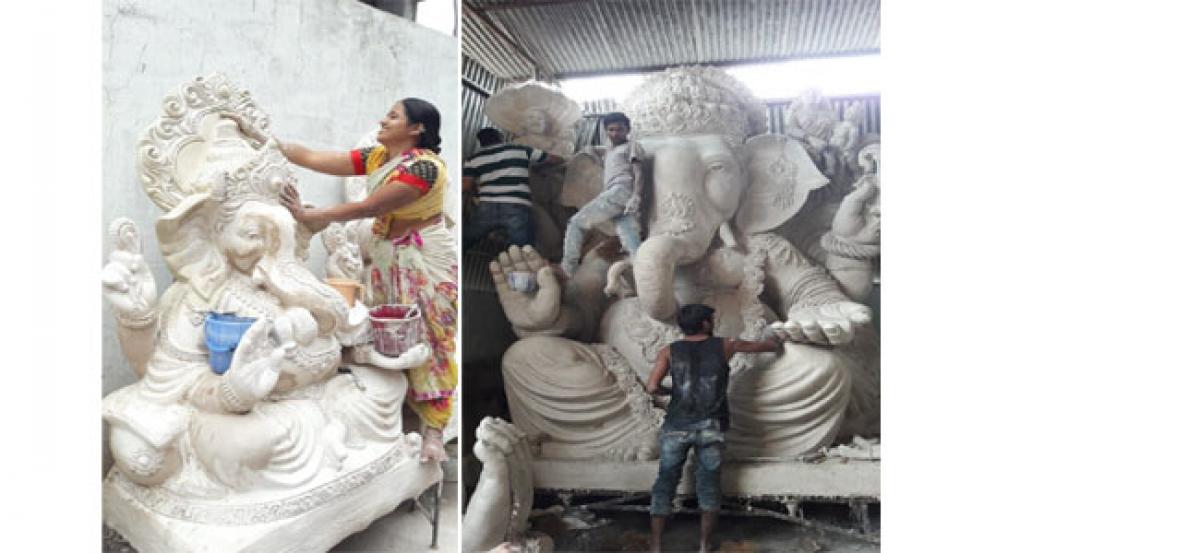 Highlights
I am the right candidate but was born in a wrong place My address has become my enemy, says Suraj Singh, 22 a resident of Dhoolpet, who had to face the embarrassment of producing a character certificate while applying for a job
Dhoolpet: "I am the right candidate but was born in a wrong place. My address has become my enemy," says Suraj Singh, 22 a resident of Dhoolpet, who had to face the embarrassment of producing a character certificate while applying for a job. A BBA graduate, Suraj, who has managed to get a job in a private bank wants the stigma of being a Dhoolpet resident erased completely.
For the 40,000 plus people, according to the 2017 GHMC survey, there are about 36,000 people living in Dhoolpet area. Going to college for youth is not a problem but to get a job has become an ordeal. Dhoolpet, known for gudumba making and drug peddling has cast such a stigma that the younger generation is fighting hard to tackle it. Mitesh Kumar, a resident says we are asked to produce a character certificate from the Mangalhat police station. "I eventually did but it is very embarrassing." Companies insist on character certificate to check if there were any drug peddling cases pending.
Suresh Singh, one of the famous artisans of Dhoolpet, who won awards for his unique way of idol making said, "Because of few history-sheeters involved in making illicit liquor and ganja peddling, the whole of Dhoolpet lost respect. It may be noted that during the former Chief Minister of United AP, Y Rajashekara Reddy's regime, jobs were promised but nothing much happened, say locals. Even the demand for Ganesh idols and kites is dwindling with each passing year. Surekha who makes Ganesh idols says, "Earlier we used to make 150 Ganesh idols but now we are making only 50 to 80, thanks to old clients but their number too is reducing. New customers are not being added."
Education in Dhoolpet
There are only five schools - Deccan school, Vivekananda School, Goutham Model School, St Paul's High School - near Mangalhaat and children of Lodha community cannot afford the private school fee, hence most of them go to government schools. One of the school principals from Aghapura Char Khandil, said, "I have seen many school children helping their parents in kite and idol making as the parents want to earn extra income and they can't afford school fees." Most of the higher class students were getting influenced from ganja-peddling, transport and selling.
Jobs for Dhoolpet graduates
"Selling idols used to be profit-making, but last year the business was very dull. The making charges for idols shot up the selling price remained constant due to stiff competition," says Kamesh Singh, an artisan in Dhoolpet. "Every month youth apply for (CC) character certificate when we ask them the reason, they say it is for job application," says a police official from Mangalhat police station.
Marriages in Dhoolpet
Mehveen Fatima, (name changed) a woman from Dhoolpet, said that, "I have studied till 10th standard, after that my parents didn't allow me to study and started forcing me to get married. When I enquired about the boy, I found that he was into ganja-peddling and now was running a paan shop. The main issue was that it was difficult to find a marriage alliance for women from anywhere outside Dhoolpet. I am now engaged to someone who is known to my family. My fiancé is also a ganja peddler," says the 22-year-old.
"The men procure the ganja; the women sell it and manage finances. Handling money gives us some say in household matters. Ours is a deeply conservative community," she explains. Rajender Singh is out of work after the festival season gets over; he too takes to peddling drug. "I am not educated and there are no employment opportunities for uneducated sculptures. People from our caste are self-employed and make idols, it's considered below our prestige to work under someone or as a daily-wager," he adds.
BY Mohammed Hussain