Team Bakrid starts cleanliness awareness programmes in Hafeezpet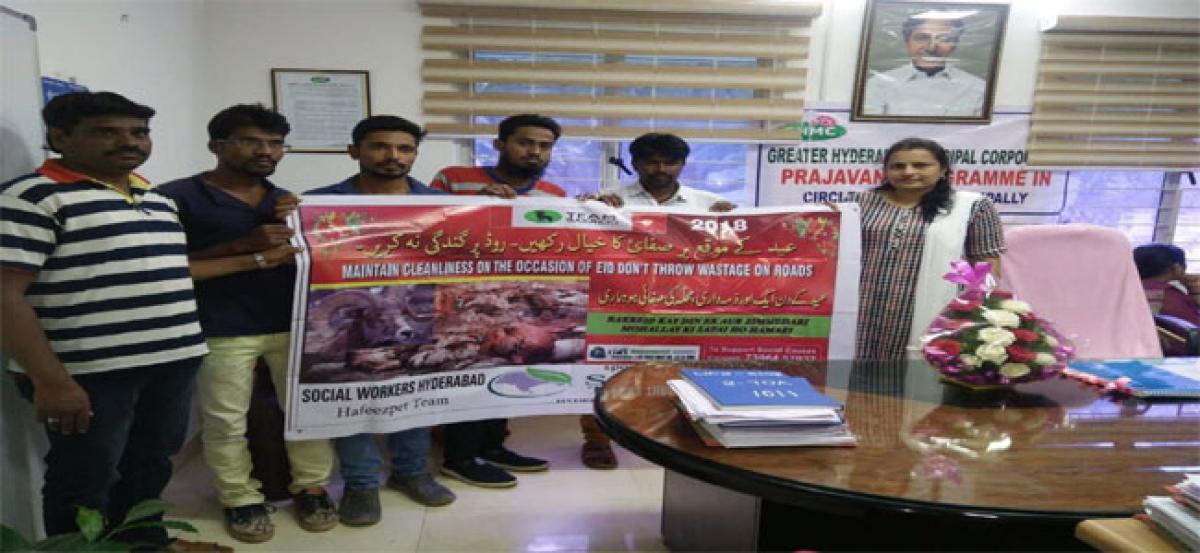 Highlights
Team Bakrid has swung into action in Hafeezpet, Gachibowli, Kondapur and Hydernagar areas
Hafeezpet: 'Team Bakrid' has swung into action in Hafeezpet, Gachibowli, Kondapur and Hydernagar areas. This year, around 70 volunteers from Hafeezpet would be taking up awareness programmes and campaigns in various places of city during Bakrid. Besides creating awareness, they would try to maintain hygiene during the second biggest festival of the Mulsims, Eid-ul-Azha.
Generating awareness through social media, campaigns and rallies are the main job of Team Bakrid. Greater Hyderabad Municipal Corporation (GHMC) also plays a crucial role by supporting Team Bakrid. Last year, the GHMC support was good enough and this year too they were looking for the same, says Mohammed Khaleel Ahmed convener, Team Bakrid, Ranga Reddy District. Before Bakrid all the volunteers would be given responsibility of certain areas and then volunteers would visit the allotted areas and convey message about maintaining hygiene. The campaign would include - distributing pamphlets, black covers, set-up banners at Eid Gahs and prominent places. The Team Bakrid is spread not only in Hyderabad but also neighbouring districts in Telangana.
Ahmed told The Hans India that, "We intend not to become a cause of inconvenience to our fellow citizens from other religions," In west zone we mostly focus on Hafeezpet, Premnagar, Gachibowli and Hydernagar. Last year there were only 35 volunteers but this year we have 70 with us and we have already started campaign for the last three weeks. We have discussed with all the groups who organize qurbani for masses. So much waste is created which has to be brought near the point where GHMC has kept 2 lorries. We have started taking out rallies and requested school students and management for their support.
Last year GHMC Serillingampally provided two Lorries, one JCB and four auto trolleys in each area and this year Team Bakrid has requested Deputy Commissioner V Mamtha to provide the necessary services like removal of debris. The wastage would be collected by GHMC workers from door to door and if the Garbage bins are full the GHMC workers would remove it. All the volunteers in their areas would be going to door to door and ask people not to throw any of the wastage open on roads or near bins.
Mamtha said that, "I really appreciate efforts of Team Bakrid and this to maintain cleanliness and I'am sure GHMC will provide black covers for door to door distribution, Tippers and Auto trolleys, Municipal labours and bleaching powder bags.
BY Mohammed Hussain