Telangana govt releases half of subsidy on interest payable to SHGs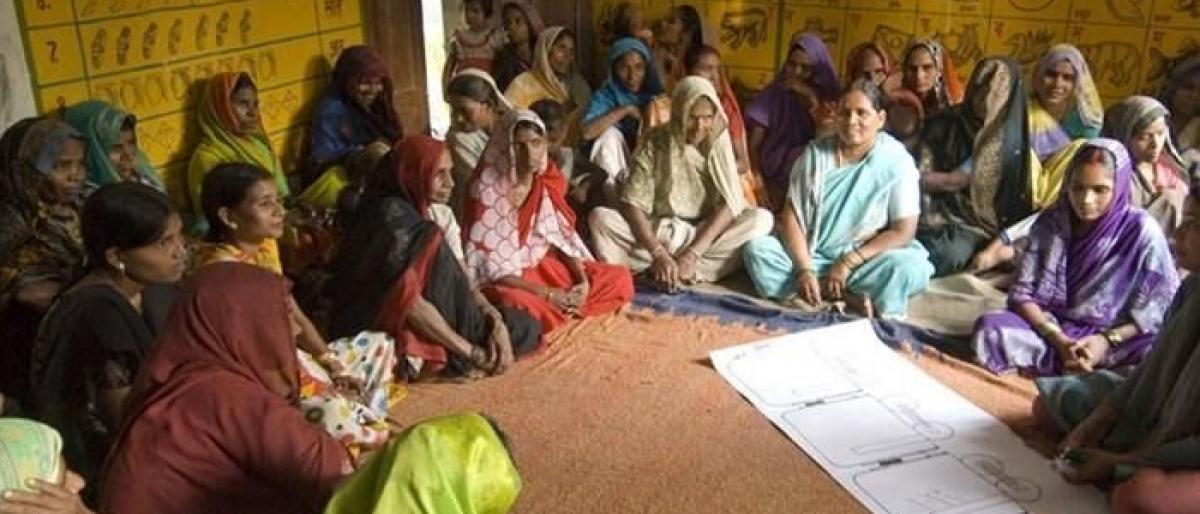 Highlights
Perhaps to preempt the Congress move, the state government at last issued an order, in a rather belated move, allocating Rs 930 crore towards subsidy on interest for womens thrift groups in the state
​Rangareddy: Perhaps to preempt the Congress move, the state government at last issued an order, in a rather belated move, allocating Rs 930 crore towards subsidy on interest for women's thrift groups in the state.
It may be recalled that AICC President Rahul Gandhi during his visit to Hyderabad on Monday interacted with the women's groups at Sahmshabad. The group members complained to him that they are yet to receive subsidy on the interest for loans availed by them and not a single pie has been credited to their accounts during the past four years.
In fact, the state government owed Rs 2000 crore to the women's groups in the state towards subsidy on interest. The undivided Rangareddy district gets Rs 90.4 crore towards the subsidy. There are over 18,300 groups in the district.
The undivided Rangareddy district is likely to get Rs 45 crore towards the subsidy. The Center advances loans to women's thrift groups at the rate of 6% (Pavala Vaddi). The previous Congress regime went on record stating that the loans should be treated interest-free since it would reimburse the interest paid by the women's groups.
The TRS government which succeeded the Congress in state went on record stating that it would continue the previous regime's scheme.
The government defaulted crediting the interest subsidy in the bank accounts of women's groups. As a result, the dues are mounting with each passing year. The state government paid interest subsidy for some groups belonging to SCs and STs. Thousands of thrift groups were denied the benefit.
In 22,971 self-help groups, there are an exstimated 355422 members in undivided Rangareddy district. About 14,507 DWCRA groups in the district enjoy a membership of over 147896. In Medchal district, there are 6970 groups with a total membership of over 64529 members.
In Vikarabad district, there are over 142997 members. There are over 18,300 groups in the district that are functioning properly. They borrow funds to the tune of Rs 250 crore annually from banks. If the groups promptly repay the loan, the government pays the subsidy on interest.
Annually, the amount to be disbursed by the government totals Rs 25 crore. During the past four years, nobody has paid the subsidy. The amount aggregated to over Rs 100 crore during the past 4 years.