Pigs rule roads in Jillelaguda municipality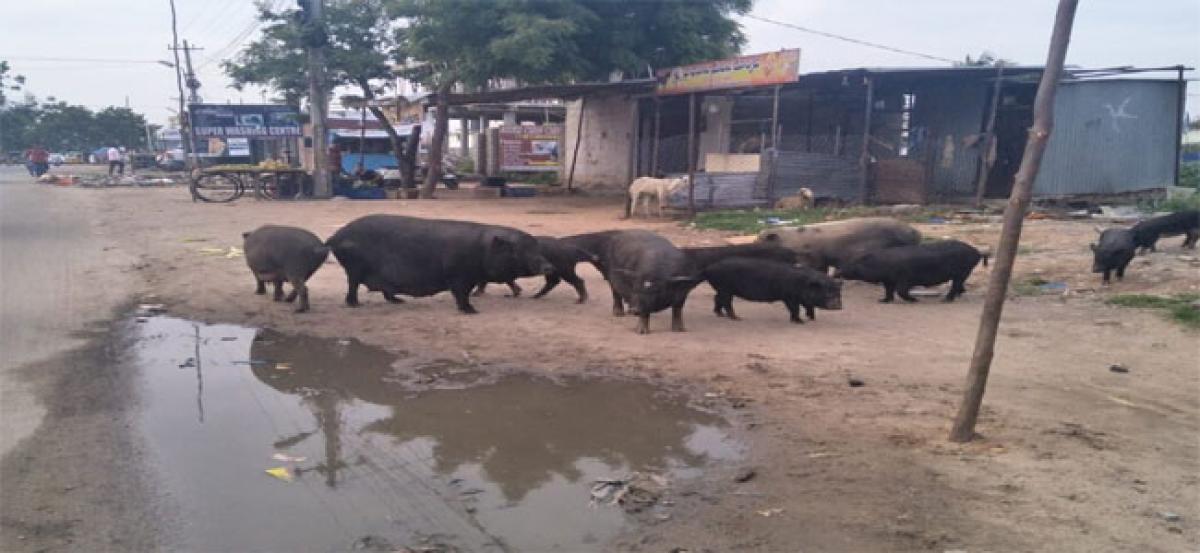 Highlights
Several colonies in Jillelaguda municipality have now turned into havens for pigs Thanks to overflowing drains, the thoroughfares have turned into roads filled with slush
Hyderabad: Several colonies in Jillelaguda municipality have now turned into havens for pigs. Thanks to overflowing drains, the thoroughfares have turned into roads filled with slush. The drainage system in these colonies including Mithilanagar has become haphazard. Residents are experiencing difficulties on account of drainage water spilling on to the roads through the manholes. For the past two years, locals are facing same problems, they lament and are worried over health issues especially affecting children and aged. To live in these dire conditions which have become breeding ground for mosquitoes and havens for pigs, is risking lives.
There is no trace of Swachh Bharath in these colonies. The sewerage water stagnated on the roads forming a cesspool. There is always a lurking danger of breakout of epidemics. The people said that they are paying price for lack of farsightedness among officials concerned. The drainage system was designed long back to suit the people's requirements of those days. But, the population grew over a period of time putting pressure on the drainage system.
Complaints lodged with officials regarding changing the drainage system didn't evoke any response. Pigs are flocking into the colonies including Mithilanagar, Sai Ganesh Nagar, Sai Krupa Nagar, Tirumala Nagar and Sarvodaya Nagar and roaming everywhere. There is a danger of outbreak of brain fever on account of the pigs. Dog menace is also being experienced on a largescale in several colonies in Meerpet. Residents of these colonies urge officials concerned to come to their aid and take steps to replace the old drainage system with a new one.