US President Donald Trump To Host Obama-Admirer Justin Trudeau On Monday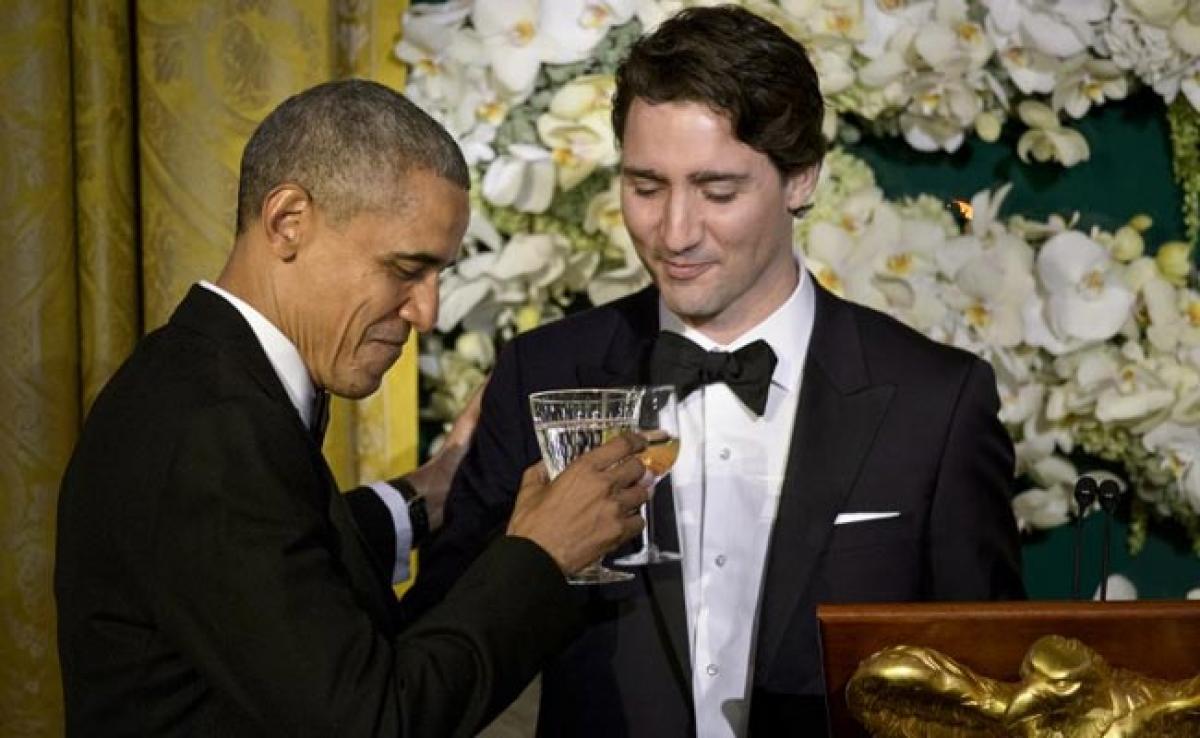 Highlights
Donald Trump hosts Justin Trudeau at the White House on Monday in what is a delicate visit for the Canadian prime minister, who hopes to get a compromise from the US president on free trade while making his point on immigration. Mr Trudeau will be the third foreign leader received by the Republican billionaire since he took office on January 20, following meetings with Britain\'s Theresa May and Ja
Donald Trump hosts Justin Trudeau at the White House on Monday in what is a delicate visit for the Canadian prime minister, who hopes to get a compromise from the US president on free trade while making his point on immigration. Mr Trudeau will be the third foreign leader received by the Republican billionaire since he took office on January 20, following meetings with Britain's Theresa May and Japan's Shinzo Abe.
The pair will meet in the late morning and over lunch, with a joint press conference set for 2:00 pm (1900 GMT).
The 45-year-old Canadian prime minister has pledged to speak "frankly and respectfully" with the new occupant of the White House.
"Canada will always stay true to the values that have made us this extraordinary country, a place of openness," Mr Trudeau said on Friday in Yellowknife, the capital of the country's Northwest Territories.
The economic ties between America and its northern neighbor, who share the world's longest common border, run deep: three-quarters of Canada's exports go to the US, and Canada is the top destination for exports from about 30 US states.
Mr Trump has vowed to renegotiate or scrap the North American Free Trade Agreement (NAFTA) between Canada, the United States and Mexico. But any such renegotiation will not be simple.
Mr Trudeau, a fervent supporter of free trade, has emphasised the importance of the tripartite pact for his country's economy and warned against protectionism.
On Friday, he recalled "the fact that millions of good jobs on both sides of our border depend on the smooth flow of goods and services across the border."
Mr Trump has not been specific on how he wants the talks to develop, but has repeatedly trashed the 23-year-old pact, calling it a "catastrophe" for American jobs and threatening to slap tariffs on imports from Mexico.
Polar opposites

Mr Trump and Mr Trudeau are a study in contrasts: their path to power, their political stripes, their style - they could not be more different.
Mr Trudeau - who has not hidden his affection for Barack Obama, and his left-leaning positions - is 25 years younger than the 70-year-old US leader. Mr Trudeau, the son of a well-liked prime minister, came to power promising to "provide a positive and good government for Canadians" and enhance the country's image abroad.
Manhattan property mogul Donald Trump won the White House in a shock November election victory over Hillary Clinton after painting a dark picture of a country in turmoil and vowing to put "America first."
Welcomed with great fanfare to Washington nearly a year ago by Mr Obama, Mr Trudeau hailed the Democratic president's "leadership" on climate change.
But it's clear he will find a quite different take on the issue from Mr Trump, who counts several climate skeptics in his inner circle and seems determined to undo large parts of his predecessor's legacy.
So far, Mr Trudeau has not commented directly on Trump's controversial immigration order - which temporarily bans all refugees and travelers from seven Muslim-majority countries from entering the US.
But he made his stance clear in a tweet posted the day after Mr Trump signed his decree late last month.
"To those fleeing persecution, terror & war, Canadians will welcome you, regardless of your faith. Diversity is our strength #WelcomeToCanada," Mr Trudeau wrote.
The pair do agree on the massive Keystone XL pipeline project, which would carry oil from Canada's oil sands to US Gulf Coast refineries. The project had been blocked by Mr Obama, but has been given the green light by Mr Trump.