Factbox: Potential candidates for South Korea president after Park impeached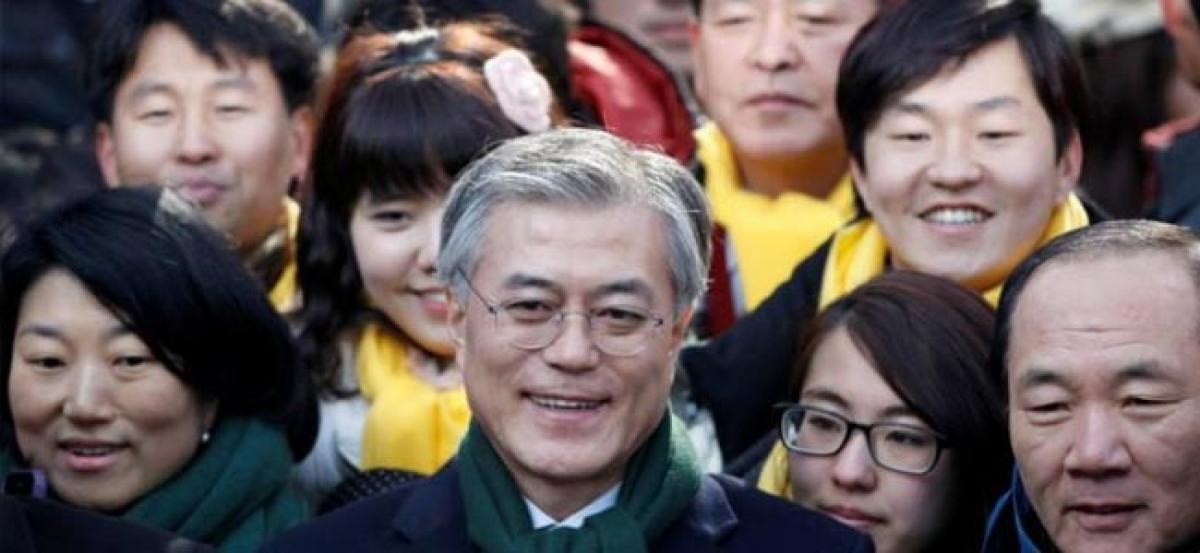 Highlights
The competition to lead Asia-'s fourth-largest economy got off the marks on Friday after the Constitutional Court dismissed President Park Geun-hye...
The competition to lead Asia's fourth-largest economy got off the marks on Friday after the Constitutional Court dismissed President Park Geun-hye from office over an influence-peddling scandal.
Park's replacement, who will have to win a election to be held within 60 days, will face a host of problems: a growing threat from nuclear-armed North Korea that prompted deployment of a U.S. missile-defense system, Chinese retaliation against Korea businesses over that move, and pressure to reform the family-run conglomerates that played a key role in the scandal that caused Park's downfall.
Following is an introduction to the leading candidates and their key policies.
MOON JAE-IN
The 64-year-old former lawmaker and ex-leader of the main opposition Democratic Party lost to Park in the 2012 election by 3 percentage points. Moon favours closer engagement with North Korea. He has also called for the next government to review a decision to deploy the U.S. THAAD missile defence system, which prompted China to squeeze Korean companies on the mainland and clamp down on tourism to South Korea.
He has also pledged to get tougher on South Korea's conglomerates, saying they need reform.
Moon has been at the top of polls, registering 32 percent in the latest one released by Gallup Korea on Friday. The polling company is not affiliated with U.S.-based Gallup Inc.
AN HEE-JUNG
A youthful-looking provincial governor, An, 51, surged to second place in opinion polls after former U.N. chief Ban Ki-moon dropped out of the race. An was an aide to former President Roh Moo-hyun, a liberal, when Moon was Roh's chief of staff. He is a two-term governor of rural South Chungcheong province. Some supporters have nicknamed him the "Obama of South Korea".
An came second in the latest poll, with support of 17 percent of the 1,005 people questioned.
An also favours more engagement with North Korea but has said the THAAD deal should be respected as South Korea and the United States have agreed to deploy it. He has called for a fair, transparent market economy.
AHN CHEOL-SOO
Ahn, 55, is a former doctor and computer businessman.
Ahn's popularity has waned in recent months after stepping down as co-chair of the new opposition People's Party, after it became embroiled in a kickback scandal over advertising funds. Ahn was not implicated. He is a member of parliament.
He got the support of 9 percent of respondents in the latest poll.
He is open to dialogue on North Korea, though has also advocated a tough line. He says the THAAD system must be deployed and South Korea must make greater efforts to convince China it is not aimed at them. On the economy, he advocates the expansion of small- and medium-sized enterprises.
HWANG KYO-AHN
Prime Minister Hwang, 59, became acting president after parliament voted to impeach park on Dec. 9. Hwang was a state prosecutor for nearly 30 years before launching a career in politics and is considered a loyalist in Park's cabinet. He has not said if he will run for president but has, nevertheless, emerged as a top conservative candidate.
Hwang got 9 percent in a latest poll.
Hwang reflects Park's tough line on North Korea and whole-hearted support for THAAD. His economic thinking is conservative.
LEE JAE-MYEONG
Lee, the 52-year-old mayor of Seongnam, a city southeast of Seoul, has surged in opinion polls as an outspoken critic of Park since the scandal that led to her impeachment erupted.
A member of the main opposition Democratic Party, Lee has said he wants to be the South Korean Bernie Sanders, after the U.S. Democratic Party insurgent who ran against Hillary Clinton.
He got the support of 8 percent in the latest poll.
Lee has billed himself as the inheritor of the "Sunshine policy" of engaging with North Korea. He recently told Chinese media the THAAD deployment should be called off. He is well known for his staunch criticism of the chaebol.
Subscribed Failed...
Subscribed Successfully...