Philippines' Rodrigo Duterte says 'may' visit disputed South China Sea island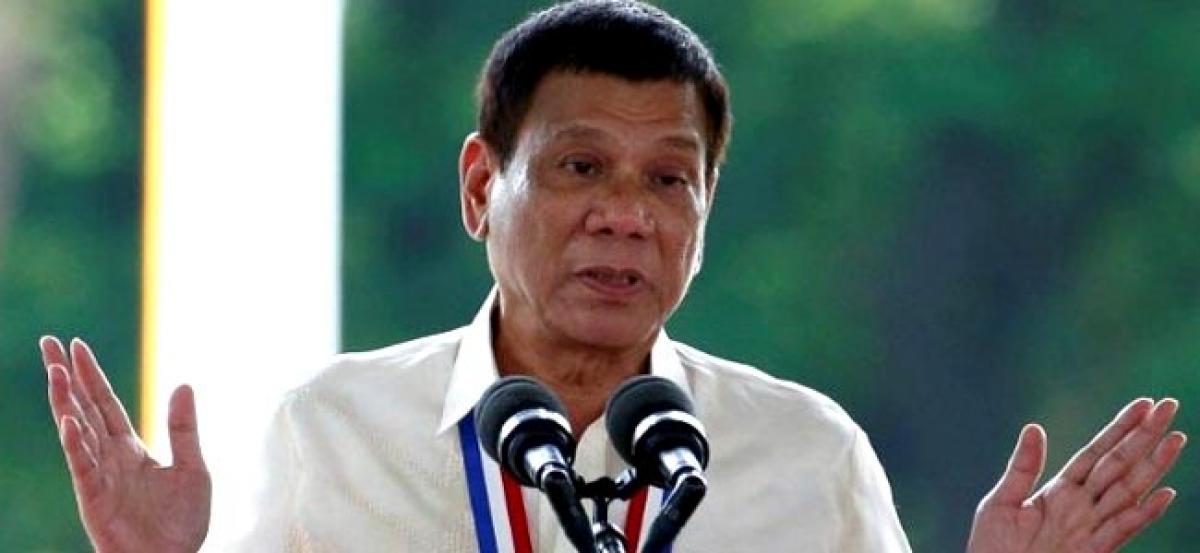 Highlights
Philippine President Rodrigo Duterte, who on the campaign trail joked that he would jet ski to a Chinese man-made island in the South China Sea
Philippine President Rodrigo Duterte, who on the campaign trail joked that he would jet ski to a Chinese man-made island in the South China Sea to reinforce Manila's claim, said on Thursday he may visit a Philippine-controlled island to raise the national flag.
Duterte's plan is unlikely to sit well with China, which lays claim to almost all the South China Sea, despite a fast-warming relationship between the two sides in recent months.
The Philippines occupies nine "features", or islands and reefs, in the South China Sea, including a World War II-vintage transport ship which ran aground on Second Thomas Shoal in the late 1990s.
Duterte told reporters he would visit the island of Thitu, the largest of the Philippine-controlled Spratly Islands, and build a barracks for servicemen operating in the area.
"In the coming Independence Day, I may go to Pagasa island to raise the flag there," Duterte told reporters, using the local name for Thitu.
The Philippines marks 119th year of independence from more than three centuries of Spanish rule on June 12.
Thitu is close to Subi Reef, one of seven man-made islands in the Spratlys that China is accused of militarising with surface-to-air missiles, among other armaments.
Brunei, Malaysia, the Philippines, Vietnam and Taiwan also have claims in the strategic waters.
Duterte's comment made at a military base on Palawan island, near the disputed waters, came two days after Manila's acting foreign minister said China and the Association of Southeast Asian Nations had made progress on a framework for a code of conduct in the South China Sea.
Duterte announced his "separation" from the United States in October, declaring he had realigned with China as the two agreed to resolve their South China Sea dispute through talks.
His efforts to engage China, months after a tribunal in the Hague ruled that Beijing did not have historic rights to the South China Sea, marks an astonishing reversal in foreign policy since he took office on June 30.
Last month, Defence Minister Delfin Lorenzana said the military would strengthen its facilities in the Spratlys, building a new port, paving an existing rough airstrip and repairing other structures.
Chinese coast guard vessels prevented a Philippine nationalist group from planting a Filipino flag on a rocky outcrop in another part of the South China Sea in June.
Duterte said last month it was pointless trying to challenge China's fortification of its man-made islands and ridiculed the media for referring to his comment that he would jet ski to one Beijing's reclaimed reefs.
"We cannot stop them because they are building it with their mind fixed that they own the place. China will go to war," he said. "People want me to jet ski. These fools believed me."