Typhoon kills at least 9 in Japan, boats move tourists from flooded airport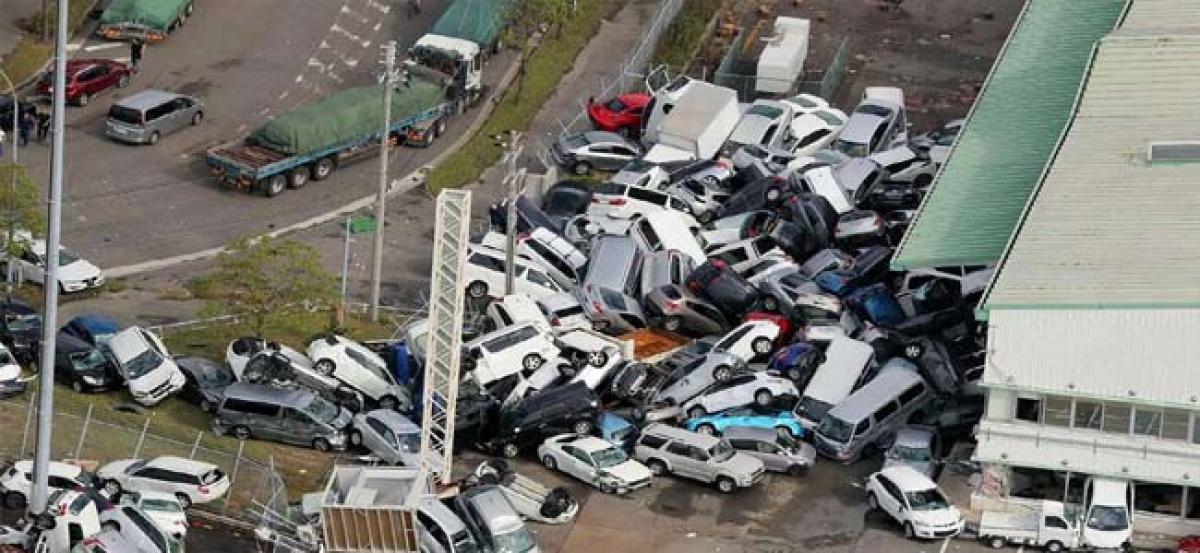 Highlights
A powerful typhoon killed at least nine people in western Japan and an airport company started to transfer some 3,000 stranded passengers by boats, public broadcaster NHK said on Wednesday, and more than a million homes were without power
A powerful typhoon killed at least nine people in western Japan and an airport company started to transfer some 3,000 stranded passengers by boats, public broadcaster NHK said on Wednesday, and more than a million homes were without power.
Jebi, or "swallow" in Korean, was briefly a super typhoon and is the most powerful storm to hit Japan in 25 years. It follows heavy rains, landslides, floods and record-breaking heat that killed hundreds of people this summer.
About 3,000 tourists stayed overnight at Kansai airport in the heavily populated south-central area of Japan's main island, Honshu. Television footage showing people lining up to buy food and drinks at a convenience store in the airport.
Airport officials began transferring the stranded passengers to nearby Kobe airport by high-speed boats on Wednesday morning, according to NHK.
It could take several days to a week to reopen Kansai airport depending on the damage, the Yomiuri newspaper quoted an unidentified person in the airline industry as saying.
More one million households were without power in Osaka and its surrounding areas at 7:30 a.m. on Wednesday (2230 GMT Tuesday) and a number of flights and some trains were cancelled, according to the trade ministry and public broadcaster NHK.
Japan's JXTG Nippon Oil & Energy Corp shut at least one of the refining units at its 135,000 barrels-per-day Sakai refinery in Osaka in western Japan due to typhoon damage to a part of the cooling tower, the trade ministry said.