Akhil Bharatiya Vidhyardhi Parishad demands clearance of fee dues, sits on 24-hr hunger strike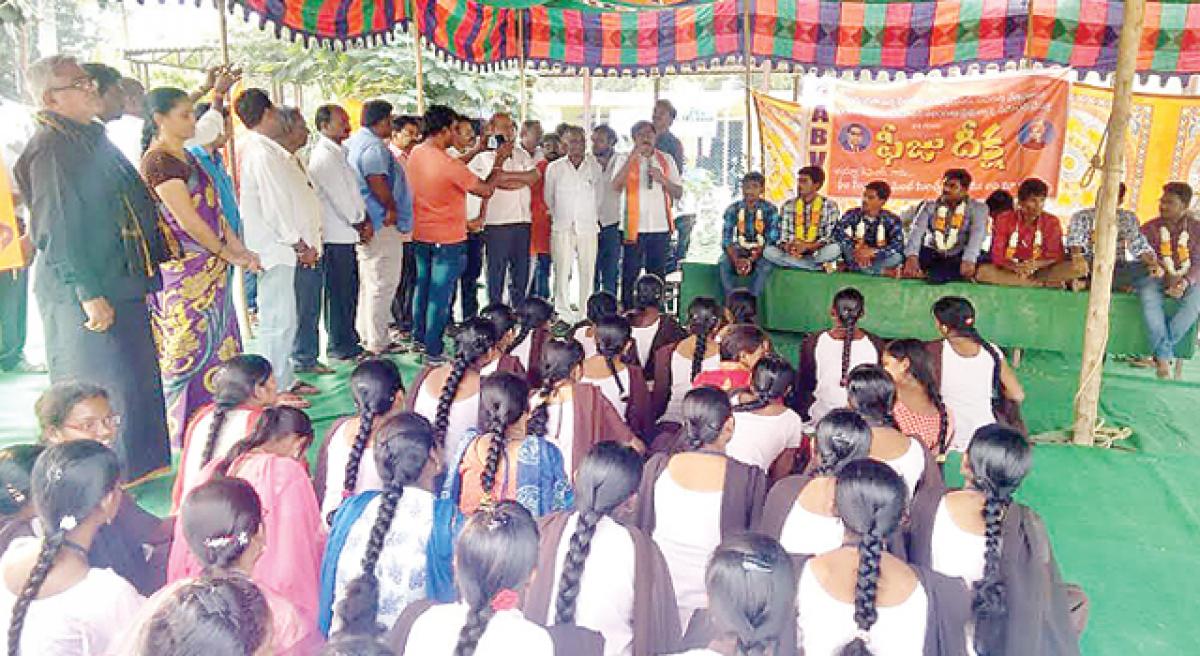 Highlights
Speaking on the occasion, Ayappa, State Secretary of ABVP said, "The Telangana government, which has released funds for all welfare schemes and increased the salaries of MLA's and Ministers, is not concentrating on problems faced by the students."
​Khammam: Activists of the Akhil Bharatiya Vidhyardhi Parishad (ABVP) held a 24-hour hunger strike here at Dharna Chowk in Khammam on Thursday demanding the government to clear pending fee dues.
Speaking on the occasion, Ayappa, State Secretary of ABVP said, "The Telangana government, which has released funds for all welfare schemes and increased the salaries of MLA's and Ministers, is not concentrating on problems faced by the students."
When14 lakhs of students are facing problems due to pending fee dues, Chief Minister K Chandrashekar Rao is relaxing in his farmhouse putting the students on a backburner, he criticised. He demanded the government to release the fee amount of Rs 2,700 crore apart from enhancing the scholarship amount from Rs 3,000 to Rs 5,000 for each student.
He also warned the government of massive protests if government failed to address their problems and release the money as early as possible.
Telugu Nadu Students Federation district president Sumanth, BJP district president Uday Pratap, Prudvi Naik, Mohan, Ganesh, Shravan, Naveen, Sai and Ashok Kumar were part of strike.