Save children from sexual abuse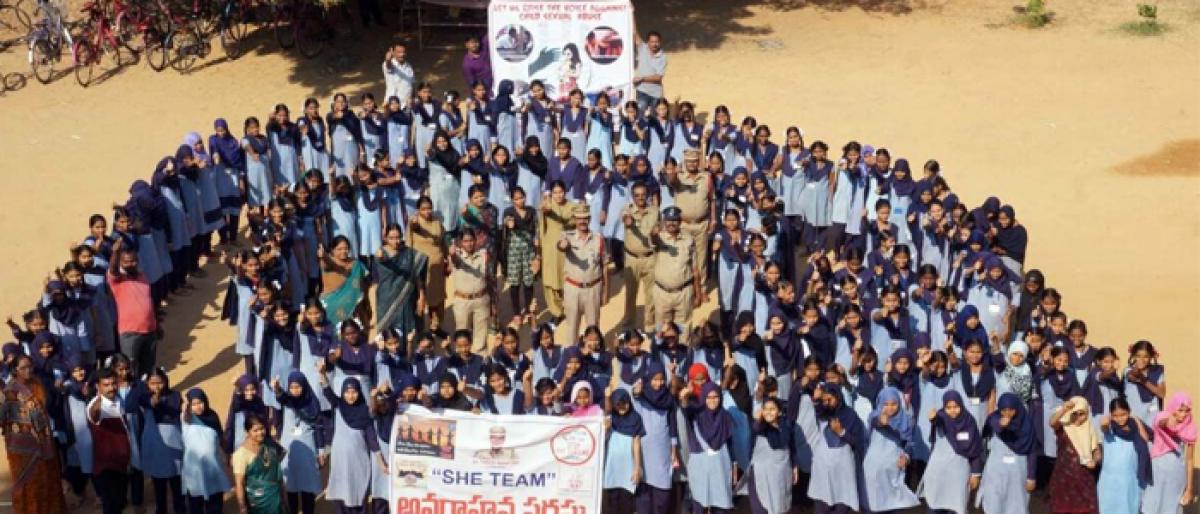 Highlights
The alarming increase of child sexual abuse incidents in recent times indicates that it is high time to tackle the serious problem. When a child is pressurised, forced or tricked into taking part in any kind of sexual activity with an adult or young person, that is called as sexual abuse. The increasing use of social media and greater exposure to technology would have increased the incidents of ch
Khammam: The alarming increase of child sexual abuse incidents in recent times indicates that it is high time to tackle the serious problem. When a child is pressurised, forced or tricked into taking part in any kind of sexual activity with an adult or young person, that is called as sexual abuse. The increasing use of social media and greater exposure to technology would have increased the incidents of child sexual abuse in recent times across the State.
The Ministry of Human Resource Development (HRD) is roping in various NGOs and civil society groups to chalk out a strategy for dealing with such cases at school-level, as the increasing number of these cases is setting alarm bells in the country.
At an awareness programme held recently at Vikas Degree College in Khammam, the district She Team in-charge, N Anjali, suggested all the parents, who have school and college-going daughters, to be more careful and to educate their children how to behave with strangers. The children, particularly girls, should be told strictly not to take gifts from strangers. Because it is the usual procedure with offenders to get acquainted with children by offering them gifts, she explained.
Despite several rules and guidelines, still a number of cases of sexual abuse are being reported. Women and children can get protection if they give information by dialing 1098 helpline and Nirbhaya Act also will be imposed against the offenders, Anjali explained.
Along with Nirbhaya Act, the culprits will be imprisoned for at least five to seven years, she added. Suvarna, an advocate from Warangal, observed that sexual harassment can be controlled only when stringent action is taken against the offenders. Various loopholes in the Women Protection Act and lack of commitment in the enforcement are also reasons for the people to commit such heinous crimes. She felt political involvement in these cases should not be encouraged.
Both judiciary and police departments and the government must work in coordination to enforce strict laws against the persons, who are indulged in child sexual abuse and women harassment, she added.
Psychologists say that children are often confused between love and abuse as the attacker uses personal connections as a means to get closer. The most vulnerable age is between seven and 13 years. Many cases of assaults involving children were committed by someone they knew - mainly neighbours and family members. The sexually abused children have to deal with physical injuries and everlasting psychological and emotional trauma. Creating awareness among children and equipping them to respond effectively is very important. Creating forums to provide help whenever needed would help them recover and free them from feeling guilty.
Rajitha, a Degree College lecturer at Hanamkonda, said that it is important to understand that it's difficult for a child to take a decision on matters such as sex. This issue needs to be tackled beyond the usual good touch and bad touch lessons. Building awareness about child sexual abuse and laws concerning the issue is important to control such incidents. The voluntary organisations, educationists, intellectuals must play key role in educating the children about the great family culture of India and its traditions.
The children, the future citizens of the country, should be healthy for a country to thrive. The children should be made to enjoy their innocence. Families, institutions and the country have the responsibility to protect their rights, she added.
By: Puli Sharath Kumar