6,175 Wanaparthy students create record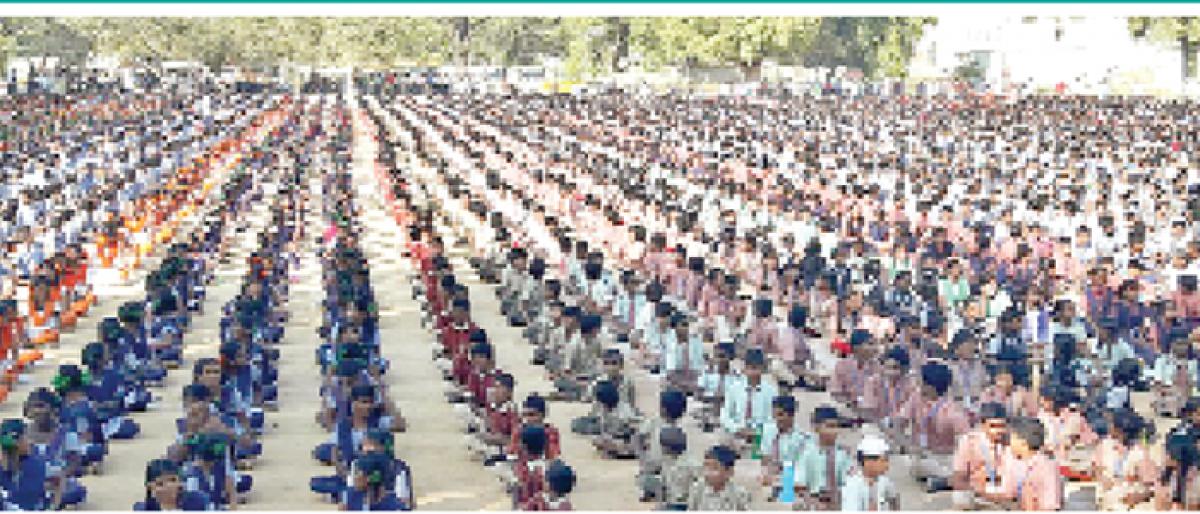 Highlights
Around 6,175 students from 25 schools from across Wanaparthy district gathered at Polytechnic College Grounds to recite 'Jaya Jaya He Telangana', the Telangana State song to enter Wonder Book of World Records on Wednesday. With this, the newly-carved Wanaparthy broke the earlier record of Mahbubnagar district which had scripted the record with 5,000 students. The programme was jointly organised by
Wanaparthy: Around 6,175 students from 25 schools from across Wanaparthy district gathered at Polytechnic College Grounds to recite 'Jaya Jaya He Telangana', the Telangana State song to enter Wonder Book of World Records on Wednesday. With this, the newly-carved Wanaparthy broke the earlier record of Mahbubnagar district which had scripted the record with 5,000 students. The programme was jointly organised by Education department of Wanaparthy and the district administration.
After witnessing the grand gala event, District Collector Swetha Mohanty and State Planning Commission vice-chairman Niranjan Reddy congratulated the students for making the district proud at international level.
India's chief coordinator Lion Narender Goud and TS & AP Chief Coordinator G Swarnashree were present as representatives from Wonder Book of World Records. Later, they handed over mementos to the chief guests Mohanty and Niranjan Reddy.
Speaking on the occasion, the Collector said, "It is a proud moment for the students and people of Wanaparthy district. The students have made the world record by mass recital of patriotic Telangana state song in one tone." She further suggested the district education department to continue such programmes and cultural events which will be of a great source of encouragement for the students.
Addressing the students, Niranjan Reddy said, "It is a pleasure to organise such a flagship programme. The names of the students who participated in this record will be recorded for ever in the Wonder Book of World Record and it is a proud moment for every student who participated in this feat."
"Nothing is impossible if we practice and work dedicatedly to achieve the goals," Reddy said, suggesting that students can achieve such wonders if they work hard and do things with a commitment.