BJP dist unit to conduct Dalit Adalat in Nakrekal constituency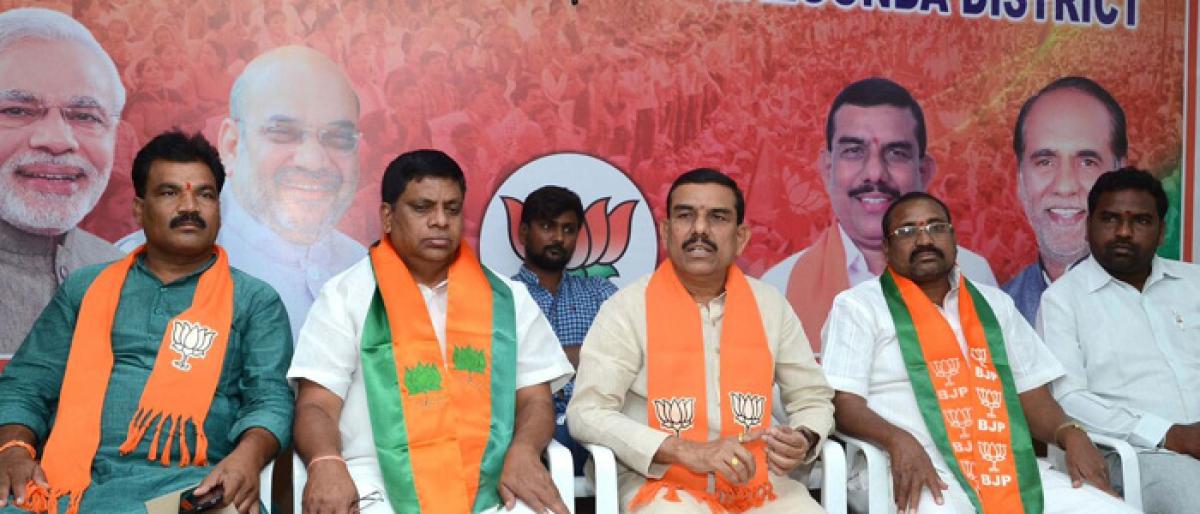 Highlights
BJP district unit president Nukala Narsimha Reddy on Friday accused Chief Minister K Chandrashekar Rao of reneging on his promises made during the electioneering.  Narasimha Reddy along with party State unit leader Bandaru Prasad at a media conference at the party office, said the TRS government had not fulfilled major promises like KG to PG free education and three-acre farmland for Dalits even f
Nalgonda: BJP district unit president Nukala Narsimha Reddy on Friday accused Chief Minister K Chandrashekar Rao of reneging on his promises made during the electioneering. Narasimha Reddy along with party State unit leader Bandaru Prasad at a media conference at the party office, said the TRS government had not fulfilled major promises like KG to PG free education and three-acre farmland for Dalits even four years after coming to power.
He claimed that the BJP survey in the reserved Nakrekal constituency showed that only a few had got the benefits. Most of the names of the beneficiaries were only on the paper, he said. The government, he said, had miserably failed to implement three-acre land for the poor Dalits in Nakrekal constituency and a single beneficiary received the land so far.
To explain the government failures and how the ruling party betrayed the people, the party would conduct Dalit Adalat at Nakrekal on Saturday, he said..
Party State President K Laxman, Dalit wing State unit president Vemula Ashok , Party State leaders Chintha Samba Murthy, Gongidi Manohor Reddy would participate in the programme, he said.
He urged party dalit cadre and people of neglected sections of Nakrekal constituency to make the program a grand success.
Party leaders Pothepaka Sambaiah, Baki Papaiah , Nagireddy and others were also present.
He further said party former State unit president Kishan Reddy would visit Nalgonda town on Tuesday.