Mahbubnagar faces a deficit of 600-700 units of blood every month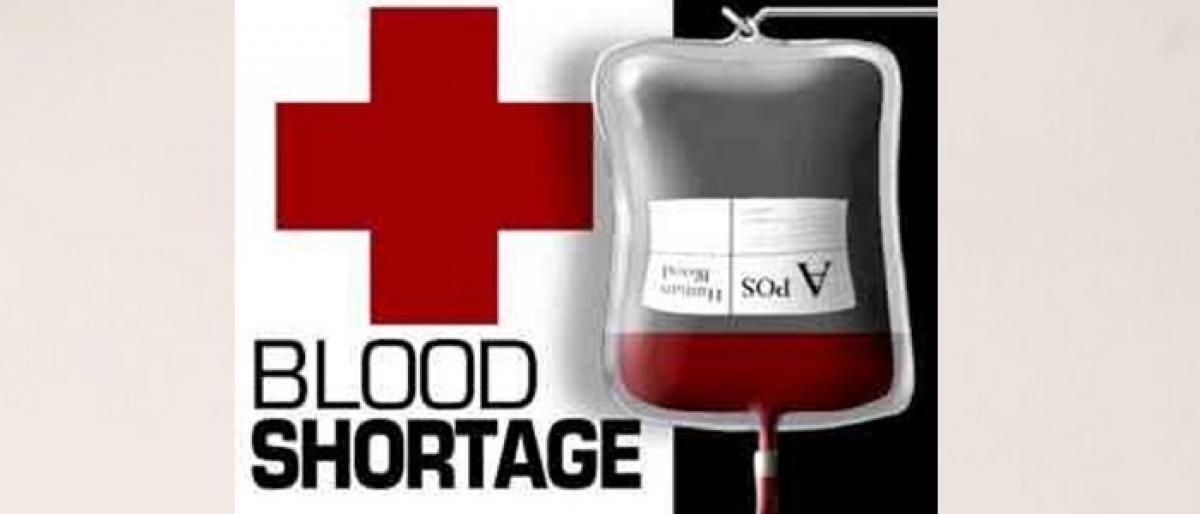 Highlights
With more and more emergency cases being reported every day in various hospitals both private and government, the demand for blood this summer has drastically increased up to 40-50 units per day. With this the overall monthly demand at the Red Cross Society Blood Bank is pegged at 1500 units per month. However, during this summer as the blood donations has fallen steeply down causing a deficit of
​Mahbubnagar: With more and more emergency cases being reported every day in various hospitals both private and government, the demand for blood this summer has drastically increased up to 40-50 units per day. With this the overall monthly demand at the Red Cross Society Blood Bank is pegged at 1500 units per month. However, during this summer as the blood donations has fallen steeply down causing a deficit of 600-700 units per month.
According to Dr N Narasimhulu, Chief Medical Officer of Blood Bank at Red Cross Society of Mahabubnagar, particularly this summer the available blood at the blood bank is set at 800-900 units per month. However, the demand for the blood has shot upto 1500 units, because of which the blood bank at Mahabubnagar Red Cross society was not able to meet the growing demand.
"There are many complaints that the Red Cross Society is turning the people away whoever comes for blood saying there are no stocks, but the fact is that the available stocks at the blood bank is only about 800-900 units and every day we are supplying around 15-20 units to the hospitals in the district," informed the Chief Medical Officer.
As per the government rules, the Red Cross Society Blood bank is entitled to give about 30 per cent of available stocks free of cost to the government hospitals and for people with privilege care, while the remaining blood can be sold to the private hospitals to meet the requirements of the emergency patients.
The so earned income is further spent on the maintenance of the blood banks and other medical expenses that are incurred while conducting blood donation camps and other awareness programmes.
Dr Narasimhulu said that each unit secured from the donors will be divided into four different components and it can be used for 4 patients during emergencies.
The Red Cross society while taking blood from the donors will also give them a certificate and a privilege card. In case some donors who may face any emergencies will get one unit of free blood from the Red Cross Society and they are also entitled to an insurance of Rs. 25,000 from the Society during accidental deaths.
"The privilege card is very much useful for the donors. It will not only help enable the donors get free blood during emergencies, but also provides an insurance of Rs. 25,000 to the families of the donor in case of accidental donors," the Chief Medical Officer added.
As the demand for blood is increasing, the chief medical officer felt that more and more people should be made aware of importance of blood donation so that it will help save the lives of people in distress. He said any person between the age group of 18-50 years can give blood once in 3 months.