Officials told to conduct Rythu Bandhu smoothly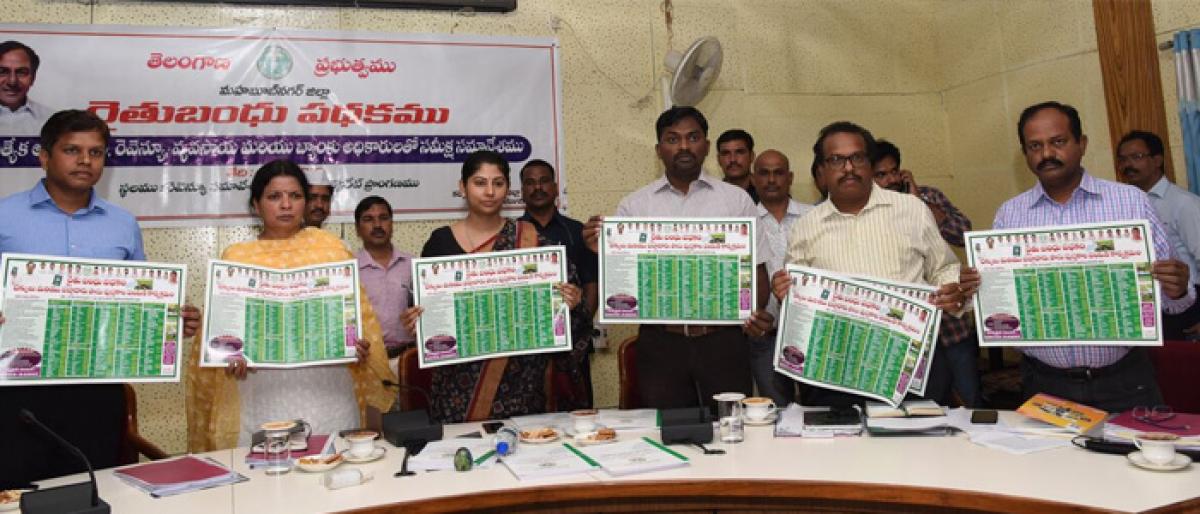 Highlights
Special Secretary in the Chief Minister's Office (CMO) Smita Sabharwal,  Vakati Karuna, Director and Chief Commissioner for the Land  Administration Vakati Karuna and District Collector Ronald Rose, while taking part in a review meeting with the officials of Revenue, Bankers and Agriculture department in the town on Friday
​Mahbubnagar: Special Secretary in the Chief Minister's Office (CMO) Smita Sabharwal, Vakati Karuna, Director and Chief Commissioner for the Land Administration Vakati Karuna and District Collector Ronald Rose, while taking part in a review meeting with the officials of Revenue, Bankers and Agriculture department in the town on Friday urged them to take preventive measures so that problems may not crop up during the distribution of cheques to the farmers at the the 'Rythu Bandhu' programme, starting from May 10.
As the state government is planning to launch the Raitu Bhandu scheme for distributing input capital support to the farmers from May 10 to 17, the top officials expressed the hope that the cheque distribution and pass book distribution programme to the farmers would be conducted smoothly in the district without any hurdles.
"For the ease of distribution of cheques and land passbooks, we have directed the officials to arrange the list of farmers as per the serial number of their pass book accounts and at the same time asked them to record the cheque number and respective amount against their account number," said Ronald Rose.
While interacting with the Revenue Department officials, Smita Sabharwal cleared their doubts and said that the cheques of those farmers who died and those farmers having two accounts must be recorded and those cheques must be withheld for the time being so that they could be distributed at a later stage after resolving the issues concerning with such beneficiaries.
The officials were also told to scrutinise the identity cards of the farmers based on which the cheques would be distributed. The officials said that as everything was going on as planned, they hoped that 90 per cent of cheque distribution would be conducted smoothly.
"There may be some cases, in which a farmer may have received cheques but not having the land passbooks while in other cases, farmers may have got pattadar pass books but not the cheques. Such cases should be dealt tactically by the Tahsildars. They should convince and give hope to such farmers," Vakati Karuna said.
The three top officials also directed the district officials to provide basic amenities like provision of drinking water and arrange tents at the cheque distribution centres. They were also told to convey the information on the cheque distribution programme to the farmers concerned one day in advance and should asked the local public representatives, members of farmers coordination committees, VRAs, VROs and village secretaries to take part in the programme.
For those farmers who are ill, the officials were told to hand over such cheques directly at their home. And farmers who were voluntarily objecting to take the 'Rythu Bandhu' cheques, such cheques need to be deposited into the accounts of Agriculture departments. The bankers were told to take steps and ensure that the farmers do not face any hurdles.