Mixed response evoked in Vizag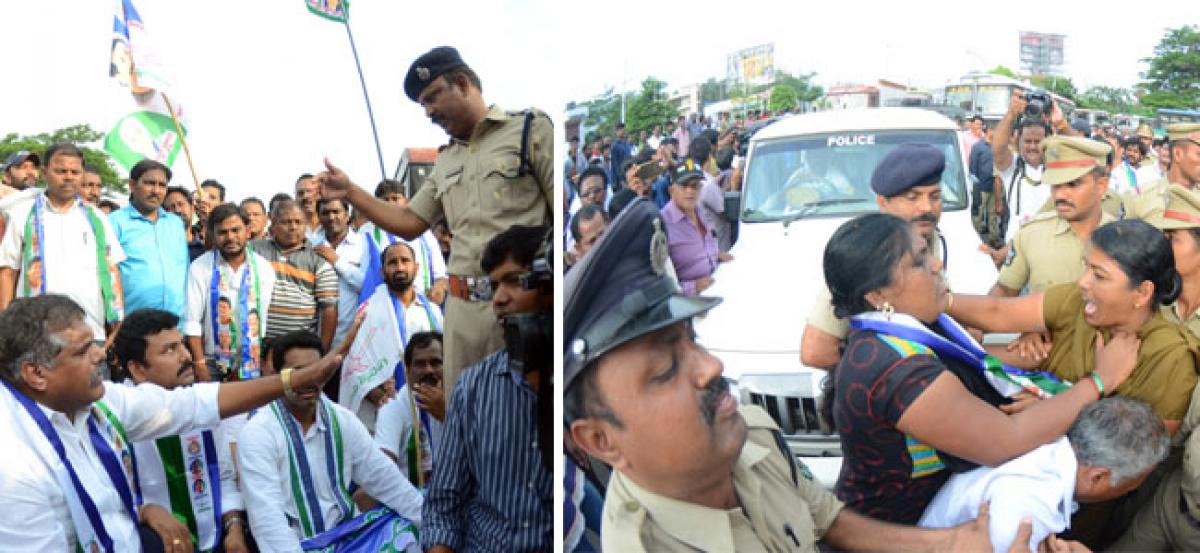 Highlights
The statewide bandh, a call given by YSR Congress Party, evoked a mixed response in Visakhapatnam district on Tuesday
Visakhapatnam: The state-wide bandh, a call given by YSR Congress Party, evoked a mixed response in Visakhapatnam district on Tuesday. Even all the other political parties have not supported to the bandh, the YSR Congress Party activists in big numbers gathered at all the important locations stopped the all the vehicles in the district. Majority of the educational institutions both private and the government closed.
Demanding the centre for immediate announcement of Special Category Status, Railway Zone with Visakhapatnam as headquarters and other assurances listed in the AP Reorganisation Bill-2014, the YSR Congress Party called for the state-wide bandh. Over 70 percent of the RTC buses at all bus depots in the district stopped in the morning sessions.
At some places, the depot managers run the buses, but there is no big rush. The shops, hotels, restaurants and other commercial establishment closed till 11 am. Initially, the cine theatres wish to cancel the morning shows. However, except a few the theatres, all the theatres screened the movies as usual.
All the leaders and party activists right from morning hours gathered at various places in the city and at all the mandal headquarters staged dharna and protest rallies. However, the police prevented them and at several places the police arrested them.
In Visakhapatnam city, a large number of party workers led by senior leaders Botcha Satyanarayana and Ummareddy Venkateswarlu, Tynala Vijayakumar, Malla Vijaya Prasad, Vamsi Krishna Srinivas Yadav and other staged dharna before the Maddilapalem RTC Complex.
During the clearing, the mob, some of the party activists faced tough times and some sustained minor injuries. Large numbers of police were deployed to the spot and arrested the leaders and activists and shifted to various police stations. Bothca Satyanarayana, Ummarddy Venkateswarlu, and other leaders shifted to harbour police station.
Though the auto-rickshaw unions have not announced solidarity to the bandh, about 50 percent of the auto-rickshaws stopped services till afternoon.
There is a good response registered in the agency pockets. The auto-rickshaws, vans, and jeeps voluntarily stopped the services.