Congress leader Suresh Reddy joins TRS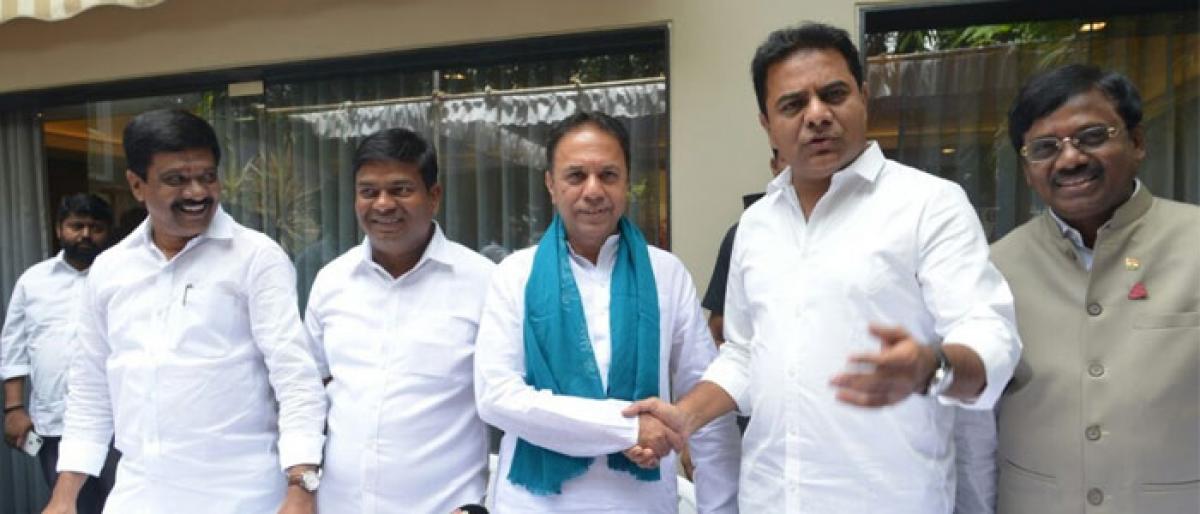 Highlights
Congress leader and former assembly speaker Suresh Reddy is likely to join Telangana Rastra Samiti TRS The news grabbed headlines after the IT and MAUD minister KT Rama Rao met Reddy at the latters home on Friday morning
Congress leader and former assembly speaker Suresh Reddy joined Telangana Rastra Samiti (TRS). IT and MAUD minister KT Rama Rao and other party leaders met Suresh Reddy at the latter's home on Friday morning and invited him to TRS party. Reddy too accepted KTR's request and said that he will officially join the party in two days.
Government advisor and former MP Vivek and former MLAs Prashanth Reddy and Jeevan Reddy also visited Suresh Reddy's home to welcome him into the party on the order's of the party chief and caretaker CM KCR.
Meanwhile, Reddy said that he is not expecting a party ticket as the candidate list was already released.
Ever since the bifurcation of Andhra Pradesh, Reddy stayed away from politics. Reddy served as a speaker of united Andhra Pradesh assembly from 2004-09. He was a close associate of former chief minister YS Rajasekhara Reddy. Reddy won the Balconda assembly constituency seat for two times. Later he lost in 2009 assembly elections from Armoor constituency.
However, after the dissolution of assembly, many leaders from opposition parties expressing their desire to join TRS party expecting a party ticket.