Kondagattu Mishap: Brake failure caused bus to fell into 20ft gorge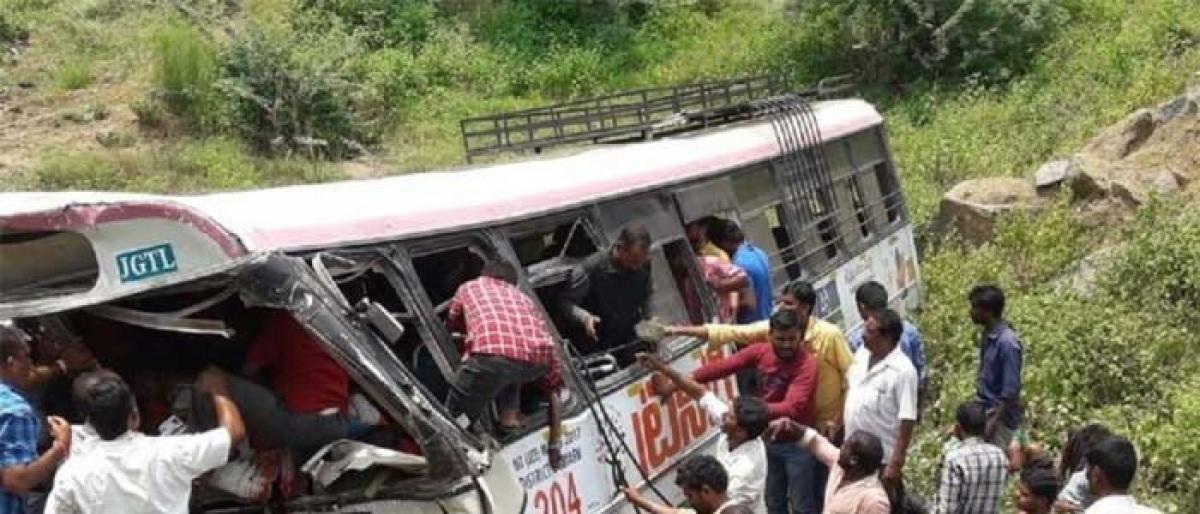 Highlights
Lack of Bus fitness and failure of brake were the main reasons behind the Kondagattu bus accident which killed over 60 people It is also learned the bus steering was also broken before the crash
Lack of Bus fitness and failure of brake were the main reasons behind the Kondagattu bus accident which killed over 60 people. It is also learned the bus steering was also broken before the crash.
The police ascertained the reasons for the bus crash who earlier suspected the overspeed led the vehicle fall into the gorge. The driver lost control over the bus as the brakes failed which then picked up the speed, it is learned.
However, the driver who was awarded in fuel saving failed to say as to why he had taken the ghat road. It was believed that to decrease the distance to Jagitial by 2 km and save the fuel, the driver took the ghat road. Road Safety Director General Krishna Prasad said that the driver could not manage to control the bus as it had double passengers than its seating capacity.
The bus heading to Jagitial with over 87 people on board met with an accident on Tuesday killing 57 people on spot. Of the 32 injured, four of them succumbed to injuries on Wednesday raising the death toll to 61 and three people are still in the coma. The injured were shifted to Hyderabad and Karimnagar for better treatment.