BJP to contest from all seats in Telangana: Amit Shah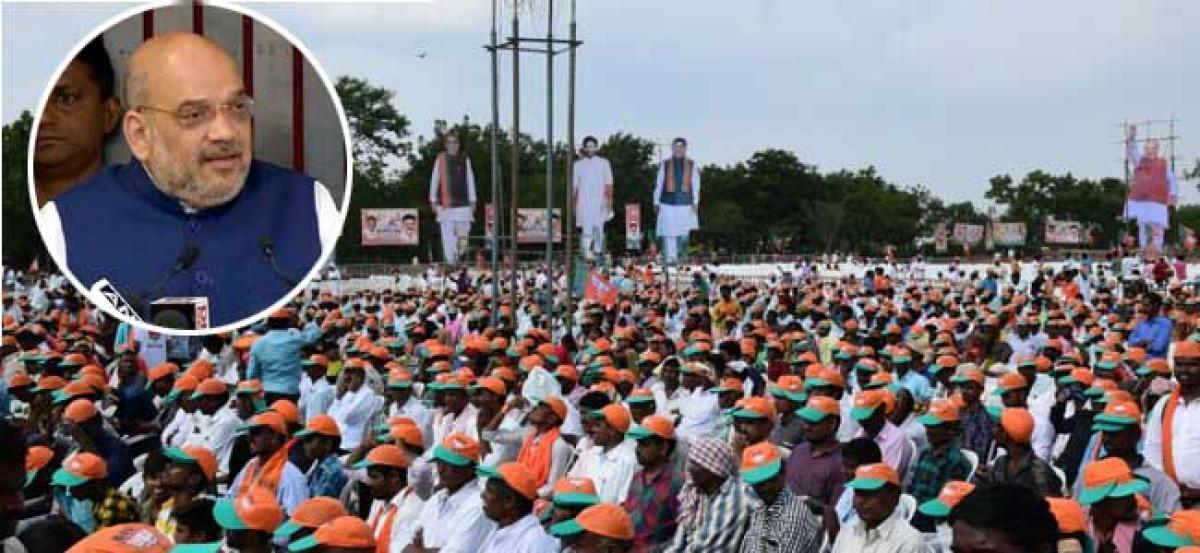 Highlights
Launching a scathing attack on the Telangana Rashtra Samithi TRS and the Congress party, Bharatiya Janata Party BJP president Amit Shah on Saturday announced that his party will contest on all seats in the pollbound state, and insisted that they emerge as a strong and decisive force
Hyderabad (Telangana): Launching a scathing attack on the Telangana Rashtra Samithi (TRS) and the Congress party, Bharatiya Janata Party (BJP) president Amit Shah on Saturday announced that his party will contest on all seats in the poll-bound state, and insisted that they emerge as a "strong and decisive force."
Telangana was scheduled to go to polls in June 2019, however, Chief Minister K. Chandrasekhar Rao decided to go for early polls and dissolved the state assembly earlier this month, necessitating the constitution of a new government.
"Chandrasekhar Rao had earlier supported the 'One Nation, One Election' initiative. However, I am surprised to see how his party is forcing Telangana to spend money on two elections - Vidhan Sabha and Lok Sabha. The Telangana elections were scheduled to take place after nine months. I want to ask the Chief Minister why he is forcing Telangana to go for elections so early? BJP feels that only for political benefit, TRS and Chandrasekhar Rao have forced elections on the state," Shah said while addressing a press conference here.
"BJP will fight on all seats in Telangana and emerge as a strong and decisive force in the state. TRS is doing politics of vote bank and appeasement in Telangana. Is it not appeasement politics to propose 12 per cent reservation for minorities? They know that our constitution does not allow reservation based on religion. If the same government comes back to power, vote bank politics will continue in the state," he added.
Watch Amit Shah Speech
While criticising the Congress, Shah said: "I don't understand how the Congress party takes authority of the votes of the Telugu community. Even today people remember how Tanguturi Anjaiah was mistreated. People remember how Narasimha Rao was mistreated. Recently, the way BJP and the people of this country paid tribute to Atal Bihari Vajpayee, it has brought back the memories of Narasimha Rao - how even after his death the Congress party didn't stop from insulting him."
"During Atal Bihari Vajpayee's regime, three states were formed - Uttarakhand, Chhattisgarh and Jharkhand. Nowhere blood was shed. We did partition of the three states orderly. Today, all these states are developing. This is how the BJP government works. In 2014, TRS had assured that the state will have a 'Dalit' Chief Minister. They didn't do that. I want to know whether they will do that in 2018 as well," he added.
Although KCR called for an advancement in elections, the Chief Election Commissioner asserted that the polling dates will be decided based on a report filed by the Telangana State Chief Electoral Officer.