Terms of References of 15 FC weaken cooperative federalism: Yanamala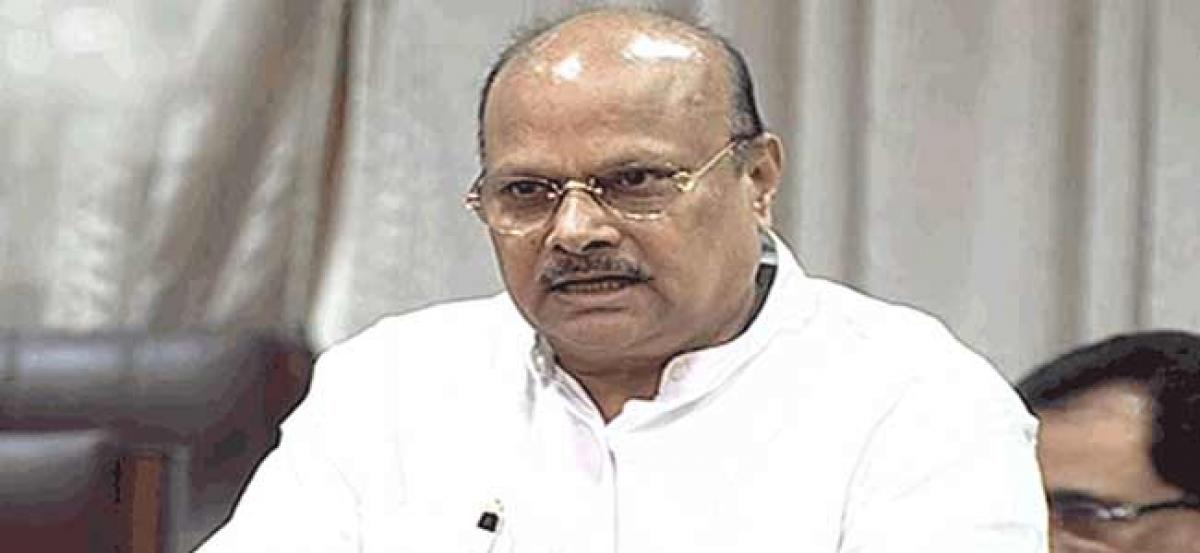 Highlights
Taking a strong dig at Central government for making Terms of References for 15 Finance Commission, against the interests of certain states like AP, Finance Minister Yanamala Ramakrishnudu stated that this was nothing but an act of weakening cooperative federalism in India
Amaravati: Taking a strong dig at Central government for making Terms of References for 15 Finance Commission, against the interests of certain states like AP, Finance Minister Yanamala Ramakrishnudu stated that this was nothing but an act of "weakening co-operative federalism in India".
Ramakrishnudu, while addressing at the 15 FC members on Thursday at Secretariat while submitting suggestions from AP government stated that the state government strongly oppose the condition of considering 2011 census instead of 1971 census for devolution of funds between centre and states.
In this meeing, Chief Minister Nara Chandrababu Naidu, N.K. Singh, Chairman, Shaktikanta Das, Dr. Anoop Singh, Dr. Ashok Lahiri, Dr. Ramesh Chand, Secretary and other officials of the 15 FC, Members of Council of Ministers, and all present.
He said as our new capital Amaravati is taking shape, "this is an opportunity for us to sensitise the Finance Commission about the challenges being faced by us and the assistance that we seek from you".
"I would like to mention that AP, along with some other States, had presented a joint memorandum to the President of India wherein we had expressed our concerns on some of the ToRs to the 15th Finance Commission which might weaken co-operative federalism in India", he added.
He said that they had objected to the use of 2011 population as a factor for determination of devolution of taxes.
"The 42nd Amendment, 1976 to the Constitution of India has mandated to use 1971 census as the basis for delimitation and determining States' representation in Parliament until 2001, and the deadline was further extended for 25 years i.e. till 2026 through the 84th Constitutional Amendment, 2001. These amendments were intended to give a boost to the implementation of family welfare programme. The use of 2011 census would have dire impact on progressive states like AP, which have successfully reduced the total fertility below the replacement rate. The ToR has potential to severely alter regional balance both in political and economic terms", Ramakrishnudu explained with the FC members.
One of the core tasks of Finance Commission is to see to it that States' finances are placed on sound footing and that the fiscal imbalances between the Centre and States and between States are removed.
The ToR asking the 15 FC to examine whether revenue deficit grants to be provided at all, shall be detrimental to a revenue deficit State like AP. We are in serious need of central assistance. Such an intrusive directive shall be in violation of Article 280(4) of the constitution and Sec 8 of the Finance Commission (Miscellaneous Provisions) Act-1951, both of which empower FC to independently determine the need and quantum of revenue deficit grant if at all, to be provided to the states, Ramakrishnudu said.
Reacting on the terminology used in ToRs, the Finance Minister said that central government failed in determining meaning of "Populist schemes".
"We believe that States' rights have not been taken into view while giving 15th FC an authority to determine which schemes are "populist". The definition of a populist measure may not stand the test of the time. For instance, AP's Rs.2 per kg rice scheme later became the official policy through entitlement based programmes of the Government of India. The electorate, in our view, would be a better judge of populist schemes. Accordingly, we have requested for amendments in the ToRs", he said.
He hoped that the Commission would be sensitive to AP needs and do justice to state government efforts so that residuary state could come to a level playing field with the other States.