GHMC takes up special drive to remove political material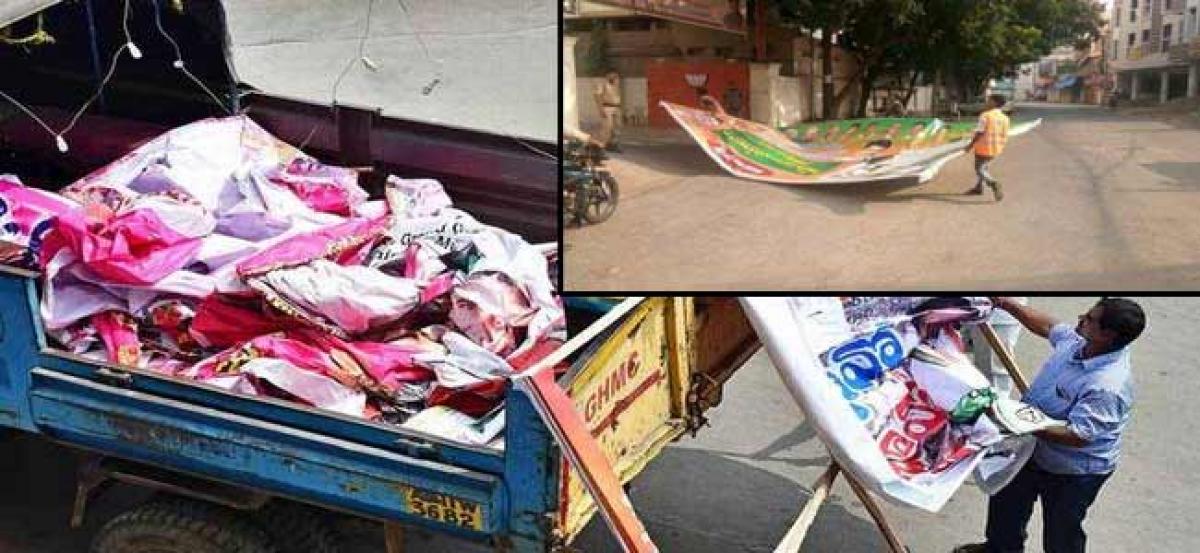 Highlights
GHMC Commissioner and Hyderabad District Electoral Officer DEO Dana Kishore said that the GHMC has taken up special drives from the last two to three days and removed Posters, Banners, Wall paintings and publicity materials relating to Elections wherein around 28,000 plus publicity materials have been removed from the public properties and 19,000 materials from the private properties in the jur
Hyderabad: GHMC Commissioner and Hyderabad District Electoral Officer (DEO) Dana Kishore said that the GHMC has taken up special drives from the last two to three days and removed Posters, Banners, Wall paintings and publicity materials relating to Elections wherein around 28,000 plus publicity materials have been removed from the public properties and 19,000 materials from the private properties in the jurisdiction of Hyderabad District comprising of 15 Assembly Constituencies.

CEO Rajath Kumar has given certain directions to strictly implement the Model Code of Conduct in the entire 15 ACs areas as lot of complaints are being received with regard to from various Posters, Banners, Wall paintings and defacing of walls as per the directions of the CEO and the guidelines issued by the ECI.

The flying squads along with the surveillance team are going round the areas assigned to them and removing all the publicity materials apart from that the GHMC is also taking up special drives to strictly implement the model code of conduct said the DEO. As per the report furnished by the flying squads and surveillance teams around Rs. 10 lakhs has been seized in Charminar and Malakpet ACs as per the inspections conducted by them from 26th morning to 27th morning this figures have been arrived.

The DEO has appealed all the representatives of various political parties to kindly coordinate with the GHMC for strict implementation of model code of conduct rules prescribed by the ECI and to maintain proper coordination without giving any inconvenience to the citizens.

The meetings, campaigns, Padayathras should be conducted by the political parties duly taking permissions from the concerned RO well in advance before 48 hours where the concerned RO will issue the necessary permissions on priority as such the representatives of the political parties must strictly follow the model code of conduct said the DEO.