Knife attack on jagan mohan reddy was attempt to murder him: Police remand report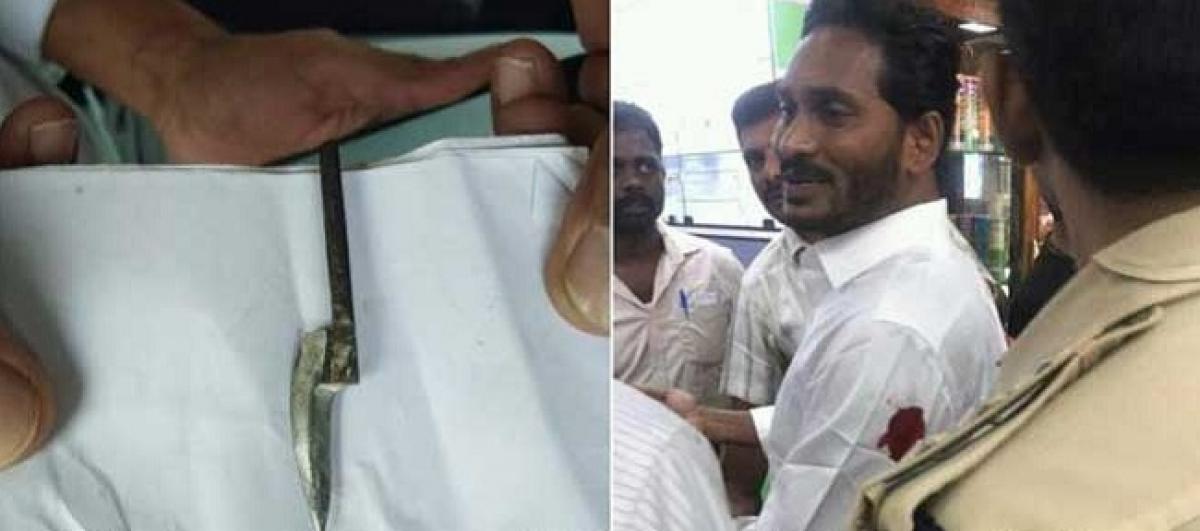 Highlights
The recent assault on YSR Congress president Y S Jagan Mohan Reddy at Visakhapatnam airport by a restaurant employee was an attempt to murder him, according to the remand report submitted by police in a court
Amaravati: The recent assault on YSR Congress president Y S Jagan Mohan Reddy at Visakhapatnam airport by a restaurant employee was an attempt to murder him, according to the remand report submitted by police in a court.
J Srinivasa Rao was a "staunch supporter" of Reddy, police told a metropolitan court following a preliminary probe, while seeking remand of the accused.
The YSRC had claimed that the cafeteria where the assailant was employed was owned by ruling Telugu Desam Party leader Harshavardhan, who was aspiring to contest the next assembly election from the district.
The attack on Reddy, who escaped with a "deep" cut on his left shoulder led to a political slugfest between the ruling TDP and the opposition YSR Congress.
The assailant, J Srinivasa Rao, attacked Jagan 'to do away with him' and caused a bleeding injury in furtherance of his attempt, the airport police said.
The report, a copy of which was made available to the media Sunday, was submitted in a Visakhapatnam metropolitan magistrate court on October 26 and it said Rao was "mentally prepared" for the attack.
Had the knife slashed Jagan's neck it might have turned fatal and since he turned towards his right side, the hit landed on his left shoulder,causing a bleeding injury, it said.
Rao made the attempt when a party leader was clicking a selfie with the YSR chief. The assailant took out a small knife and attacked the leader, the report said.
Thefore the accused had committed the offence of attempt to murder (IPC section 307), it said. The report also mentioned the seizing of a letter from Rao, which indicated that he was worried about the grievances of poor people.
Rao strongly believed that if YSRC comes to power, appropriate steps would be taken to sort out the grievances of the poor people, the report by the Investigating Officer said.
The report also makes a mention about the assailant wanting to make a "representation" to Jagan on the grievances of the poor. However, it did not elaborate on why he did not make any representation and instead attacked the leader.
After the attack, Rao was overpowered by CISF personnel and handed over to the state police. Reddy, who is the leader of opposition, later checked into a private hospital in Hyderabad where doctors treated him for his injury.
While Chief Minister N Chandrababu Naidu, who also heads the TDP, had targeted the Centre over the incident, Civil Aviation Minister Suresh Prabhu had condemned the "cowardly attack" on Reddy and sought a thorough probe by all agencies.