Senior Congress leaders demanding a ticket for one member of the family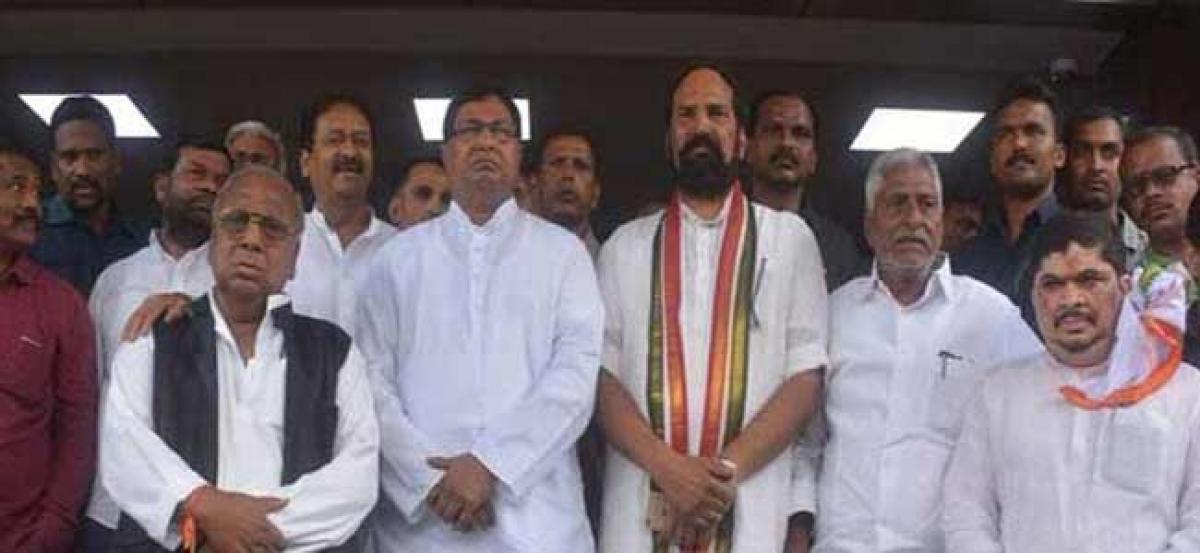 Highlights
Despite the rule that each politician family will be offered only one ticket, several senior Congress leaders are working on getting a ticket for their close ones apart from a seat for themselves And this rumpus by them is further complicating the seatsharing between the grand alliance partners as many of the seats are being sought by the Congress elders are also being pitched for by the TDP, TJ
HYDERABAD: Despite the rule that each politician family will be offered only one ticket, several senior Congress leaders are working on getting a ticket for their close ones apart from a seat for themselves. And this rumpus by them is further complicating the seat-sharing between the grand alliance partners as many of the seats are being sought by the Congress elders are also being pitched for by the TDP, TJS and CPI.
Assembly segments such as Miryalaguda, Rajendra Nagar, Musheerabad, Makthal, Munugode, Jadcherla and Kodad are among the seats that are being sought by both the Congress elders for their kin and another ally of the grand alliance.
A senior leader of TJS said: "CLP leader K Jana Reddy, who is heading the talks committee of Congress, wants Miryalaguda seat for his son Raghuveer Reddy. On the other hand, TJS too wants it, come what may, as one of the founding-members of the party Vidyadhar Reddy has been campaigning to contest from Miryalaguda."
Though feelers were sent to TJS that Congress is willing to surrender Miryalaguda, it is only if TJS founder-president contests from there. The Congress seniors are demanding a ticket for one of their family members, in addition to their seats.
Telangana TDP is looking for the Rajendra Nagar seat, won by it in 2014 polls, but Congress is wasting time as former home minister and senior leader Sabitha Indra Reddy is keen to have the seat for her son Karthik Reddy.