Lakhs of towels, bedhseets missing from AC coaches - passengers are suspects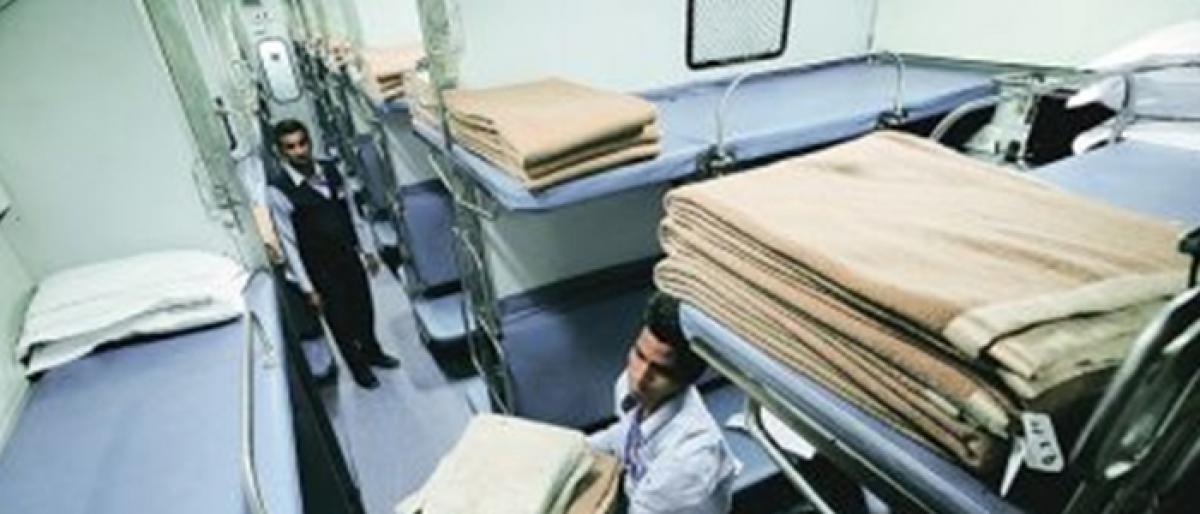 Highlights
Affluent AC passengers are the prime suspects as over 21 lakh towels, bedsheets, blankets and other items went missing from air conditioned coaches during 201718 an official said
New Delhi: Affluent AC passengers are the prime suspects as over 21 lakh towels, bedsheets, blankets and other items went missing from air-conditioned coaches during 2017-18 an official said.

The passengers are suspected to have made off with precisely 21,72,246 "bedroll items" -- including 12,83,415 hand towels, 4,71,077 bedsheets and 3,14,952 pillow covers -- from trains across the country in the last fiscal.

Besides, the Railways found 56,287 pillows and 46,515 blankets missing from the AC coaches in this period.

"Together, the missing items are estimated to cost over Rs 14 crore," a senior Railway Ministry official told IANS.

While the theft of toilet mugs, taps, flush pipes and mirrors are also reported on a regular basis, the missing bedroll items in substantial numbers has posed a challenge for the Railways, which is trying to provide better amenities to upper class passengers.

Currently, about 3.9 lakh sets of linen are provided daily -- this comprises two bedsheets, a towel, a pillow and a blanket for each passenger in the AC classes.

"The maximum number of items stolen are towels, followed by bedsheets, as reported by coach attendants at the end of each journey," the official said.

In the light of the thefts, especially of towels, the Railways has decided that the face towels given to passengers travelling in air-conditioned coaches will be replaced with cheaper, smaller, disposable, takeaway napkins, said the official.

The Railways has already started changing the cover of blankets in some sections while the frequency of washing is being increased from monthly to fortnightly and weekly.

There is also a move to increase the frequency of washing of blankets to begin with and replacing the existing ones with the newly designed lightweight blankets made of soft fabric in a phased manner.

The plan envisages improvement of linen management with the aim of providing clean, hygienic and good quality linen to passengers travelling in AC classes, the official said.

Among the 16 zones of Indian Railways, the Southern zone alone accounted for the theft of 2,04,113 hand towels, 29,573 bedsheets, 44,868 pillow covers, 3,713 pillows and 2,745 blankets.

In the missing list, South Central zone has registered 95,700 towels, 29,747 pillow covers, 22,323 bedsheets, 3,352 blankets and 2,463 pillows.

In the Northern zone, 85,327 towels, 38,916 bedsheets, 25,313 pillow covers, 3,224 pillows and 2,483 blankets were found missing.

In the East Central zone, 33,234 bedsheets, 22,769 pillow covers, 1,657 pillows, 76,852 towels, and 3,132 blankets were stolen last year.

In the Eastern zone, 1,31,313 towels, 20,258 bedsheets, 9,006 pillow covers, 1,517 pillows and 1,913 blankets were reported missing by attendants after the end of the train journey.

The East Coast railways has registered 43,318 towels, 23,197 bedsheets, 8,060 pillow covers, and 2,260 blankets as missing.