Cotton purchasing centers to be arranged in Srikakulam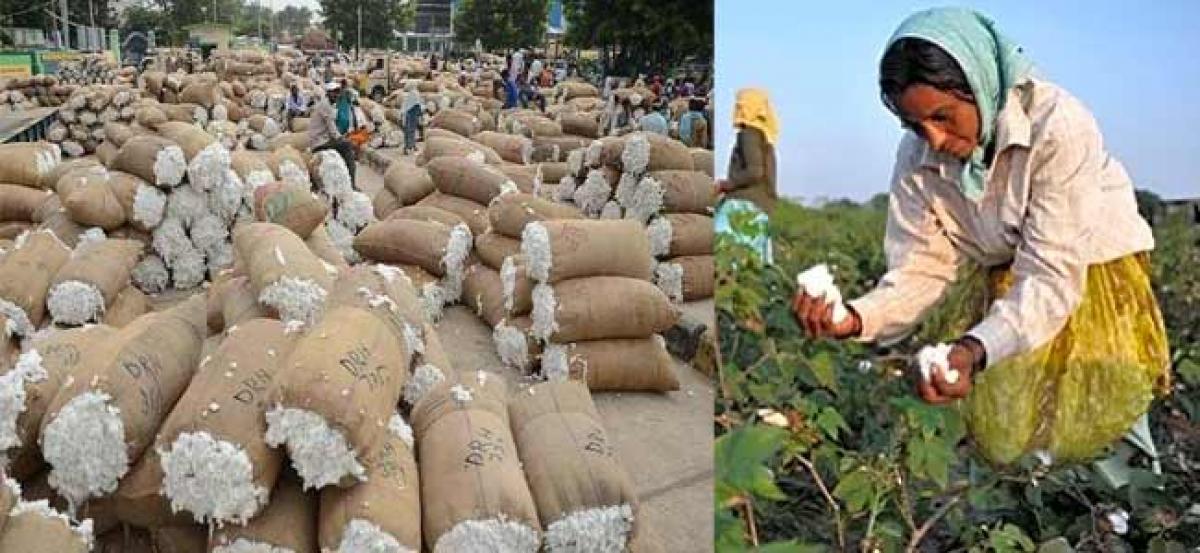 Highlights
District administration and Cotton Corporation of India CCI have jointly decided to arrange two cotton purchasing centers CPC in the district soon Cotton crop is being cultivated in the district in Bhamini, Sitampeta, Sarubujjili, Palakonda, Santhakaviti, Ranastalam, Rajam, Regidi, Vangara mandals Total extent of cotton crop cultivation in above all mandals is 30,000 acres
Srikakulam: District administration and Cotton Corporation of India (CCI) have jointly decided to arrange two cotton purchasing centers (CPC) in the district soon. Cotton crop is being cultivated in the district in Bhamini, Sitampeta, Sarubujjili, Palakonda, Santhakaviti, Ranastalam, Rajam, Regidi, Vangara mandals. Total extent of cotton crop cultivation in above all mandals is 30,000 acres.
Due to lack of proper purchasing centers middlemen are exploiting cotton farmers every year. Previously only one center had been arranged every year December last week at Rajam in the district by that time middlemen used to procure cotton from farmers at cheaper price and in turn they sold the same produce for high price.
As per government fixed price for per quintal is Rs 4,100 but middlemen are procuring it from farmers for Rs 3,100 as a result, farmers are losing Rs 1000 on one quintal cotton. 'For cultivation of cotton crop in one acre Rs 20,000 investment is required and we are receiving yields as six quintals for one acre, if we sold the produce to middlemen we are unable to get even investment' said cotton farmers, B.MinnaRao, V.Jagannadham, K.Shanmukha Rao of Bhamini mandal.
To prevent middlemen role and to provide good price to farmers district administration intervened and directed market committee officials to start two purchasing centers quickly. Joint collector, KVN Chakradhara Babu directed officials concerned for arrangement of two centers at Rajam and Sitampeta by end of November for early procurement of cotton from farmers. We are going to arrange two centers soon at Rajam and Sitampeta said assistant director (AD) for marketing, B.Srinivasa Rao.