'Demonetisation biggest scam in history of independent India': Rahul Gandhi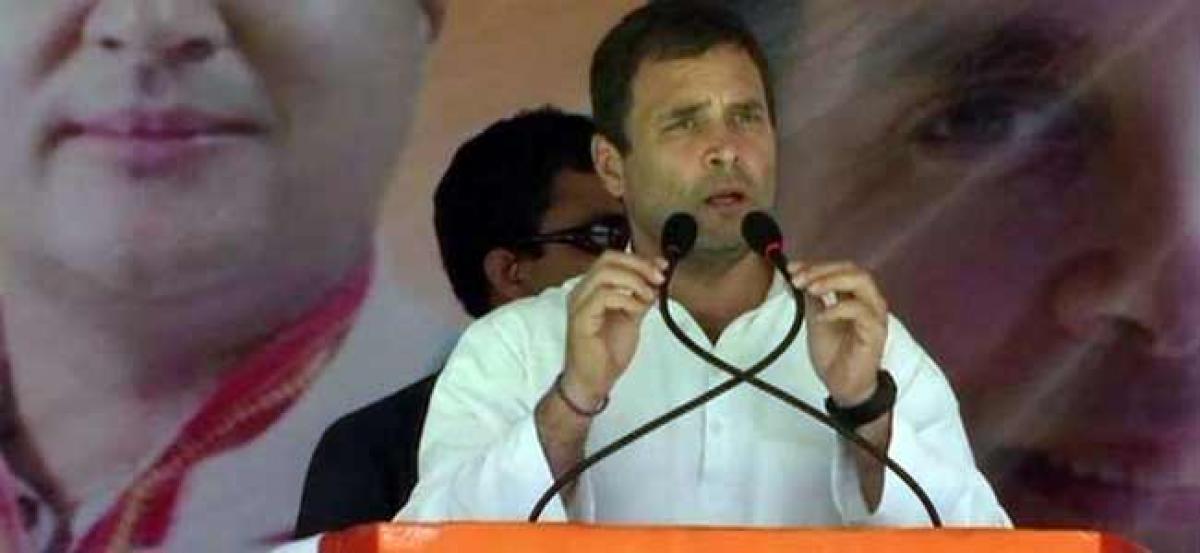 Highlights
Congress president Rahul Gandhi on Friday termed demonetisation as the biggest scam in the history of independent India, adding it would be proved that Prime Minister Narendra Modi had robbed the poor of their hardearned money and given it away to a few rich
Sagar: Congress president Rahul Gandhi on Friday termed demonetisation as the biggest scam in the history of independent India, adding it would be proved that Prime Minister Narendra Modi had "robbed the poor of their hard-earned money and given it away to a few rich".
Addressing a campaign rally for the November 28 Madhya Pradesh Assembly polls, Rahul Gandhi said PM Modi does not talk about being a "chowkidar (watchman) of the country and of tackling corruption."
"If (PM) Modi says he is a chowkidar, people will respond that chowkidar chor hai," he said, addressing a rally at Deori in Sagar district of Madhya Pradesh.
Rahul Gandhi claimed that PM Modi "cancelled the Rafale deal of 126 fighter aircraft with Dassault Aviation and HAL at a price of Rs 526 crore per plane" without informing the Indian Air Force and the then defence minister Manohar Parrikar.
"The then French president Francois Hollande has said the Indian government had asked for Anil Ambani to be taken on board for the deal," the Congress chief said.
"(PM) Modi gave Rs 30,000 crore to Anil Ambani in this deal. This is the chowkidari he has done," Rahul Gandhi said.
After the note ban, PM Modi made honest and hardworking citizens to stand in queues outside banks, Rahul Gandhi said.
"He (PM Modi) allowed the rich like Nirav Modi, Mehul Choksi, Vijay Mallya to flee the country with your money and made you stand in queues outside banks. Time will prove how (PM) Modi had robbed you and gave your money to few rich," he said.
"These days, Prime Minister Narendra Modi's speeches don't have any mention of (eradicating) corruption, a tall promise that he had made before coming to power," Rahul Gandhi said.
PM Modi had claimed that he will be the "chowkidar" of the country but he turned out to be "chowkidar" of a few industrialists, like Ambani, he said.