Leaders pay tributes to Indira Gandhi on birth anniversary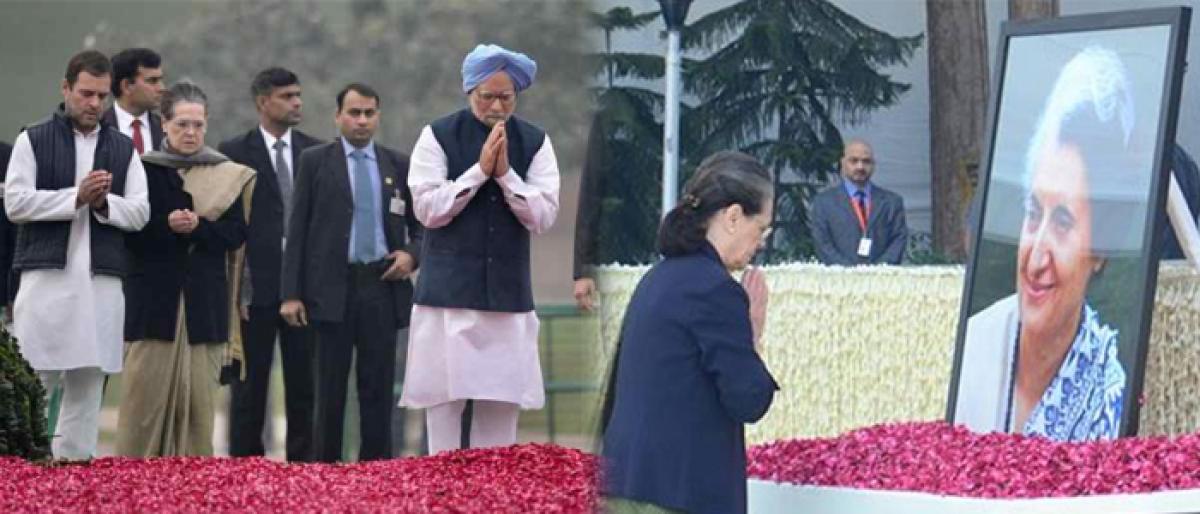 Highlights
Vice President M Venkaiah Naidu, Prime Minister Narendra Modi and Congress President Rahul Gandhi were among those who paid tributes to late Prime Minister Indira Gandhi on her 101st birth anniversary on Monday
New Delhi: Vice President M. Venkaiah Naidu, Prime Minister Narendra Modi and Congress President Rahul Gandhi were among those who paid tributes to late Prime Minister Indira Gandhi on her 101st birth anniversary on Monday.

"Nation remembers her vision and administrative skills," Naidu tweeted. Modi added: "Tributes to former Prime Minister Indira Gandhiji."

Former President Pranab Mukherjee, former Vice President Hamid Ansari, former Prime Minister Manmohan Singh, UPA Chairperson Sonia Gandhi and her son Rahul Gandhi offered floral tributes to the country's first woman Prime Minister at the Shakti Sthal memorial here.

"Forgiveness is a virtue of the brave Indira Gandhi," Rahul tweeted about his grandmother.

Congress leader Anand Sharma said: "A grateful nation recalls her historic contribution in building a strong and self-reliant India and her martyrdom. Her memory shall continue to inspire generations to follow."

Former Rajasthan Chief Minister Ashok Gehlot said: "Her great love for the country and dedication towards the welfare of people would always be an inspiration."

Loktantrik Janata Dal leader Sharad Yadav called her the "great iron lady".

"She was a brave, strong and visionary lady who never bowed down before enemies of our country. She will always be remembered for her great contribution in building India," he said.

Indira Gandhi was born on November 19, 1917 in Uttar Pradesh's Allahabad. She was Prime Minister for 16 years over two spells.