KCR & Telangana Minister's takes part in swearing in ceremony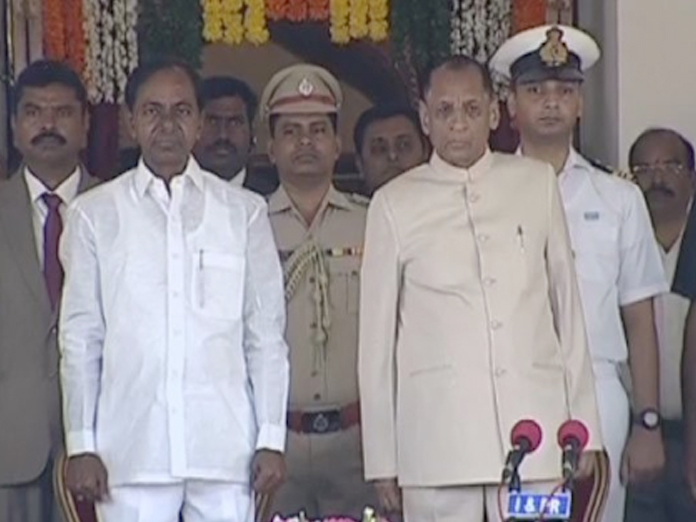 Highlights
Honble Chief Minister, K Chandra Shekher Rao along with his ministers attend the swearing in ceremony at Raj Bhavan Hyderabad along with his 10 MLAs on Thursday Governor E S L Narasimhan administered the oath of office and secrecy at 125pm with the National Anthem played in the backdrop Along with KCR, Mahmood Ali was also sworn in as minister designate This will be KCRs second term
Hyderabad: Hon'ble Chief Minister, K. Chandra Shekher Rao along with his ministers attend the swearing- in ceremony at Raj Bhavan Hyderabad along with his 10 MLA's on Thursday . Governor E S L Narasimhan administered the oath of office and secrecy at 1.25pm with the National Anthem played in the backdrop. Along with KCR, Mahmood Ali was also sworn in as minister -designate. This will be KCR's second term as CM.
Along with the Chief Minister KCR, TRS working president KTR, TRS Rajya sabha member Keshava Rao, Ex- minister Kadiyam Sri Hari, Harish Rao had taken part in the event. S.K Joshi Chief Secretary of Telangana invited MLA'S individually onto the stage for swearing in.
Firstly, Ex- Minister Allola Indrakaran Reddy had taken the Oath as the Minister
consequently winning for the fifth time as the Minister, Talasani Srinivas Yadav swears in as a Minister
Followed by, Jagadesh reddy had taken the oath as the Minister
Next Eetala Rajender had swears in as a minister.
For the first time elected from Vanapatri as MLA, Singireddy Niranjanreddy had taken the Oath as the Minister.
followed by Erra Belli Dayakar Rao takes the Oath as the Minister
Srinivas Goud who stood as an MLA for second time from Mahoobnagar swears in as a Minister.
Balkonda MLA Vemula Prashanth Reddy swears in as an MLA
Lastly Medchal MLA Chamackura Malla Reddy swears in as an MLA. Previously he was an ex-MP
Once, the swearing in ceremony was over Governor ESL Narsimhan , CM KCR along with his newly elected cabinet ministers had taken a file photo.