Bey Bee launches India's 1st Toxin Free Baby Wipes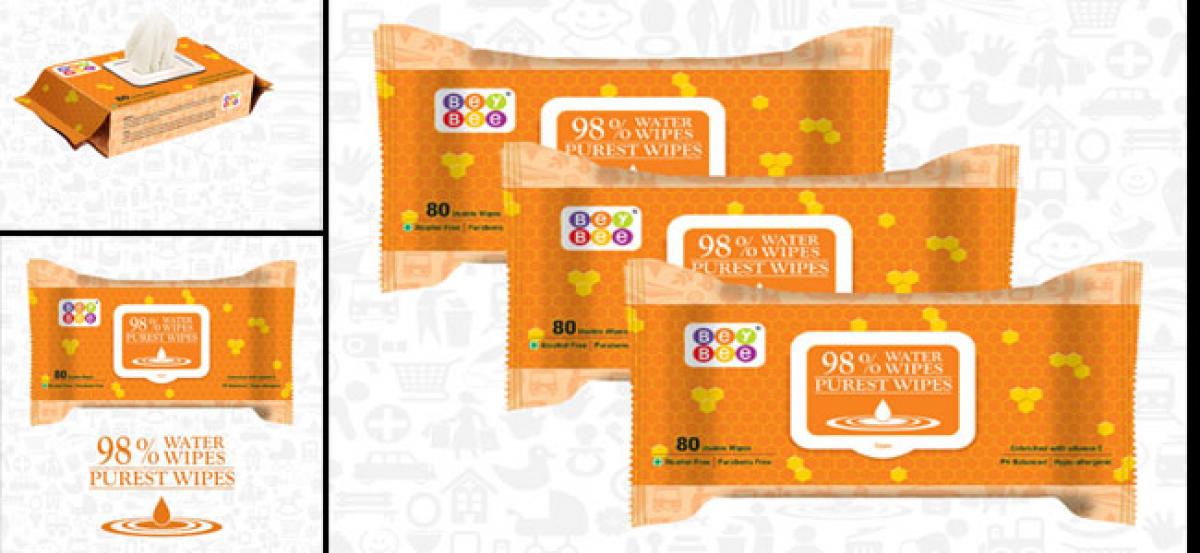 Highlights
Bey Bee, a progressive brand in baby care products, armed with a genuine research and development unit in the sector announces the launch of Indias 1st Toxin Free Baby Wipes These safe wipes are the purest pharmaceuticalgrade purified water wipes enriched with Aloe Vera extracts and Vitamin E This innovative product has been awarded Australian Certified Made Safe by Safe Cosmetics Australia
Hypo-allergenic Made SGS Certified Purest water based soft wipes with 98% purified water without toxin, alcohol, parabens
New Delhi: Bey Bee, a progressive brand in baby care products, armed with a genuine research and development unit in the sector announces the launch of India's 1st Toxin Free Baby Wipes. These safe wipes are the purest pharmaceutical-grade purified water wipes enriched with Aloe Vera extracts and Vitamin E. This innovative product has been awarded "Australian Certified Made Safe" by Safe Cosmetics Australia. The Baby Water Wipes are PH balanced specially to suit the new-born babies' sensitive skin. The product is alcohol and paraben free with SGS certification.
The soft Baby Water Wipes are made from a spun lace, non-woven fabric which serves as an excellent cleanser of the diaper area, hands and face and are dermatologically tested. Bey Bee wipes are gentle and tender to use and leave the wiped area cool and soft. Though the wipes are mostly used for babies, even adults and elderly can use them. Each wipe is meant for a single use only to avoid cross-contamination.
The pack with the lid as a flip top makes it easy to carry and is handy to keep. Some recommendations regarding the use include storing the pack in a cool place away from direct sunlight to help the wipes remain fresh and moisturized and not to flush the used baby water wipes but to dispose them off in the trash.
Commenting on the launch of this product Mr. Shish Kharesiya Founder of the Bey Bee brand said, "We are fully committed to providing the safest and natural products for baby care. The Bey Bee brand stands for expertise, dedication, and service to all our customers. These water wipes are pure; they don't use any toxic chemicals and are 98% water-based. We use advanced research and development to devise secure and reliable baby products. At the same time, we have endeavored to create a product, the use of which results in a soothing, gentle and tender effect on babies, close to what they would experience if mothers' were to clean with water and a soft cloth."
These wet wipes are available at all leading web stores such as Amazon, Flipkart, Snapdeal, FirstCry, Paytm, HopScotch etc. Each pack has 80 wipes. The regular pricing of a single pack, double pack and triple pack is Rs. 195, Rs. 390 and Rs 585 respectively. Under the promotional category, the price is Rs. 149, Rs. 298 and Rs. 447 respectively.