Saudi NRIs urged government to solve their issues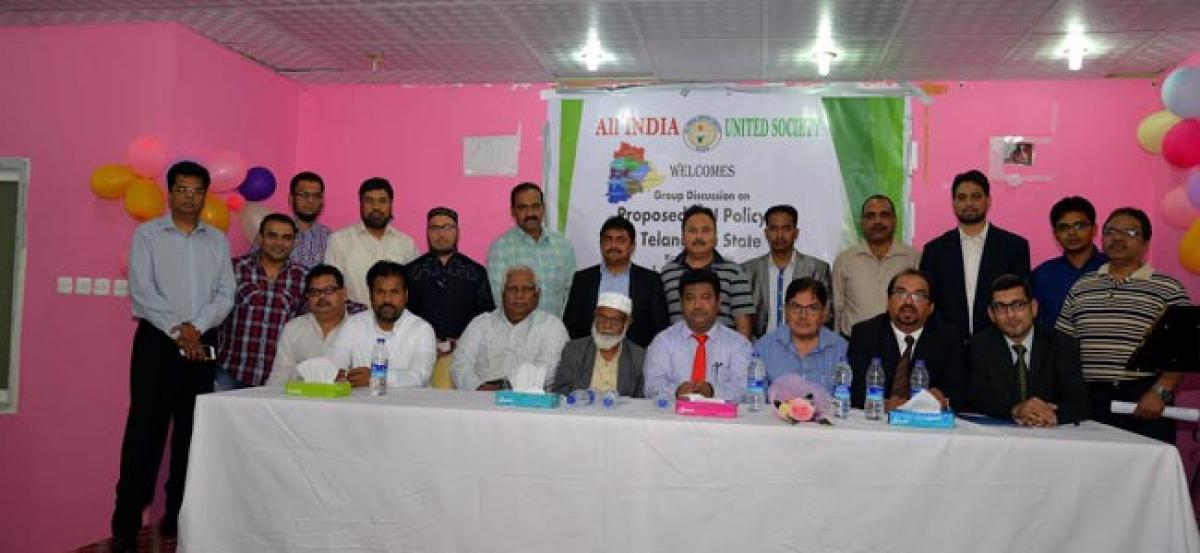 Highlights
Riyadh –The Telangana government has prepared the draft NRI policy to address the problems faced by people who have migrated to other
Riyadh –The Telangana government has prepared the draft NRI policy to address the problems faced by people who have migrated to other countries especially Gulf nations from the state in search of livelihood.Minister for Industries and Information Technology K.T. Rama Rao, who also holds the portfolio of NRI affairs sought the views and suggestions from NRI organizations and individuals to frame the effective policy.
He assured that effective steps will be being taken to ensure gullible youngsters, who wish to migrate to Gulf countries, are not cheated by middlemen. He made it clear that only those who migrate legally, with appropriate visas, will get necessary benefits, in case of an untoward incidents.
Riyadh based organization All India United Society (AIUS) held a group discussion and gathered views and suggestions from various organizations. AIUS compiled these suggestions and on behalf of all the organization sent as memorandum to Telangana government.
Speaking on this occasion key note speaker Joint Editor of NRIs website www.yahind.comand author of the book "Expat Ride", Mohammed Saifuddin urged the government of Telangana to take strict measures to curb the trade of so called Independent Visa (Asad Visa) and create awareness among the youth to travel foreign countries only by legal means.
Even though it is known that the Independent visa trade is illegal, many travel agents release advertisements in the local newspapers offering the visas, they should be banned.
In his presentation on the problems of gulf NRIs; Saifuddin highlighted the issues and problems under four categories of Job seekers, domestic workers, workers in gulf countries and gulf returnees.
Saifuddin also said that in most of the runaway cases of housemaids; it was observed that women runs away from their employer within few months of starting the job. It shows that there is some serious psychological problems for housemaids to adjust themselves in the new atmosphere. He suggested that NRI's ministry of Telangana state should conduct the detailed study to find out the root cause of this so that the runaway cases would be reduced in future. Former housemaids should be contacted for this.
Mohammed Saifuddin has written many articles on the problems of Indian workers in Gulf countries which were published on www.yahind.com and his book "Expat Ride" on same issue was published few years back.
Syed Zia ur Rahman, CEO, Yahind.com who attended the meeting called by NRI Minister of Telangana state in India, briefed about the steps taken by the Telangana state and also the suggestions and views presented by other organizations.
He also said the NRI Minister K Tarakarama Rao is very young, energetic and dynamic leader who is open to accept the suggestions from NRI organization and individuals.
Mohammed Jabbar, President, NRI Telangana Forum said special rehabilitation schemes should be there for the returning NRI's. Venu MadhevPogaku, President, Telugu KalaaKshetram (TKK) highlighted the issue of transporting the dead bodies to India. He said many dead bodies are lying in the consortium from long time, ranging between three to twelve months period awaiting to complete the legal procedures and formalities from India and Saudi Arabia. He suggested that this process should be speedup by refining the policies.
Mohammed Zubair, Vice President, Golden Telangana Welfare Association said that investment opportunities should be created to start small and medium enterprises by low income NRIs from Gulf countries. The workshop should be conducted for training and orientation of labors migrating to gulf countries.
Syed Masood Ali, Chairman, Success International School said most of the foreign exchange to Telangana is coming from gulf countries accordingly their problems should be dealt with high priority.
Mohammed Muzaffaruddin, Chief Patron, JazakaalhKhair Society said that if we find any Indian housemaid or labor in distress and wants to refer him or her to Indian embassy, they get a sort of fear to approached the officials. They drop them near the embassy and returns back. There should be an effective mechanism where the Indian nationals should not have any fear to approach embassy in such cases. The labor and housemaids in distress should be sent back to India in as soon as possible, the time required to complete the procedures and formalities should be decreased.
President Hira Educational Society Salim Zubaidi proposed Telangana government to allocate funds for the housing colony for NRIs in Hyderabad.
President All India United Society Dr. Mohammed Ashraf Ali welcomed the gathering and appreciated the efforts and contributions of the Keynote Speaker Mohammed Saifuddin. He said Saifuddin is a journalist par excellence who creates buzz with his writings. His book "Expat Ride" was used by the organizers of PravasiBharatiyaDiwas 2013 to prepare the event's theme paper titled "Engaging Diaspora: The Indian Growth Story". Moreover, the question about this book was included in the preparatory material for India's Union Public Service Commission examinations which is conducted every year to recruit IAS, IPS, IFS and other officials. Later on the same question was asked in other competitive examinations also.
Vice President All India United Society Mohammed Rafeeq appreciated the team of www.yahind.comfor their excellent track record of services and contributions over last sixteen years. He said CEO Syed Zia ur Rahman is a multi-dimensional personality with many abilities.
Engineer and Fire Marshal Mohammed Azizuddin conducted the proceedings of the event while Business Consultant Mohammed Maqsood Hussain attended the event as observer to take note of the suggestions from the participants of the group discussion.
On behalf of all the organizations AIUS sent the memo to Telangana government and urged the NRI affairs minister K Tarakarama Rao to visit the Kingdom of Saudi Arabia.
Interested in blogging for thehansindia.com? We will be happy to have you on board as a blogger.