Modi kick-starts campaign in Maharashtra, Haryana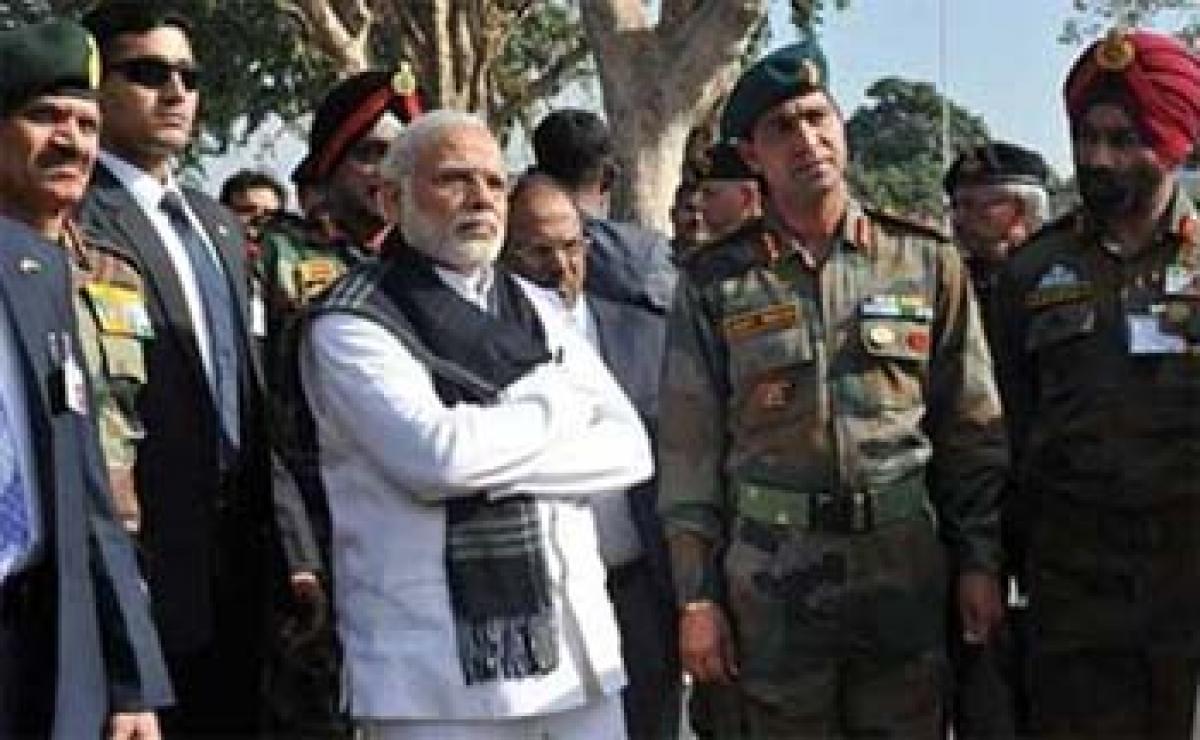 Highlights
Prime Minister Narendra Modi on Saturday started his campaign blitzkrieg for the forthcoming assembly elections in Maharashtra and Haryana.
Calls for end to Congress misrule in both states

Karnal, Beed: Prime Minister Narendra Modi on Saturday started his campaign blitzkrieg for the forthcoming assembly elections in Maharashtra and Haryana, two states ruled by the Congress for years, and urged voters to ensure that the BJP comes to power there.

Modi would be addressing 8-10 rallies in the State and two dozen rallies in Maharashtra over the next 10 days. Both States go to polls on October 15; counting will be held on October 19.


At an election rally in Haryana's Karnal, the PM said, "I want you to vote for the BJP so that it forms the government with full majority. Change is important if you want to move forward. Make Haryana free from the Congress' misrule".
He added, "All the governments in the past have brought misery; there was lawlessness (in the state). If you want change, you have to vote for me".

The BJP recently ended its three-year-old alliance with the regional Haryana Janhit Congress, led by Kuldeep Bishnoi, and also severed its 25-year-old alliance with the Shiv Sena in Maharashtra.

Towards the end of his speech, the PM also took a dig at the party's former ally Indian National Lok Dal or INLD, by asking, "Do you want to go to (Haryana's capital) Chandigarh for your developmental works or do u want to go to Tihar (jail)"?

He seemed to be referring to the ten-year prison term awarded to INLD chief and former Chief Minister Om Prakash Chautala.

The PM again attacked the Congress at a rally in Maharashtra's Beed, the constituency of late BJP leader Gopinath Munde. Munde was killed in a road accident on June 3, just days after he was sworn in as the Minister for Rural Development in the Union Cabinet led by Modi.

"If Gopinath Munde was still around, I wouldn't have been required to come to Maharashtra. I had full faith in him. Maybe God wanted him more than I did," said Modi.

"What did you get in these 15 years? Did Maharashtra progress? Did farmers benefit? Did the youth benefit? Did Dalits benefit? Did tribals benefit? Did cities, villages benefit? Did women benefit," he asked.

With no local face in Haryana and Maharashtra, the BJP is banking heavily on Modi for campaigning for the assembly elections in the two states.

Later, addressing a rally in Mumbai, Modi said the time has come to end "corruption, goondagardi, dadagiri". He said the practice of illegally getting hold of plots, jhuggi-jhonpris and using force to evict people from residential places must be stopped.

Describing Mumbai as "mini-Hindustan", he said the metropolis and the state had to be developed in a big way to make it the country's business hub. Targeting Congress, he said they need to give an account of their 60-year rule before pointing accusing fingers at him.

Citing Amitabh Bachchan's popular TV programme 'Kaun Banega Crorepati', where people win money for responding correctly to questions, he said but in Maharashtra, the erstwhile Congress-NCP combine were all the time scheming to pocket billions.