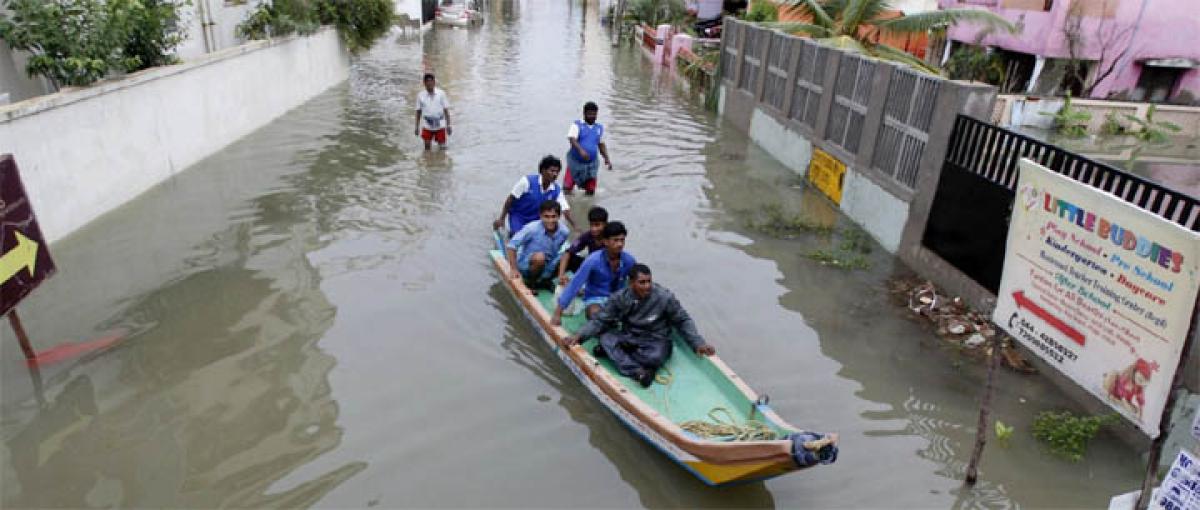 Highlights
With heavy rain forecast, next 48 hours critical for TN capital Chennai (Agencies): Heavy rain will continue to batter Chennai for at least the next 48 hours before relenting and moving on towards southern Tamil Nadu, weather forecasting agencies warned on Wednesday. The Army, Air Force and Navy were pressed into service for helping residents. The toll so far stands at 197 dead.
Heavy rain will continue to batter Chennai for at least the next 48 hours before relenting and moving on towards southern Tamil Nadu, weather forecasting agencies warned on Wednesday. The Army, Air Force and Navy were pressed into service for helping residents. The toll so far stands at 197 dead.
The Indian Coast Guard ship Sarang has been deployed to Chennai with divers with food being cooked on-board for distribution among victims. Patients stranded in flooded hospitals, dead bodies waiting for burial in homes cut off by flood waters, women delivering babies without medical help... just some of the horrors visited upon Chennai. The cyclonic circulation causing the current downpour in the South Indian metro city is expected to move south in the coming days.
"Tamil Nadu's weather is under observation for the next 72 hours as the rain in the next 48 hours is going to be comparatively heavy," said a statement issued jointly by the India Meteorological Department (IMD) and Skymet, a private weather forecasting agency. Chennai Airport has been shut with all arrivals and departures cancelled for the day. The entire runway is waterlogged and the airport is likely to remain closed till December 6. More than 4,000 passengers are stranded at the airport.
Budget carrier SpiceJet said it was closely monitoring the situation. "Refunds have also been offered to cancelled flights and alternatives have been offered where ever possible." IndiGo said all flights operating out of Chennai had been temporarily cancelled following closure of the airport. "IndiGo assures all passengers will receive 100 percent refund against the flight cancellations made on grounds of
weather conditions, and cancellation and change fee will be waived off for affected passengers till further notice," it said.
At least 50 trains have been cancelled. Chennai rain has broken several records on the first day of December itself and in the past 24 hours, Chennai has recorded 345 mm rainfall. Power supply has been snapped in large areas of the city for the past few days to prevent cases of electrocution, adding to the misery of the stranded households whose supply of drinking water is running out.
"There is no water or electricity supply here for the past two days and food that we have will last for another 4-5 days only. All the grocery shops are closed. The water that we have will last only for another eight hours," said Harish Rao, a Delhiite who is visiting relatives here and is staying in Thoraipakkam in south Chennai. The worst affected areas are said to be Thambaram, Guindy and South Velachery where water levels have reached up to 6 feet.
The Tamil Nadu government on Wednesday issued an advisory to private sector undertakings to allow their employees to take leave or permit them to work from home on Thursday and Friday. In a statement issued here, the government said it has issued an advisory to private undertakings in Chennai, Kanchipuram and Thiruvallur districts to allow their staff to avail holiday, or work from home for the next two days.
The parts of the compound wall that fell down due to heavy rain at the Arignar Anna Zoological Park, popularly known as Vandalur Zoo, near here have been safely secured and all the animals are safe, a top official said on Wednesday. PMNarendra Modi on Wednesday has instructed the immediate release of financial assistance of another Rs 509 crore to deal with the flood situation in rain- battered Tamil Nadu. This is in addition to the Rs 940 crore sanctioned last week.
M
odi also morning held a meeting with senior ministers Arun Jaitley, Rajnath Singh, Sushma Swaraj and Venkaiah Naidu on the situation in Chennai. DMK MP Kanimozhi Karunanidhi on Wednesday asked the central government to declare Chennai floods as a national disaster. Residents were seen climbing out of their homes or being pulled out to safety in the low-lying parts where water is almost neck-deep. SOS messages on social media have led to rescues from buses, cars and rooftops. Schools have been forced to close and exams have been postponed at least for this week. University exams have also been postponed.
In many parts of Chennai, residents have opened their doors to strangers, offering food, shelter and even mobile recharges. Malls, cinema theatres and offices opened their doors to stranded people. Around 100 hearing-impaired children and their teachers are stranded in a school in the suburbs of Chennai. Water entered the MGR school in Ramapuram last evening and the kitchen was flooded after a night of rain. The children, who stay in the hostel, have had not eaten on Wednesday.
There is no electricity in the school either. Indian environment experts attending the Paris climate change summit said the downpour in the city was an outcome of global warming. "We are now experiencing the full blown impact of climate change. The extreme rainfall that Chennai is experiencing is a direct outcome of our ever-warming planet," said Chandra Bhushan, Deputy Director General of Delhi-based Centre for Science and Environment (CSE).
The Hindu not published for 1st time since 1878 One of India's oldest newspapers has not been printed for the first time in 137 years due to rains and floods .The Hindu, published daily since 1878, did not come out on Wednesday as workers could not access the press, reports the BBC. While meteorologists and weather bloggers waited with bated breath for Chennai to break the centurys rainfall record, the city ended up with 1049.3 mm of rainfall on Monday due to a decrease in rain during the weekend.
Chennai had recorded 1088.4 mm in November 1918, which still holds the record for the wettest month in the century. Heavy rains started pounding other coastal areas from Sunday, which was evident from volume recorded at several weather stations
Interested in blogging for thehansindia.com? We will be happy to have you on board as a blogger.