Bad weather holds up Mansarovar pilgrims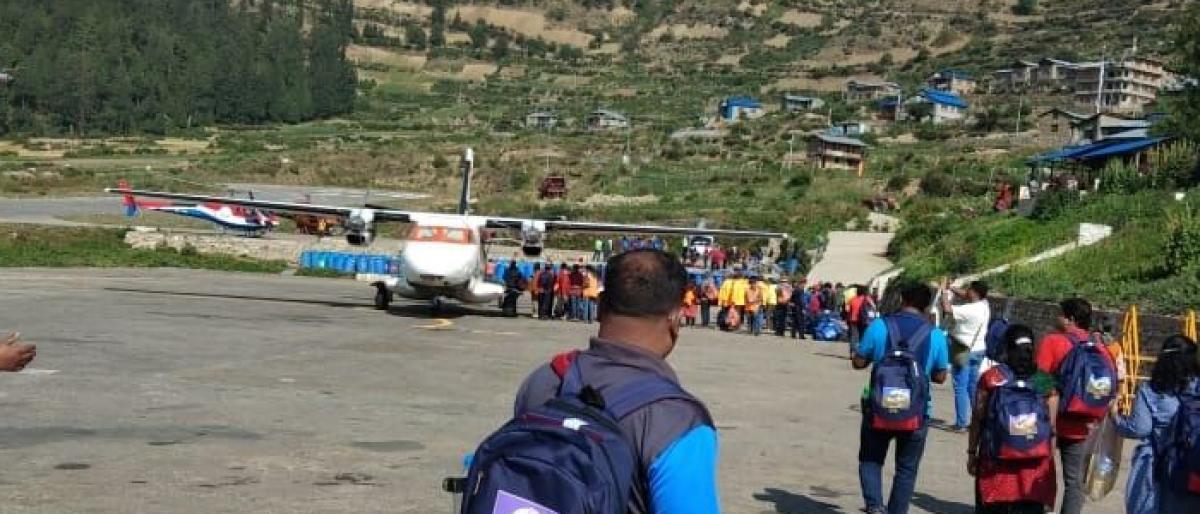 Highlights
The body of Grandhi Subba Rao of Kakinada, who died during his return from Mansarovar yatra on the Nepal-China border is being shifted to his native place by the authorities even as a few hundred yatris from various parts of the country are reportedly stuck at Hilsa, Simikot and another unspecified area in the Tibet autonomous region of China due to bad weather. A few dozens of these are said to b
​New Delhi/ Hyderabad/ Amaravati: The body of Grandhi Subba Rao of Kakinada, who died during his return from Mansarovar yatra on the Nepal-China border is being shifted to his native place by the authorities even as a few hundred yatris from various parts of the country are reportedly stuck at Hilsa, Simikot and another unspecified area in the Tibet autonomous region of China due to bad weather. A few dozens of these are said to be from south India.
Meanwhile, AP Bhavan authorities are in contact with the Indian Embassy in Kathmandu to track the movement of the Telugu pilgrims stuck during their yatra and making efforts to bring them back to safety following reports of hundreds of pilgrims getting stuck without food and shelter.
In Simikot, Embassy has pressed into a service a medical team to check the health condition of the pilgrims. The Mission is also looking at various alternative routes for evacuation. Local airlines operating on the route have been asked to ensure availability of extra aircraft in Nepalgunj to have maximum number of sorties as soon as the weather clears up. Praveen Prakash, resident commissioner of AP Bhavan said, the Mission was also looking at the possibility of heli-evacuation for critical cases, quoting an Embassy staffer.
Those stuck included 60 pilgrims from Telangana at India- Nepal border due to heavy rains and bad weather. All of them were on pilgrimage to Mansarovar. Officials said they were safe and efforts are on to shift them to safer places.
On the instructions of Telangana Chief Minister K Chandrashekhar Rao, the officials of Telangana Bhavan and special representatives of state government in New Delhi swung into action to rescue the stranded pilgrims with the help of defence forces.
Telangana special representative in Delhi S Venugopala Chary said that the stranded pilgrims were from Khammam, Nalgonda, Rangareddy, Hyderabad and Mahbubnagar. All of them are safe. They are being provided with drinking water, food and medicines through choppers.
After airlifting them to the national capital, Chary said a special flight, if required, will be arranged to send the pilgrims to Hyderabad. It will take at least 24 hours to reach the stranded pilgrims. He said the Chief Minister is closely monitoring the situation with the officials of Telangana Bhavan.
Meanwhile, Andhra pilgrims, who went to Kailash Mansarovar continued to suffer due to inclement weather conditions for the second consecutive day on Tuesday as the Nepalese authorities could not operate helicopters and flights to airlift to these pilgrims to safer place Nepalgunj, which is connecting to India.
Nearly 100 Telugu pilgrims stranded at Hilsar, Similkot in Nepal, according to information collected by state government officials. These pilgrims were stranded at Hilsar and Similkot while returning from Mansarovar.
It is estimated that about 1,575 Indian pilgrims are stranded in Nepal since Monday. Minister for External Affairs Sushma in a tweet on Tuesday said: "Indian pilgrims stranded in Nepal - There are about 525 pilgrims stranded in Simikot, 550 in Hilsa and another 500 in Tibet side."
Most pilgrims had no medicine and shelter till Tuesday afternoon. The local authorities have arranged rooms for the stay in Hilsar, said Uggu Muralikrishna, one of the pilgrims from Vijayawada. He along with his brother Uggu Koteswara Rao went to Mansarovar on June 25 and struck on Monday in the return journey.
Muralikrishna was in touch with the family members since Monday and giving information about the food, medicine and shelter available to the pilgrims.
K Vinod a family member of Muralikrishna, said his uncle had taken solar phone, which became very handy in difficult situations in Nepal.
Since Hilsar and Simikot located in remote areas, the Nepalese authorities are also facing some difficulties to provide basic amenities.
If normal weather conditions return, the Nepalese authorities can operate choppers and flights to airlift the stranded pilgrims.
Chandrababu Naidu held an emergency meeting on the Nepal tragedy on Tuesday through Real Time Governance and directed officials concerned to initiate necessary action to help the Telugu pilgrims.
He directed the officials to send special teams to Nepal to assist the Telugu people to come back to the state. The higher officials of the Andhra Pradesh government are in touch with the AP Bhavan authorities in New Delhi and collecting information about the stranded pilgrims and their safety.
Dr Arja Srikanth, Additional Commissioner at AP Bhavan, New Delhi, informed that the Special Team will leave from AP Bhavan on Wednesday. The team will land at Nepalgunj which is a Sub-Metropolitan City in Banke District, Nepal.
As the Nepal government established base camp for stranded pilgrims at Nepalganj, state government is also deploying the Special Team there. This team will help the stranded pilgrims for the safe return to their homes. The AP Government is in continuous contact with the Indian Embassy in Nepal.