Bhagwat's emotional eulogy to Vajpayee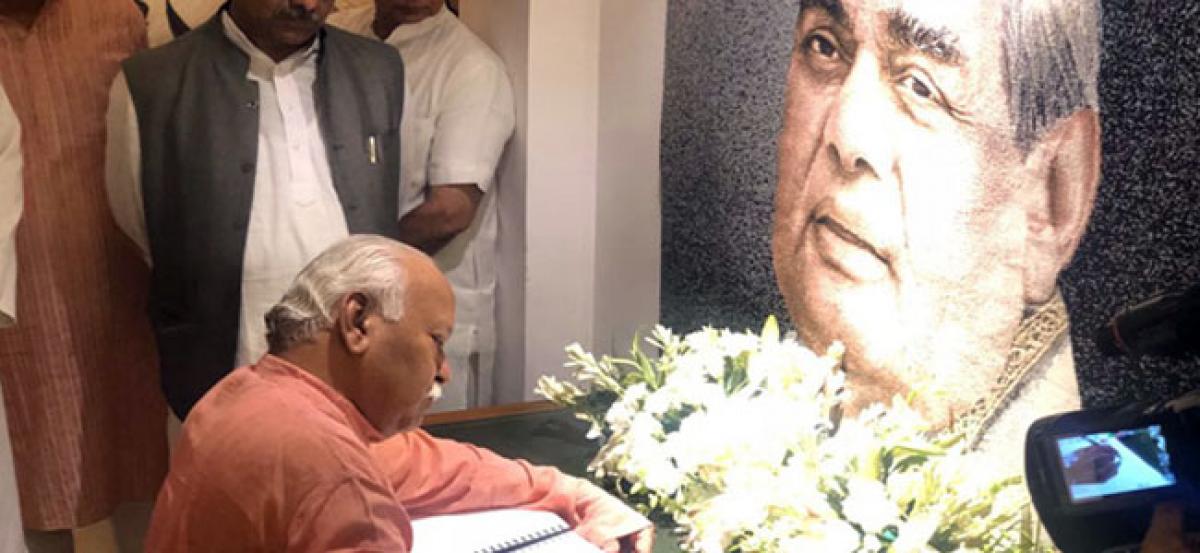 Highlights
Rashtriya Swayamsevak Sangh RSS chief Mohan Bhagwat poured his thoughts on the visitors book at the former Prime Ministers residence on Friday morning saying, people like Atal Bihari Vajpayee are born only once in centuries, and he would remain immortal
New Delhi: Rashtriya Swayamsevak Sangh (RSS) chief Mohan Bhagwat poured his thoughts on the visitor's book at the former Prime Minister's residence on Friday morning saying, people like Atal Bihari Vajpayee are born only once in centuries, and he would remain immortal.
Bhagwat said, "Atalji's demise has left a void in our hearts which will be impossible to fill. People like him are born only once in centuries. He has left his body after leaving his distinct mark in a complete era. He has set up the benchmark for the dignity of character, which will remain with us as his biggest accomplishment. Atal ji is no more but he will remain immortal."
Soon after the All India Institute of Medical Science (AIIMS) announced the demise of Vajpayee on Thursday, Bhagwat described him as a universal leader who had instilled Indian values in public life.
Taking to social media, Bhagwat tweeted "Vajpayee was a steadfast and universally accepted leader, a great personality who instilled Bharatiya culture and values in public life. He said the void created by Vajpayee's demise would remain forever."
Vajpayee, who was the country's 10th Prime Minister, will be laid to rest at the Smriti Sthal. The Central and all state governments have declared a seven-day holiday to mourn his demise. Vajpayee, 93, died in Delhi after a prolonged illness.