ABVP promises One course, one fee in manifesto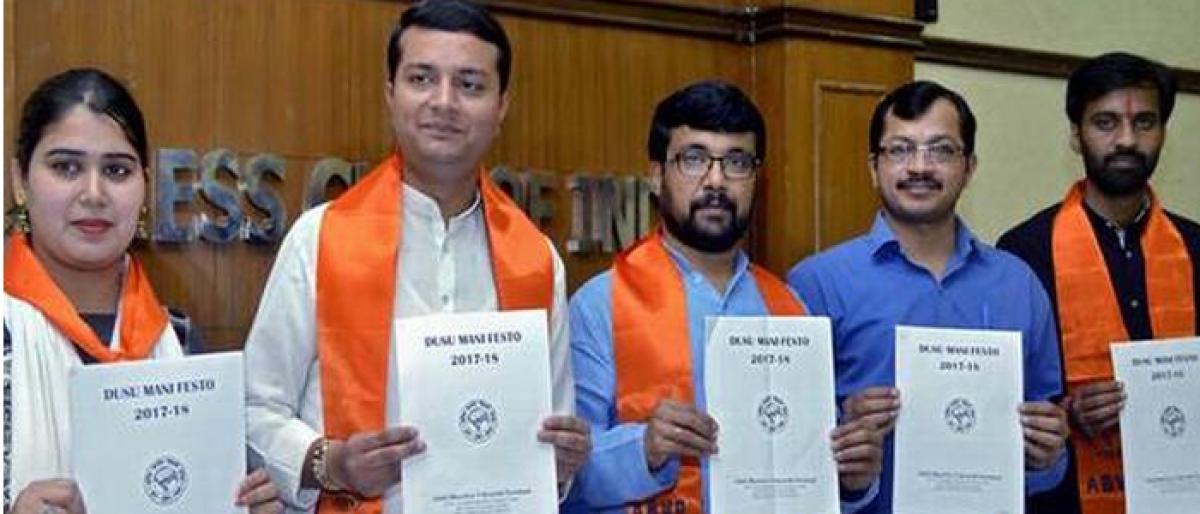 Highlights
The RSS affiliate Akhil Bharatiya Vidyarthi Parishad ABVP has promised to fight for same fee for same course throughout the university and for increasing the scholarship amount meant for weaker sections, if it wins the Delhi University students polls
New Delhi: The RSS-affiliate Akhil Bharatiya Vidyarthi Parishad (ABVP) has promised to fight for 'same fee for same course' throughout the university and for increasing the scholarship amount meant for weaker sections, if it wins the Delhi University students polls.
"One Course One Fees: ABVP will make sure that same fee is charged throughout the university for a particular course and we would work for the increment in scholarship for SC/ST/OBC and demand to link the scholarship with price index, in line with increase in DA (Dearness Allowance)," its manifesto, which was released on Thursday, read.
It promised strict enforcement of 'Room Rent Control Act' and formation of a coordination committee of private hostel owners and landlords, to prevent exploitation of outstation students.
In line with its ideology, the student group advocated "integrity, development and conservation of traditions and culture" against as they are termed supporters of "naxals, maoists, terror groups" active "in the name of human rights".
The group said it will demand construction of a 'martyrs wall' on the campus and provision of reading material in regional languages, availability of drinking water in every college, and installation of water coolers every 200 meters on the campus.
ABVP is one of the four major student groups which is in fray for the four central panel posts of the Delhi University Students' Union (DUSU) elections.
Currently, the top two seats of President and Vice President are held by the Congress-affiliated National students Union of India (NSUI), and the other two of Secretary and Joint Secretary by the ABVP.
The CPI-ML-affiliated All India Students' Association (AISA) and Aam Aadmi Party-affiliated Chhatra Yuva Sangharsh Samiti (CYSS) have formed an alliance to counter the two main groups in the September 12 election.