Credit honorable PM Modi for giving political approval for bold decision: Forrmer Army Chief on surgical strike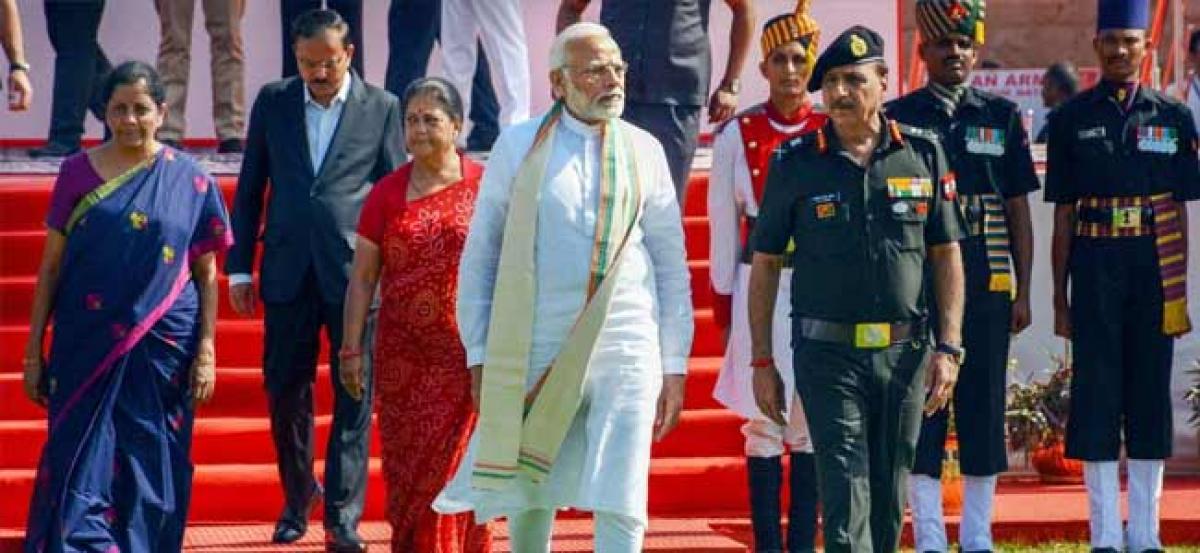 Highlights
Former Army Chief General Dalbir Singh Suhag on Saturday revealed that the Indian Army had been preparing for the 2016 surgical strikes since June 2015, adding that the troops were told that failure not an option
Former Army Chief General Dalbir Singh Suhag on Saturday revealed that the Indian Army had been preparing for the 2016 surgical strikes since June 2015, adding that the troops were told that "failure not an option".As the country is commemorating the second anniversary of the cross-Line of Control (LoC) operation that the Indian Army carried out against terror camps in September 2016, Suhag recalled how the operation was planned and implemented.
"After the success of Myanmar strike in June 2015, I was quite certain in my mind that any major incident in the country or along the western borders or in J-K, the government and the people of the country would expect us to carry out similar strikes in Pakistan. And immediately after that, I issued directions to my headquarters and when I went, in maybe June end or beginning of July 2015, to headquarters of Northern Command, I told asked them to start preparing for strikes in Pakistan with immediate effect. It is from then that preparations started. The planning and training of the para-commando teams and preparation of the equipments that we used for the operations started from that time," Suhag revealed.
Sharing his concerns over the strikes, the former Army chief General said that he made clear to his team that in case of any casualty, the mortal remains should be carried back at any cost. "I had two concerns, one was - operation has to succeed, failure was not an option. And the second was that we should not have any causality. My directions were very clear in case of any casualty, the casualty will not be left behind but will be brought back at any cost," he said.
On being asked whether the surgical strikes could take place again in future, he said, "Of course, we have exhibited our capability. Our troops are motivated and now having done it once, troops are also confident of doing it again. So, if we can do it once, we can do it again. And if necessary again and again." He asserted that the Indian Army was ready for a reaction from Pakistan after the operation.
The former Army chief General gave credits of the operation to Prime Minister Narendra Modi for giving political approval to a bold decision. He said, " Firstly, I will give credit to honourable Prime Minister who gave political approval after due deliberations, and it was a bold decision. I briefed the Prime Minister on 23 September 2016. Secondly, I give credit to my subordinates, my brave officers and soldiers who executed the strikes successfully and made the nation proud."
Explaining that how the previous operations were different from the September 2016 surgical strike, Suhag told ANI, "Previously, you may call them strikes or raids but you cannot compare those with what we did in September 2016. Previous actions were actually local actions at unit or formation levels. They were single point actions along the LoC and not the across the LoC. And they did not have political approval; whereas the surgical strike that we executed in September 2016 had political approval and they were not along the LoC, but across the LoC in enemy territory. They were not a single point but multi-point targets were struck a large number of them in one night.
Hence, there is no comparison between the previous actions and the 2016 surgical strikes."Silencing the critics who sought a proof of the operation, he said, "We never think that we have to carry video camera and devices and after the operation, we have to show evidence to people. We never take that into account when we carry out operations. Definitely, we carry some means to facilitate our own operations and some of those means that we use also have recording devices. When we do an operation we don't think of collecting proof.
Instead of a camera, I would give my boy a machine gun. Our footage was not to prove anything to anybody as the details of operation should remain a secret."Suhag also gave out a clear warning to Pakistan by saying, "We wanted to send a strong message (to Pakistan) that we can cross LoC. We can hit them, cause major damage and also return without any casualty. This was a difficult option, more challenging, but we exercised it to send a message that we can do it."
The strikes were conducted on September 29, 2016, by the Indian Army in Pakistan-Occupied Kashmir (PoK) in response to the Uri terror attack wherein 18 Army personnel were killed. A team of commandos from the Army's Para Special Forces destroyed at least four terrorist launch pads.