Modi-lookalike disappointed with BJP, set to join Congress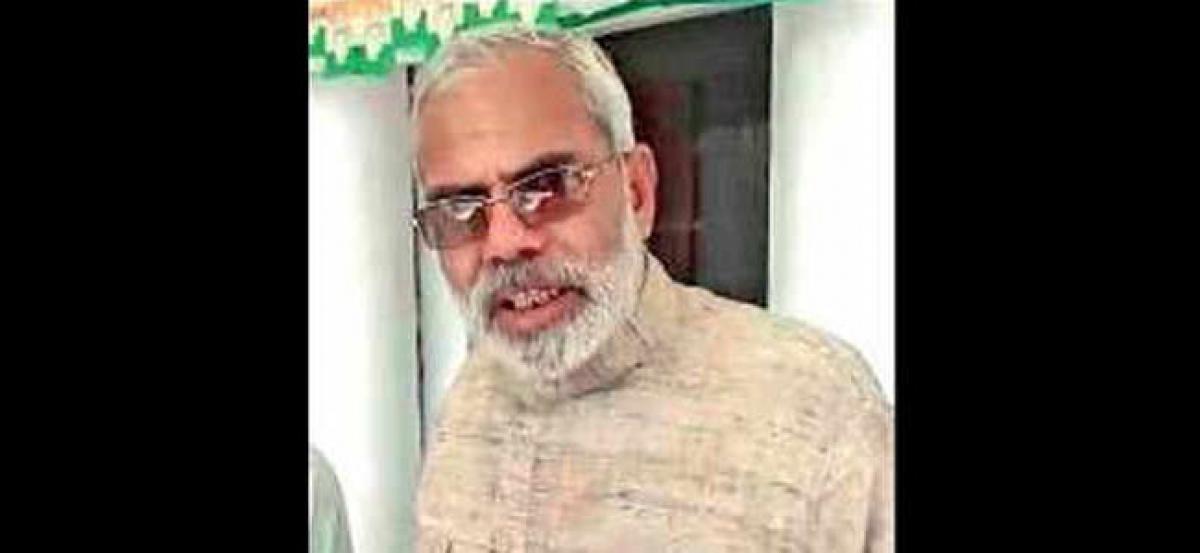 Highlights
Congress workers at UPCC headquarters were baffled to see Narendra Modi walking towards the main building on Wednesday However, they realised that a PM couldnt have come walking He had to be a Modi lookalike
LUCKNOW: Congress workers at UPCC headquarters were baffled to see Narendra Modi walking towards the main building on Wednesday. However, they realised that a PM couldn't have come walking. He had to be a Modi lookalike.
As soon as reality dawned upon them, a Congress worker cornered him with a question: " Mere account mein 15 lakh kab aa rahe hain (When will my bank account be credited with Rs 15 lakh?). The allusion was to oft-repeated allegation of Congress that PM Modi failed to honour on his promise to bring black money back and deposit Rs 15 lakh into everyone's account. Abhinandan Pathak, however, was composed.
"Such questions have compelled me to come to the Congress Party. I intend campaigning against BJP in the 2019 elections," said Pathak who also met UPCC president Raj Babbar on Wednesday. "I really admire PM Modi. He has met me and embraced me with all his heart. But his government has failed to keep its words. Therefore, I have decided to campaign against them," Pathak told the media, adding, "I have requested the UPCC chief to facilitate my meeting with Rahul Ji so that I can convey my utmost willingness to campaign against BJP." On the reasons for his loss of faith in BJP, Pathak said: "People elected Modi for good days. But their condition has worsened over the years."
Pathak's unnatural resemblance to the PM has been used several times by the BJP. The native of Saharanpur was a centre of attraction in several rallies of Modi during the Delhi elections of 2015 and UP elections in 2017. He has also contested Lok Sabha election in 1999 and Vidhan Sabha election in 2012 besides serving two terms as a firm in Saharanpur.
He added that he was carriage of the brunt of people's wrath for BJP government's failure. "People curse me and beat me. They are so irritated," he said. "I wrote around 50 letters to the PM. Modiji speaks his heart but doesn't lend an ear to others," Pathak said. Confirming Pathak's meeting with UPCC chief, Congress spokesperson, Zeeshan Haider said: "He has expressed his willingness. The party will reply to his request after due procedure." said Pathak.