Bhagwat pitches for legally constructing Ram temple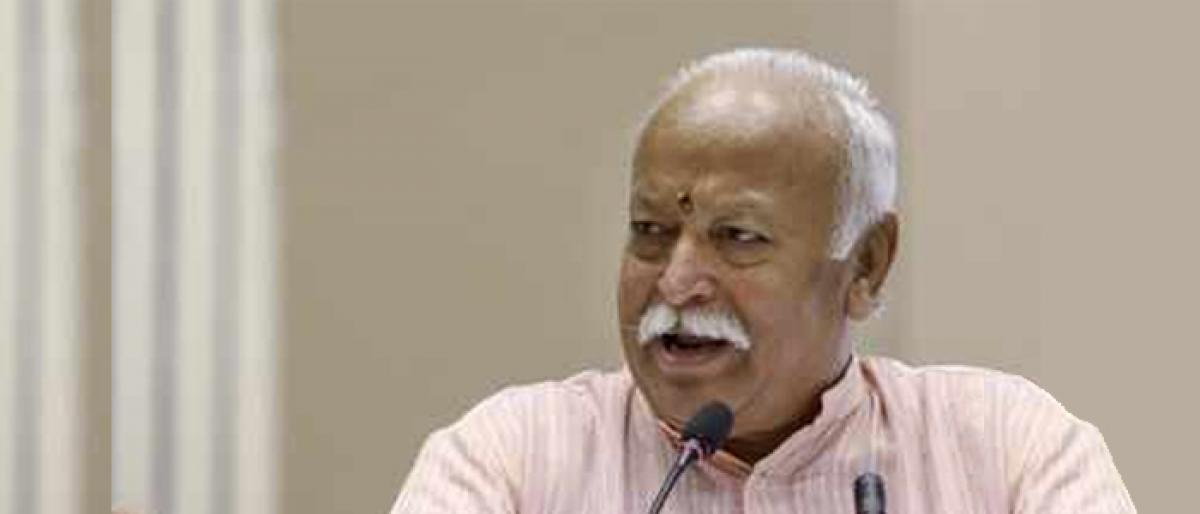 Highlights
Highlighting the construction of Ram temple in Ayodhya as a matter of national interest, RSS chief Mohan Bhagwat on Thursday pitched for building it at the earliest through appropriate and requisite law and slammed certain fundamentalist forces for obstructing the process
Nagpur: Highlighting the construction of Ram temple in Ayodhya as a matter of national interest, RSS chief Mohan Bhagwat on Thursday pitched for building it at the earliest through "appropriate and requisite law" and slammed certain "fundamentalist forces" for obstructing the process.

Addressing the cadres of the Rashtriya Swayamsevak Sangh here during the annual "Vijayadashmi Utsav", Bhagwat said the fundamentalist elements and forces were "playing communal politics for selfish gains".

Despite such machinations, he said the decision regarding the ownership of the land should be expedited and the government should "clear the path for the construction of the grand Ram temple...".

He said the RSS has always been associated with the sentiments of crores of countrymen in the efforts of construction of the temple at the birthplace of Lord Ram.

"Lord Ram is the personification of the life energy of the nation and an icon of upholding dharma. The original constitution has paintings of Lord Ram in it as a national hero," he said.

He also hit out at the forces, which he called "a few elements" for allegedly stalling the court's judgment by presenting various newer interventions in the judicial process for their "obvious game-plan".

"It is in nobody's interest to test the patience of the society without any reason.

"The construction of the temple is necessary from the self-esteem point of view. It will also pave the way for an atmosphere of goodwill and oneness in the country," he said.

The Dussehra function is significant in the RSS' yearly calendar as the organisation was established on Vijayadashami in 1925 and the "Sarsanghchalak" or the RSS chief addresses a gathering of workers to mark the day.

Before his speech, Bhagwat also performed a Shastra Puja.

Nobel Peace Prize winner and social activist Kailash Satyarthi was the chief guest at the event held at Reshimbaug here.