Dasara celebrations cancelled as Mysore Royal family member dies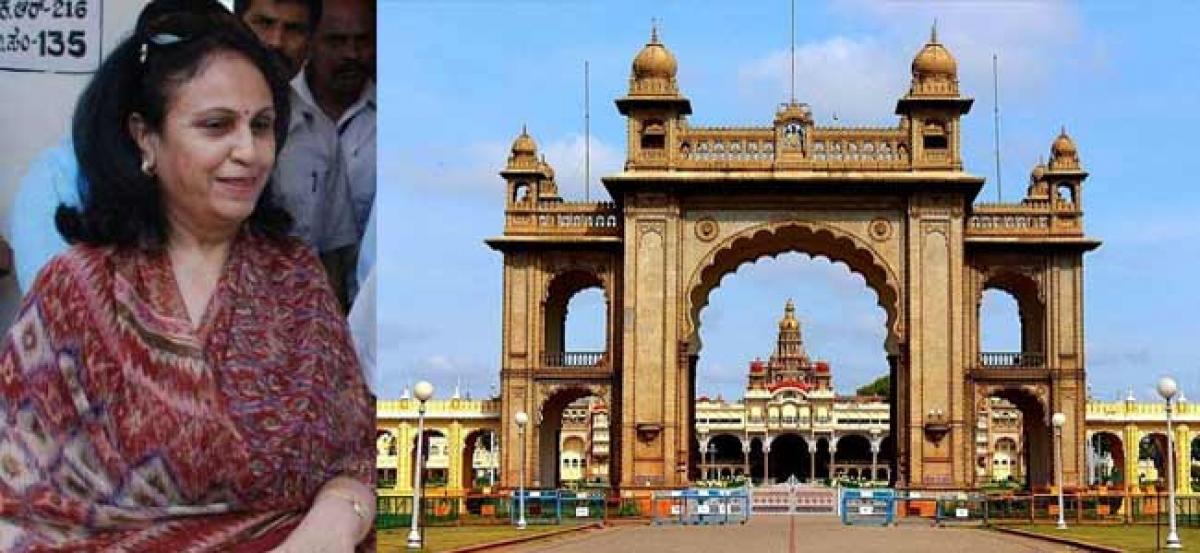 Highlights
Mysuru royal family member Pramoda Devi Wadiyar mother, Puttachinnammanni, had passed away owing to age related illnesses on Friday
MYSORE: Mysuru royal family member Pramoda Devi Wadiyar mother, Puttachinnammanni, had passed away owing to age related illnesses on Friday. All private Dasara celebrations and rituals have been cancelled by the family, although the Dasara procession which was scheduled for 2:30 PM on Friday held by the Karnataka government will not be disturbed. The Dasara procession starts from the Mysore Palace premises.
The royal family had planned Vajramushti Kalaga, wrestling bout where combatants fight each other with clenched fists, Shami pooja and Vijaya Yatre, the symbolic procession celebrating victory of good over evil at the residential palace, attached to the Mysore Palace to be held on Friday, and these rituals have been put off for the first time in several years.
However, the state government has taken over the Dasara festival, the family that is led by the descendant Yaduveer Krishnadatta Chamaraja Wadiyar has religiously conducted the rituals inside the residential palace to continue the tradition.
Iam deeply saddened to hear about the death of Smt. Putta Chinnammani, mother of Pramoda Devi Wadiyar, Maharani of Mysuru Royal Family.

May her soul rest in peace.

May goddess Chamundeshwari give all strength to Pramoda Devi and her family to bear the loss. #RIP

— CM of Karnataka (@CMofKarnataka) October 19, 2018
According to sources, Vajramushti Kalaga and other rituals will be held early next week. CM H D Kumaraswamy, who has been staying out in Mysuru for the past two days, has condoled the death of the Pramoda mother. He tweeted: "I am deeply saddened to hear about the death of Smt. Putta Chinnamani, mother of Pramoda Devi Wadiyar."