2016: A decisive year for Modi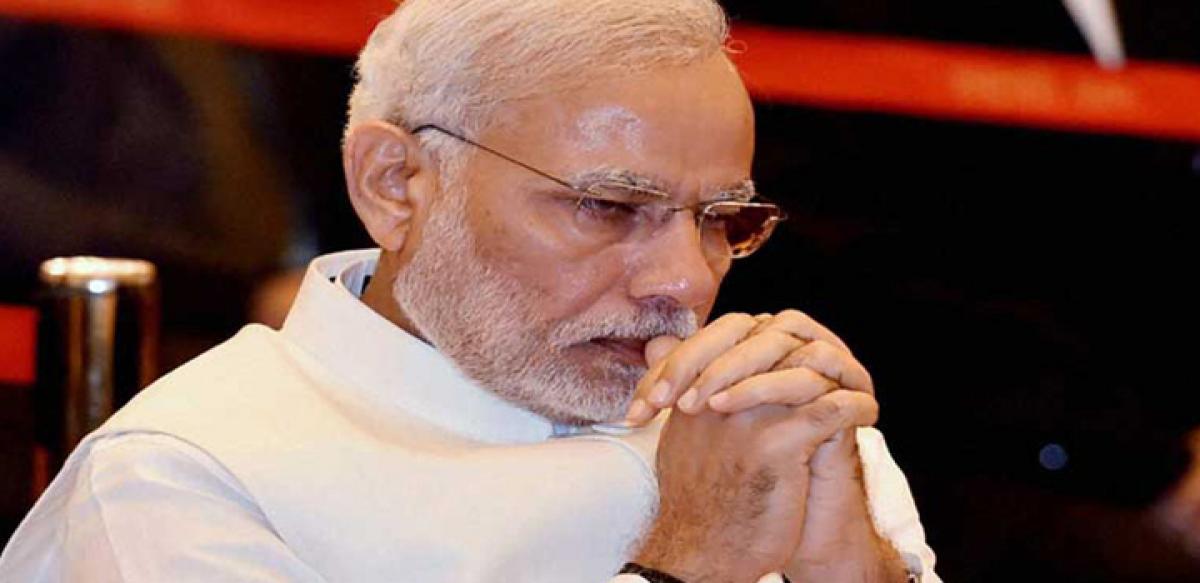 Highlights
Our national tu-tu-mein-mein, hopping from 'tolerance' versus 'intolerance' to who is a 'nationalist' and who is "anti-national," is now gathering...
For the BJP, the forthcoming polls are an uphill task. It is not in power in any of them. It has no presence in West Bengal and Kerala. Along with Assam, these two have a high proportion of Muslims. The party's attitude to them has not helped. A toe-hold in West Bengal and Kerala is something the party should be happy about. The BJP had done very well in Assam in the Lok Sabha polls. But, only a miracle can install it in seat of power there. Its presence is minimal in TN, Puducherry. Negative results could spell the beginning of the end of journey for Narendra Modi
Our national tu-tu-mein-mein, hopping from 'tolerance' versus 'intolerance' to who is a 'nationalist' and who is "anti-national," is now gathering "sub-national" momentum. Prominent Kannadigas from former premier Deve Gowda to former Infosys man Mohandas Pai are rushing to the aid of Vijay Mallya. The liquor baron must be amused, enjoying his English spring.
Like Lalit Modi of the 'cricketgate', Mallya will bide his time while cases against him remain pending. Notices and non-bailable warrant by a Hyderabad judge are among the many measures being undertaken after the horse fled the stable. Is it in impotent anger? Not actually. Official machinery connived with him as he left behind banks defrauded by the billions and employees with unpaid salaries.
During the shouting match in Parliament over Mallya, we heard the counter charge: "what about Anderson?" (Bhopal gas tragedy) and "what about Quattrocchi?" (Bofors gun deal). It reminded one of the 2002 violence in Gujarat being countered with the 1984 killings. We do not forget and we never stop arguing.
Protests by environmentalists against Sri Sri Ravishankar organising a global cultural fest on the fragile Yamuna riverbed went unheeded. Sri Sri refused to pay "even a penny" against the order of the National Green Tribunal, a statutory body under the Supreme Court, ordering an "environmental compensation." Why should he pay, with the top leadership of the central and the Delhi governments in attendance?
Just every issue gets politicised these days. Amidst all these controversies, an important exercise like the Union Budget got virtual short-shrift. There seemed less focus on economy and what the government wants to do invigorate it. Finance Minister Arun Jaitley seriously erred in seeking to tax the employees' provident fund (EPF). But he also did the most sensible thing by withdrawing that proposal at the first available opportunity.
No Finance Minister since 1952 had dared tap the only life-saving fund of the majority salaried class as it is the vocal and organised sector. Reaction was immediate and sharp as it provided a whip to the opposition. The Prime Minister was apparently not taken in confidence by the Finance Minister on this move that turned in a volcano of protests. It is beyond belief that a seasoned politician like Jaitley could not assess or anticipate the political fallout.
The post-budget sentiment could not but be negative even for India Inc. It has not taken kindly to shift in the budget's focus from industry to rural development. Jaitley did not even refer to industrialisation at a rapid pace to take India on a slot for race to be the super economic power, a dream that Prime Minister Modi had sold to young generation in the Lok Sabha polls campaign.
Nobody even mentioned the reforms in the legislations relating to land acquisition. The government seems to have given up since the Sangh Parivar publicly denounced idea of change in the land acquisition laws enacted in 2013, the last year of the UPA government. States have not been encouraged to adopt their own legislations to suit their needs, after the Congress refused to relent and accommodate the government view.
In the face of public opposition by the Sangh, no one in the BJP would dare to proceed. The Prime Minister also found it expedient not to offend the Sangh Parivar. This retreat could mean adverse impact to all plans to entice foreign capital in droves needed to accelerate pace of growth by expanding the industrial activities. The budget virtually announced abandonment of the idea.
On the other hand, a major component of the pro-rural thrust is Jaitley's move to provide cooking gas to the 50 million rural poor. If diligently implemented, it will go a long way to provide easily accessible and affordable fuel to women who struggle to get wood and cow dung that, in turn, cause pollution and health hazards.
This shift will have long-term impact, like many poverty alleviation programmes that the UPA I and II had initiated, but failed to cash in politically.One would definitely applaud Jaitley's move to divert the funds to the much-needed infrastructure in rural areas. But does budgeting have to be either-or, when it comes to industry and rural infrastructure? Can there not be a judicious mix that allows for an inflexible approach? More industry does mean more jobs and the reality is that farming does not.
The farm sector cannot provide new employment for two reasons. Small and marginal holdings, more than three-fourth of peasantry, do not offer jobs to outsiders as families have to manage them. Even school dropouts refuse to join farm sector, if they can, as they see no future in it. Small and cottage industry base is not enough to retain the young in villages. They would rather migrate to urban centres even if their living there remains condemned to slum hovels.
All this does make budget a politically risky exercise. After all, annual budgets are not mere presentation of accounts of incomes and expenditures. They are instruments of political philosophy of the party in power to indicate the direction in which economy would be driven to derive social benefits.
When Jaitley presented his third budget of the Modi government last month, he must have been aware that his party would face the uphill task of winning the state assembly polls. His budget proposals would impact the voters' minds that, while dealing with their daily woes, will make up their minds in these states.
For the ruling Bharatiya Janata Party (BJP), the forthcoming polls are an uphill task. It is not in power in any of them. It has no presence in the outgoing assemblies in West Bengal and Kerala. Along with Assam, these two states have a high proportion – a fourth and more – of Muslims. The party's attitude to them has not helped, going by the 'Ghar Wapasi", the beef ban and the "Love Jihad" campaigns and frequent allusions by hardline BJP leaders to the community, or at least sections of it, being loyal to Pakistan.
The BJP will try hard but has very little hope of making inroads in either West Bengal or Kerala. It would have to rest content with marking a presence in both the legislatures and hope that the performance is good enough to make a difference in the future. A toe-hold in the two states is something the party should be happy about.
The BJP had done very well in Assam in the Lok Sabha polls. But given the political atmosphere, the ruling Congress could strike an understanding with Maulana Ajmal. That it has done so in West Bengal with the Left Front, despite opposition from the Kerala unit of the CPI(M) is indication enough. Hence, only a miracle can install the BJP in the seat of power in Assam. Its electoral adjustments with the Asom Gana Parishad indicates that the party is not entertaining any hope of wresting power on its own in Assam.
Modi seems to have begun well by making up with his long-time critic, Nitish Kumar of Bihar, by praising him at a public rally. The obvious ploy is to drive a wedge between Nitish and his allies, especially the Congress.It will be interesting to see if Modi will gamble with high stakes putting his personal stake in the whirlwind campaign in the five states. It is particularly risky after a section of his party actively ensured the humiliating defeat in Delhi and then in Bihar. If he is forced to do it again, with negative results, it could spell the beginning of the end of his journey.
Subscribed Failed...
Subscribed Successfully...