Hostage to Indo Pak ill will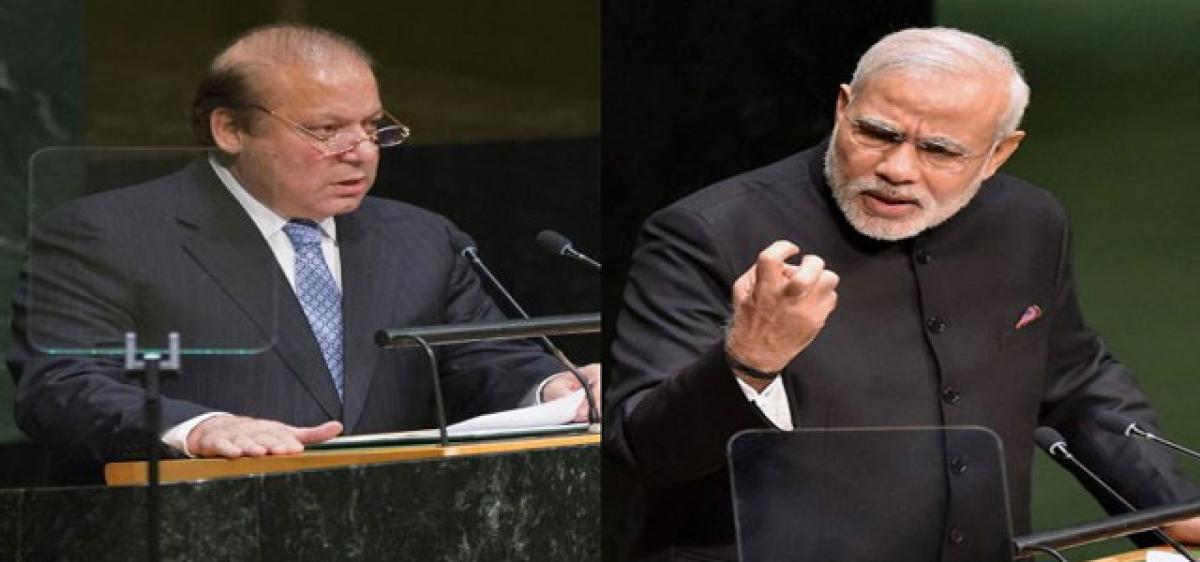 Highlights
Some things don't change as they can't. One of them is neighbourhood. You can disown a family member and divorce the spouse, but you cannot disengage...
Some things don't change as they can't. One of them is neighbourhood. You can disown a family member and divorce the spouse, but you cannot disengage from your neighbour.
Ignore it, but even that becomes difficult beyond a point. Someday, you will pick up quarrel because the neigbhbour persists in throwing garbage at your doorstep.
This is happening between India and Pakistan, the big South Asian entities currently experiencing yet another round of tensions that could any day take the form of armed hostility.
Its South Asian Association for Regional Cooperation – Saarc for short – is a horse that gets flogged to death, but is revived by the very people who flog it. The biggest floggers are the Big Two. Saarc remains a hostage to their rivalry.
One may recall that Saarc was born under a cloud of suspicion since Bangladesh's anti-Indian military ruler Gen. Ziaur Rahman had proposed it on encouragement from the United States that wanted to contain India in that Cold War era. India resented the rise of another Zia, that of Gen.
Ziaul Haq in Pakistan who infamously called India the "shark in the sea of Saarc." Hence, Saarc took shape only in 1985.
In the last 31 years, Saarc has remained largely a talking shop with some lofty ideas and many a resolution and conventions adopted, but rarely implemented. Thanks to its historic baggage and yes, the India-Pakistan mistrust, it remains one of the least developed regions in the world.
The inclusion of Afghanistan has added to the baggage and made the divide sharper. The South Asian grouping has never really shown signs of cohesiveness like European Union (despite Brexit) or ASEAN, the Southeast Asian body.
One of its plus-and-minus points is its charter that stipulates consensus and that its summits are held in unanimity. Absence of even one member requires it to be postponed/ cancelled.
This happened last week with the postponement of the summit scheduled for November at Murree, Pakistan's picturesque hill resort. The big difference this time was four of the eight members did not want to go to Murree, Pakistan's picturesque hill resort, in November.
The other three, too, eventually fell in line much to the chagrin of the would-be host. Nepal is the current Saarc chair. It formally announced postponement of the 19th summit, regretting that the atposmpshere was "not conducive" for it.
But it significantly added: "To achieve peace and stability in the region, Saarc member states must, among others, ensure that their respective territories are not used by terrorists for cross border terrorism." Nepal did not name any member-nation, maintaining a diplomatic stance as required of a chair.
Although there have been postponements in the past, like the one in 1999 when Gen. Pervez Musharraf seized power in Pakistan, this blow to Saarc is unusual. Besides Bhutan that generally backs India, Afghanistan and Bangladesh joined India's move since they have their own set of problems with Pakistan.

The Taliban rampaging in Afghanistan have Pakistan's support, shelter, funding and arming. And Afghan President Ashraf Ghani, after trying hard for nearly two years, has finally sought to take on Pakistan on this.
The Afghan-Pakistan row is a violent one with Pakistan funding, arming and sheltering the Taliban who have more territory under control than when they ruled from Kabul.
For Bangladesh, Pakistan protesting the conducting of "war crimes" trials and punishing of the "war criminals" of the 1971 liberation war is 'interference' in its internal affairs.
Since those being tried and convicted for "war crimes" of targeting freedom fighters, religious minorities and the Bengali intelligentsia, had turned killers and marauders to help the Pakistan Army, Islamabad's guilty conscience does not allow it to keep quiet.
Its National Assembly had even passed a resolution condemning Dhaka's "war crimes trials." Pakistan has not reconciled to the loss of its eastern province after 45 years.
Murree summit was in trouble even earlier. Bangladesh and Afghanistan had skipped the ministerial-level meetings Islamabad had hosted.
Why India's Home Minister Rajnath Singh went to Islamabad for the home ministers' meet remains a mystery. If Rajnath thought he could counter Pakistan on its soil on the question of Kashmir, he was mistaken.
The Pakistani script was ready when the government decided to send Rajnath. Indeed, the manner in which he was received with half-a-handshake by his host, Chaudhry Nisar Ali Khan, the way Khan raked up the Kashmir issue in a regional meet and then chose to stay away from the lunch he was supposed to host was calculated insult, not just for Rajnath but for India.
Having come away thus, Rajnath pathetically told the Parliament that he had "not gone to Islamabad to have lunch."
Now, it would require much persuading of India to be present at any government gathering in Pakistan. Of course, there is no alternative to holding talks, now or later. Not talking at all is neither possible, nor desirable. But it would require both sides to clap.
Smarting under ill-treatment of Rajnath Singh, India's decision came in the aftermath of an attack by militants that it said crossed the Line of Control into India-administered Kashmir to strike at an Indian Army camp in Uri.
Since the attack, the Indian government has adopted the strategy of increasing Pakistan's isolation – globally and especially regionally. This game is a prolonged one and India is not likely to relent any day too soon.
However, for India, the failure of the SAARC summit, while a setback indeed for South Asian integration in the short-term, represents a tactical win – no more. Since Nepal took the Saarc Chair, Pakistan has been putting obstacles to efforts at integration.
In response, India has been working on its Saarc-minus-Pakistan agenda. India is by far the largest member of the eight-member regional grouping – indeed larger in size, economy and population than all of them put together
There is clear coordination between New Delhi and the region's friendly nations in this. Another long-term plan is underway to 'isolate' Pakistan.
Confronted by its obduracy in frequently staging terror attacks by its "non state actors" and seeking to isolate it, India is moving towards a sub-regional grouping on its eastern flank, of Nepal, Bhutan, Bangladesh and Myanmar. This new "look east" is under Bimstek.
Encouragement to the grouping has come from the Asian Development Bank that has just pledged $ 1 billion to help build roads along the Himalayas with a view to accelerating development in the otherwise remote areas.
The point to ponder is, has Saarc lost its relevance to the region? It has surely not. But it is obvious that its woes will persist as long as the India-Pakistan rivalry continues. And that is showing no signs of ebbing. The geography of the region cannot change. What needs change is the mindsets. And that would need several hands, especially four of India and Pakistan, to clap in unison.
The bottom line is that hostilities cannot be permanent. One is reminded of the Kathmandu Summit taking place in January 2002, a few weeks after the attack on Indian parliament.
The two sides were not on talking terms, what with their armies poised eyeball-to-eyeball. At the closing ceremony, Musharraf urged that Indian PM Atal Bihari Vajpayee "at least shake hands with me." Amidst thunderous clapping, he walked up to Vajpayee. The latter rose to shake hands.
Note that the summit was not postponed because Nepal, a third country, was the host. Nothing changed, basically, between India and Pakistan. But gestures and atmospherics do have their place in diplomacy and in relationships among nations.
Hoping against hope at the present juncture, the question is: How long the Saarc will have to wait for such a moment to arrive?
Subscribed Failed...
Subscribed Successfully...