D dilemma haunts Naidu, KCR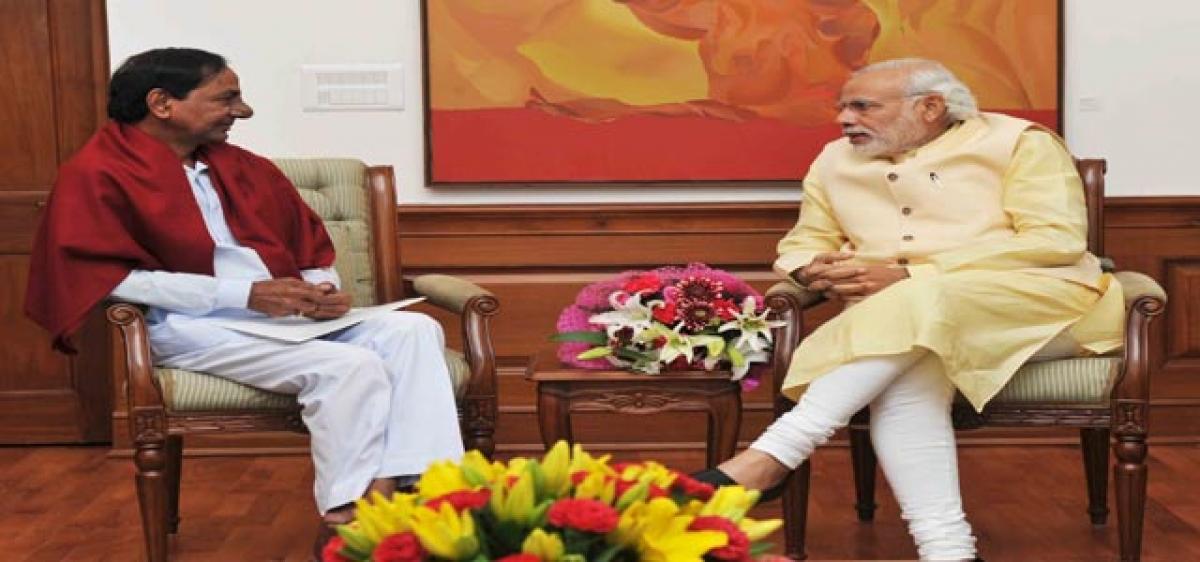 Highlights
The man on the street, the auto-wallah, the bandi-wallah and a majority of middleclass people despite facing problems seem to have understood the...
The man on the street, the auto-wallah, the bandi-wallah and a majority of middleclass people despite facing problems seem to have understood the intentions behind demonetisation.
Quite ironically, it is the rich who are more worried. Since the sudden announcement made 12 days, Prime Minister Narendra Modi has received both bouquets and brickbats. But the government has moved so fast and in such a sudden manner that it cannot retract its steps good, bad or otheriwse.
Under attack from various quarters, Modi has now gone into an aggressive mode while claiming that so far Rs 5 lakh crore, call it unaccounted or black money) has come into banks. The surgical strike has sent ripples among many Chief Ministers, albeit for different reasons.
For Andhra Pradesh and Telangana State government, the problem is on managing their respective budget. The Telangana state which was a surplus state is now feeling the pinch as revenue generation has nosedived, particularly in Land and Registration, Excise and Commercial taxes wings.
The government has stopped payments to contractors. Not anticipating such a financial crunch, Telangana government had gone in for reorganization of districts. Now it is not in a position to even provide infrastructural facilities.
With delay in devolution of funds from Centre and with lots promises made by the TRS before elections and a mere two-and-half years more to go for elections, the government is worried about the prospects if it fails to honour its promises. Major projects like Mission Bhagiratha and Mission Kakatiya are half-way through.
The Centre's latest bolt from the blue will not only result in a slowdown of the ambitiously carved projects but is also bound to adversely impact major irrigation projects that have been redesigned and works have commenced.
The two bedroom house programme will also face a hurdle if the economic situation does not improve. Already all departments have been asked to cut down on their budgetary proposals for 2017-18. That is why the Chief Minister decided to meet the Prime Minister and try to find a way out.
On the other hand, the Andhra Pradesh government, which is a partner in NDA government, is into greater trouble as it started with a deficit budget of about Rs 20,000 crore and is still struggling to balance the revenues. It is already surviving on overdrafts and loans from the Centre.
The TDP too had made many promises and has come up with extravagant projects like a Singapore-like capital city at Amaravati. It had promised jobs for youth, although it is yet to take shape, a factor that is being damned by every political opponent.
Given this precarious backdrop, the two ruling parties have just 30 months to prove their mettle, including displaying their acumen at financial jugglery to pull their respective States out of the impending crisis.
They have to either perform or perish. Racing against time, neither is able to drum up resources to stem the rot that has seeped in since the Modi Sarkar swoop.
If they don't fulfill at least 60 percent of the promises they had made, they are certain to be victims of political recursions or ramifications as they case may be.
The problems for Naidu are more pronounced because, unlike KCR, he has to reckon with a strident opposition in the form of YSRCP, and the Left parties, to an extent.
If they were not enough of headaches, he is now caught in a volatile atmosphere following Pawan Kalyan's decision to tets political waters in 2019. The actor, whose magnetism is a big draw with the electorate, is targeting both BJP and TDP and that is giving the leaders jitters.
The Kapu rebellion spearheaded by Mudragada Padmanabham is only to the Naidu's woes. Taken under any yardstick, there are several Damocles Swords hanging over Naidu's head.
By V RAMU SARMA
Subscribed Failed...
Subscribed Successfully...